'First of its kind' esports arena opens on the Las Vegas Strip
Updated March 23, 2018 - 10:59 pm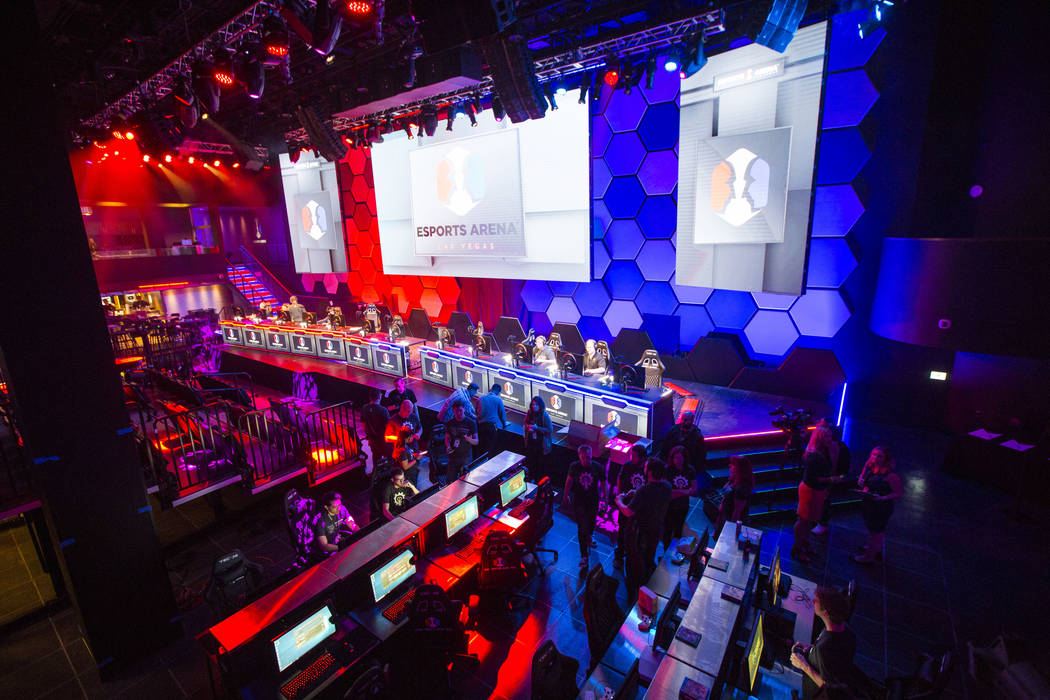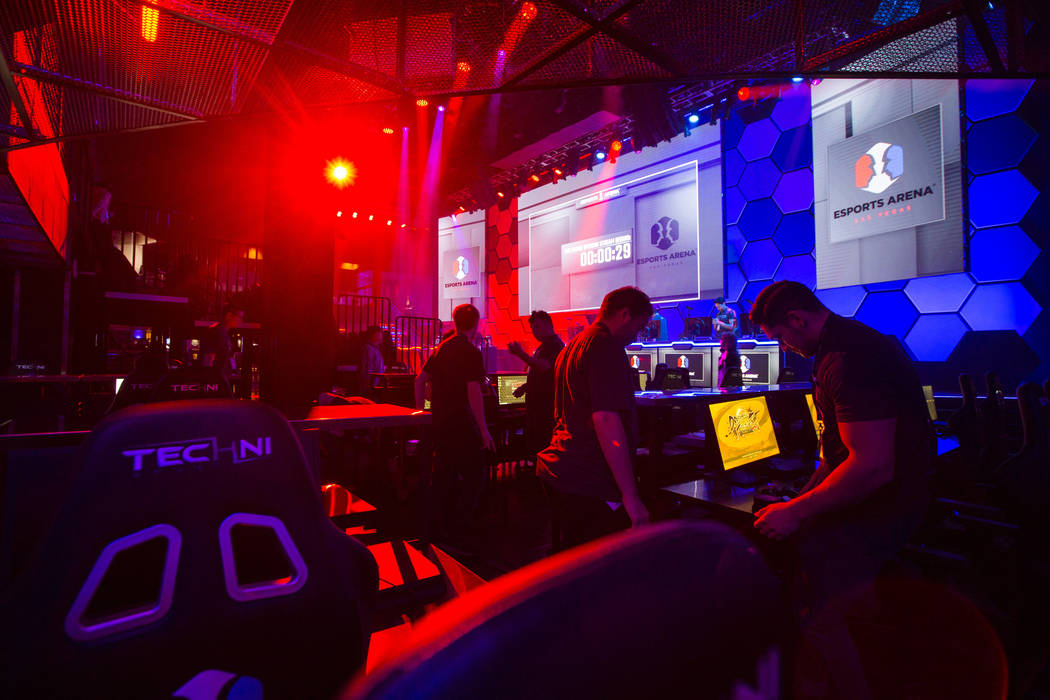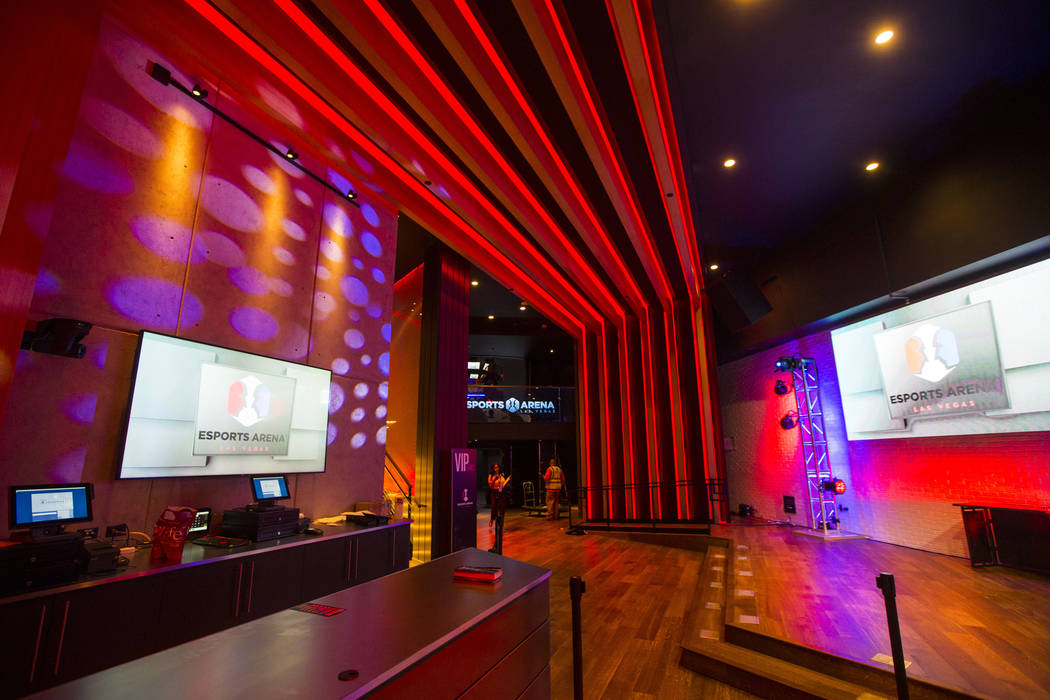 New gaming has arrived on the Strip, and it's not about blackjack, roulette or craps.
Only time will tell if the new gaming, featuring video games, will collide with the old, featuring the slot machines that have been a mainstay since the casino industry began.
Allied Esports unveiled the first dedicated esports venue on the Strip on Thursday. The Esports Arena Las Vegas opened its doors at the Luxor in space formerly housing the Ra and LAX nightclubs and will host tournament events starting this weekend, when $25,000 in prize money will be up for grabs.
"Vegas, for us, is the championship destination," said Jud Hannigan, CEO of Santa Ana, California-based Allied Esports International. "It is the place where people all around the world walking into our properties are driven to compete in our tournaments because they're aspiring to get to Vegas."
Analysts will be watching closely to see how the arena draws and whether its presence will attract a younger demographic to make up for the loss of aging baby boomers.
First of its kind
"This is the first facility of its kind to be dedicated to this form of gaming," said Chris Grove, managing director of sports and emerging verticals for Eilers & Krejcik Gaming, a California-based research firm. "With this venue, this team and this partner (MGM Resorts International), if they can't make this work, I'm not sure who could at this point in time."
Grove said MGM Resorts has been one of the most progressive casino companies involved in esports gaming. It has hosted competitions at its largest arenas and has dedicated a section of the MGM Grand casino floor to Level Up, an area for betting and non-betting games of skill.
Grove said the typical video gamer is closer to age 28 than 21 and has plenty of disposable income. Also, the interactions they have with video games aren't much different from the engagement they can have with today's modern slot machines. In skill-based games like Frogger, for example, play is essentially the same as the video-game version.
"To try something like this and build an esports arena and wrap a marketing and event concept of this around a destination for gaming is unprecedented," Grove said. "There are a lot of people waiting to see how it plays out."
Allied Esports has built a network with 400 million fans worldwide, mostly in North America, Europe and China. At any time, fans can log on from computers to watch or participate in tournaments and events at any venue.
First venue in California
Allied began with a 15,000-square-foot operation that opened in Orange County, California, in November 2015. It now includes an outlet in Beijing, two mobile truck units that can be set up anywhere in the United States for competitions and now a venue in Las Vegas twice as large as the original California outlet. By the end of next month, there will be eight locations globally, including the truck-based units.
"Why Vegas? The reason we were really were drawn to Vegas is that it inspires excitement and anticipation like no other place on Earth, and that's something that we felt we could harness in our global offering," Hannigan said.
Drawing international tourists to Southern Nevada is one of the Las Vegas Convention and Visitors Authority's major emphases.
"What we've created here is almost a welcome entry point in the sense that, in the front lobby, the hard-core gamer and esports enthusiast is putting this on their calendars, but the passerby is going to be intrigued, and we've broken down barriers to draw people in," said Hannigan.
One of those barriers is the price point. It costs only about $10 to play in a competition, and spectators are welcome to watch and buy food from celebrity chef Jose Andres, a gaming enthusiast.
'Game agnostic'
Allied calls itself "game agnostic," meaning it will develop competitions and tournaments based around any genre of popular games by various publishers. And games and their popularity change constantly.
Hannigan said the new arena would host multiplayer online arena games — known as MOBA — along with first-person shooter games, strategy card games and a relatively new genre, Battle Royale, which Hannigan described as "almost like 'The Hunger Games' where 100 people are dropped in and must scavenge for weapons before taking the world by storm."
"Some of the games we're playing today nobody had even heard of six months ago," he said.
One of the strengths of the arena is its flexibility. Allied can set up one-on-one, three-on-three and five-on-five matches for teams, or it can put dozens of competitors on terminals throughout the arena.
The venue has a professional sports feel with a set of three video screens that stretch 50 feet wide and 20 feet tall across a front stage. In fact, some of the players are professionals, sponsored by gaming companies to compete against other pros or players seeking to climb the competitive ladder.
The next frontier, once regular esports competitions are established, is the prospect of wagering on the matches. The State Gaming Control Board has incorporated by regulation the prospect of betting on events on a competition-by-competition basis. Sponsors first have to seek permission to take bets.
Contact Richard N. Velotta at rvelotta@reviewjournal.com or 702-477-3893. Follow @RickVelotta on Twitter.
Meet Red Bull-sponsored professional esports player Daryl S. Lewis, better known by his in-game name Snake Eyez, below.