Fontainebleau on Las Vegas Strip has new name and opening date
Updated February 12, 2018 - 6:10 pm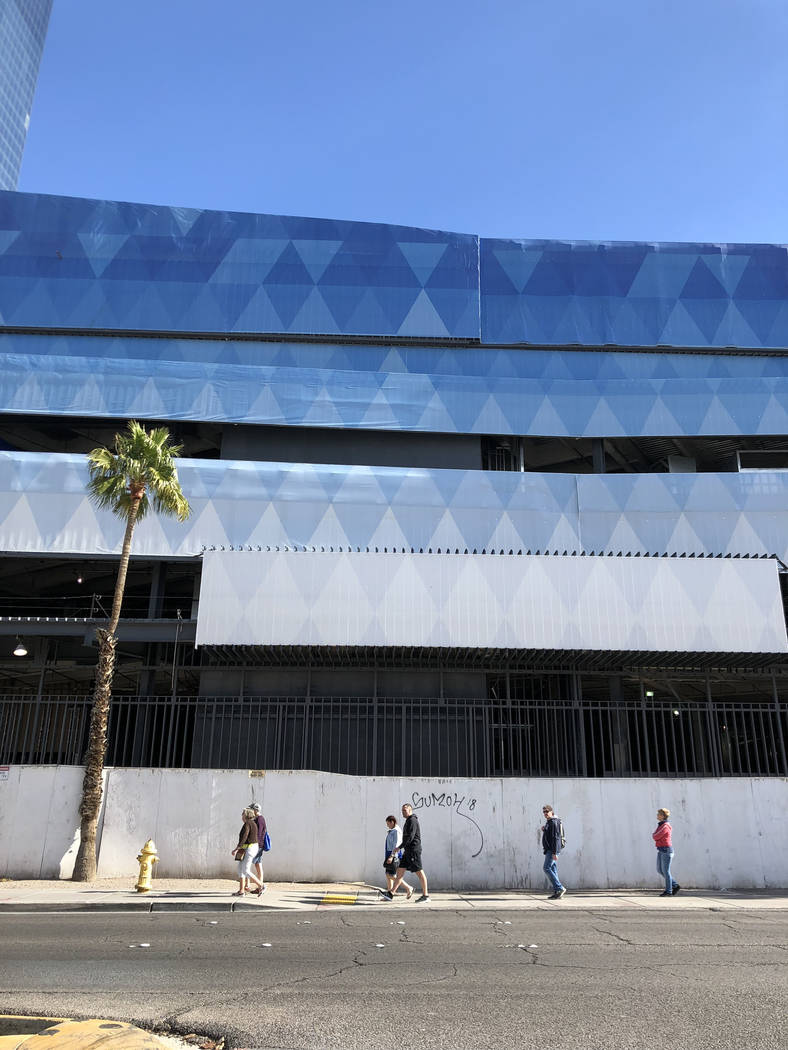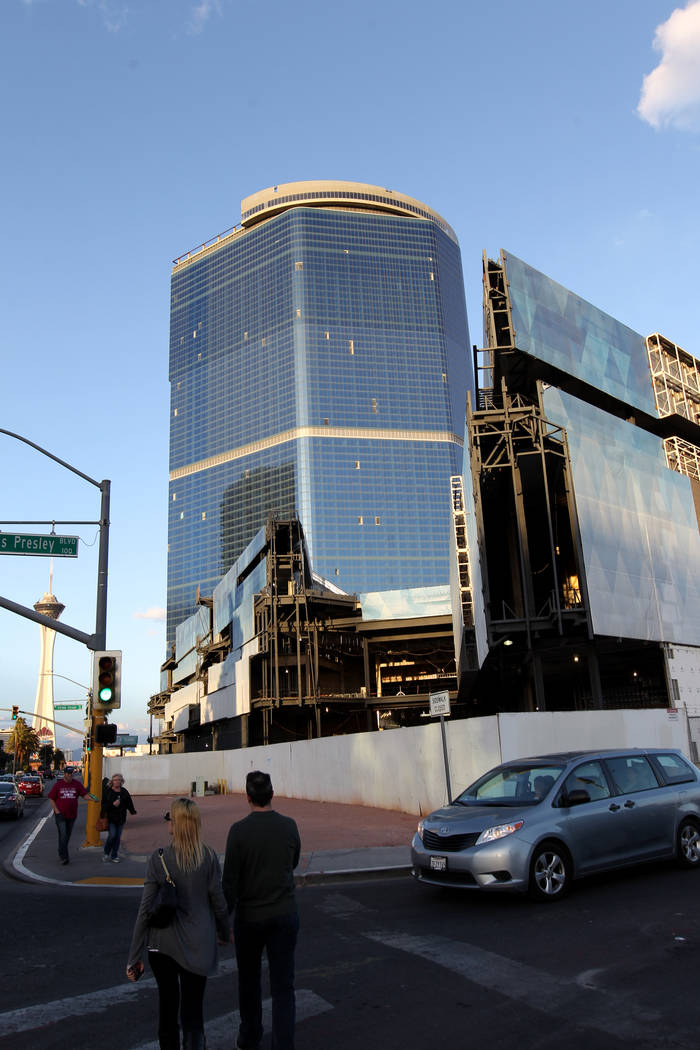 More than five months after buying the Fontainebleau, New York developer Steve Witkoff unveiled a plan and a new name for the unfinished Strip resort.
Witkoff's namesake firm and hotel giant Marriott International on Monday announced the blue-tinted tower – mothballed since the recession – is now called The Drew Las Vegas and scheduled to open in late 2020.
The statement said the property will debut the Edition brand in Las Vegas and feature the Strip's first JW Marriott, but it did not provide additional details on the brands' operations there.
The Drew, soaring 60-plus stories above Las Vegas Boulevard, will feature a casino, nearly 4,000 rooms and more than 500,000 square feet of convention and meeting space. Marriott will manage the property.
One of the tallest buildings in Las Vegas, the north Strip tower has been a constant reminder of the valley's wild real estate boom and devastating bust, and Monday's announcement answers a question that locals have been asking for years: What will happen to the Fontainebleau?
But it also raised another one: Who is Drew?
The news release gave no explanation for the name, which initially sparked puzzled reactions. One local developer said it "doesn't make any sense" for a project of that size, and another executive said he didn't understand it but figured there was some marketing angle.
In an email, a representative for Witkoff's company said the new name "feels familiar and approachable, but also fresh and modern – it reflects what people are craving in Las Vegas and signals the experiences Witkoff and Marriott will deliver."
Still, the name has personal significance. Witkoff's son Andrew Witkoff died of an OxyContin overdose in 2011 at age 22, according to reports. The property is named for him, said a person familiar with the matter. Another source said it's named in part as a tribute to Witkoff's son but there were other reasons as well.
Witkoff could not be reached for comment Monday.
Long Road
The Fontainebleau was envisioned as a $2.8 billion, 3,815-room resort. The developers broke ground in 2007 and expected to finish in 2009, but the economy crashed and the project went bankrupt in 2009.
Billionaire Carl Icahn bought it in 2010 for around $150 million. After leaving it largely untouched, he sold it last August for $600 million to Witkoff and Miami real estate firm New Valley, a subsidiary of cigarette maker the Vector Group.
When Witkoff announced his purchase, his company did not say what he would do with the property. But it seemed clear he was ditching the old name.
In that news release, his firm said the hotel was "formerly known" as Fontainebleau and referred to it by its address.
There had been talk that Witkoff would look to rebrand the tower, possibly as a Marriott. His group has referred to their undertaking, at least in filings with Clark County, as Project Blue, and hired Penta Building Group to finish construction, records show.
On Monday, the Associated Press reported that Witkoff said a bridge would connect The Drew to the expanded Las Vegas Convention Center nearby.
The Las Vegas Convention and Visitors Authority has "had conversations with representatives for the new project" and is "on track to present the final design plans for our expansion" to agency leaders later this year, LVCVA spokesman Jeremy Handel said.
"Any discussion of specific design or functional elements is premature," he added.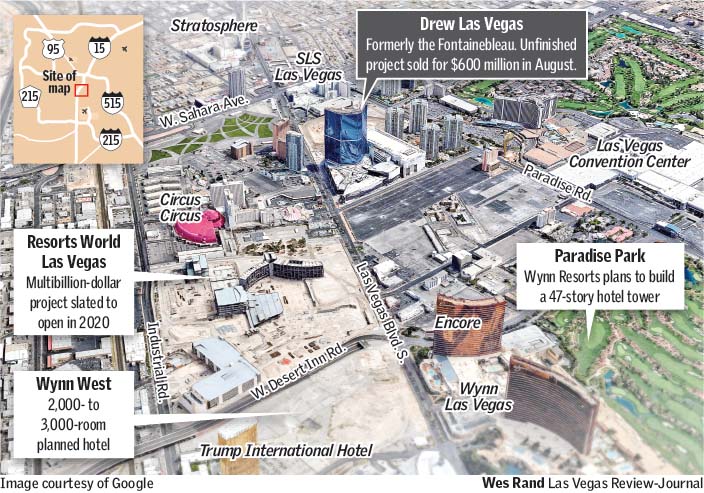 North Strip blues
The north Strip lags other stretches of the resort corridor with lighter foot traffic, unfinished projects and big, vacant lots. Locals have been saying for years that a turnaround is coming, and while that recovery has proved elusive, big projects are underway.
The 87-acre, Chinese-themed Resorts World Las Vegas initially was slated to open in 2016 but is now scheduled for 2020. The Las Vegas Convention Center is set to undergo a $1.4 billion expansion and renovation, and ex-NBA player Jackie Robinson has laid out plans for a 22,000-seat arena with retractable roof, two hotel towers, convention space, a bowling alley and more, next to The Drew.
But the SLS Las Vegas, which opened in 2014, has stumbled, with investors alleging it's on the "verge of bankruptcy." Robinson, who obtained county approvals in October for a massive expansion of his plans, initially said in 2013 that he aimed to finish in 2016. Also, Australia's Crown Resorts wanted to build the 1,100-room Alon Las Vegas next to Fashion Show mall, but it bailed on the project in late 2016 and recently sold the site to Wynn Resorts.
Last month, Wynn's then-Chairman and CEO Steve Wynn unveiled plans for a 2,000- to 3,000-room hotel there called Wynn West. But the 76-year-old billionaire resigned from his company last week amid allegations of sexual misconduct.
Meanwhile, the last newly built resort to open on the Strip was The Cosmopolitan of Las Vegas, in 2010.
According to Monday's announcement, former Cosmopolitan CEO John Unwin will oversee The Drew's launch and operations.
Contact Eli Segall at esegall@reviewjournal.com or 702-383-0342. Follow @eli_segall on Twitter. Review-Journal writer Richard N. Velotta contributed to this report.
The Drew Las Vegas, formerly the Fontainebleau, will have nearly 4,000 rooms. Here are the 10 largest operating hotels in Las Vegas.
1. MGM Grand (4,968 rooms)
2. Luxor (4,400)
3. The Venetian (4,027)
4. Aria (4,004)
5. Excalibur (3,981)
6. Bellagio (3,933)
7. Caesars Palace (3,793)
8. Circus Circus (3,763)
9. Flamingo (3,466)
10. Mandalay Bay (3,211)
Source: Las Vegas Convention and Visitors Authority. Review-Journal reporter Alex Cohen contributed.
The Las Vegas Review-Journal is owned by the family of Sheldon Adelson, chairman and CEO of Las Vegas Sands Corp., which owns and operates The Venetian.