Fontainebleau's new owner is no stranger to Las Vegas
August 31, 2017 - 5:54 pm
Updated September 1, 2017 - 10:47 am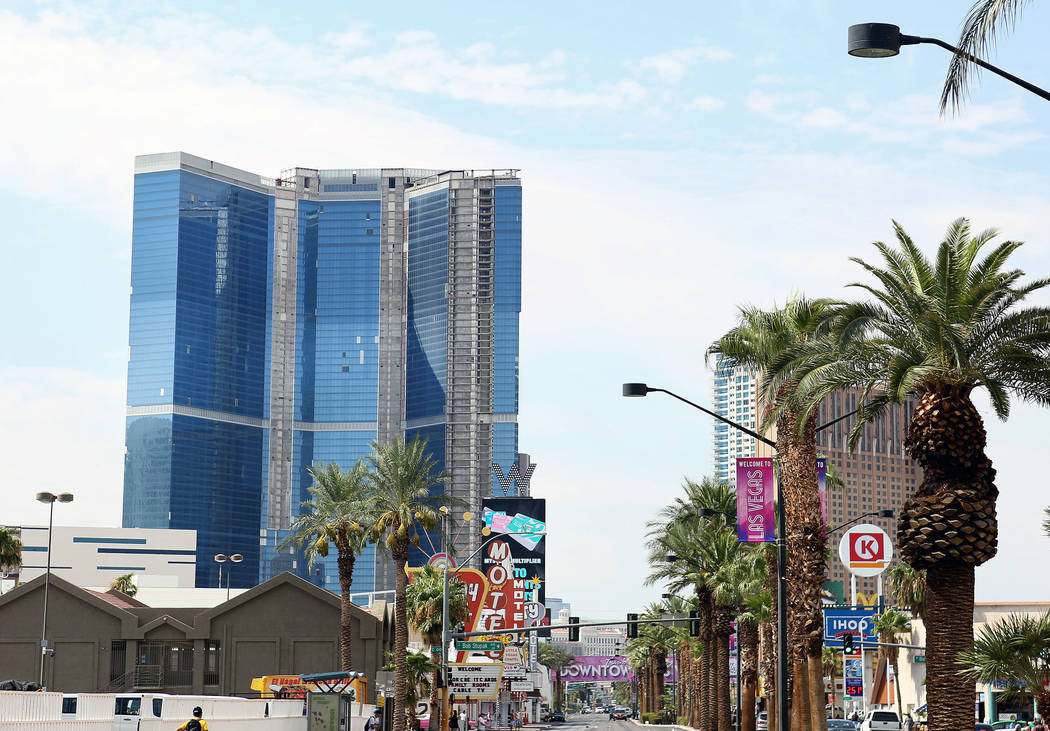 When the heated economy was showing signs of cracks a decade ago, New York developer Steve Witkoff teamed up on a supersized project in Las Vegas, a poster child for America's real estate boom.
The group bought property just east of the Strip for $625 million, with plans for a hotel-casino development. But the market soon crashed, nothing was built, and lenders foreclosed on the site.
Witkoff is now back in Las Vegas — and he's betting heavily on a failed, still-unfinished project from the bubble years.
He partnered with Miami investment firm New Valley to buy the partially built, mothballed Fontainebleau hotel for $600 million on Tuesday.
The seller, billionaire Carl Icahn, bought the north Strip property out of bankruptcy in 2010 for around $150 million, quadrupling his purchase price despite leaving the project largely untouched.
Towering more than 60 stories above Las Vegas Boulevard, the blue-tinted Fontainebleau is one of the tallest buildings in Las Vegas and a constant reminder of the valley's wild real estate boom and devastating bust.
For now, it's unclear what the new owners will do with it.
Witkoff's namesake company said in a news release that it "identified numerous ways to unlock the significant underlying value of the property" but did not provide any details.
He can only hope the venture ends better than his group's attempted project last decade at the northeast corner of Harmon Avenue and Koval Lane, a few blocks from Las Vegas Boulevard.
"That's not something the company cares to comment on, as they are forward-looking minded and are focused on the future," Matthew Chudoba, a representative for Witkoff's firm, said in an email.
The firm "sold its interest" before the foreclosure and before there was any litigation, Chudoba added.
He could not confirm when the sale took place and did not reply to an emailed question about whether Witkoff booked a profit or loss, or broke even, on the deal.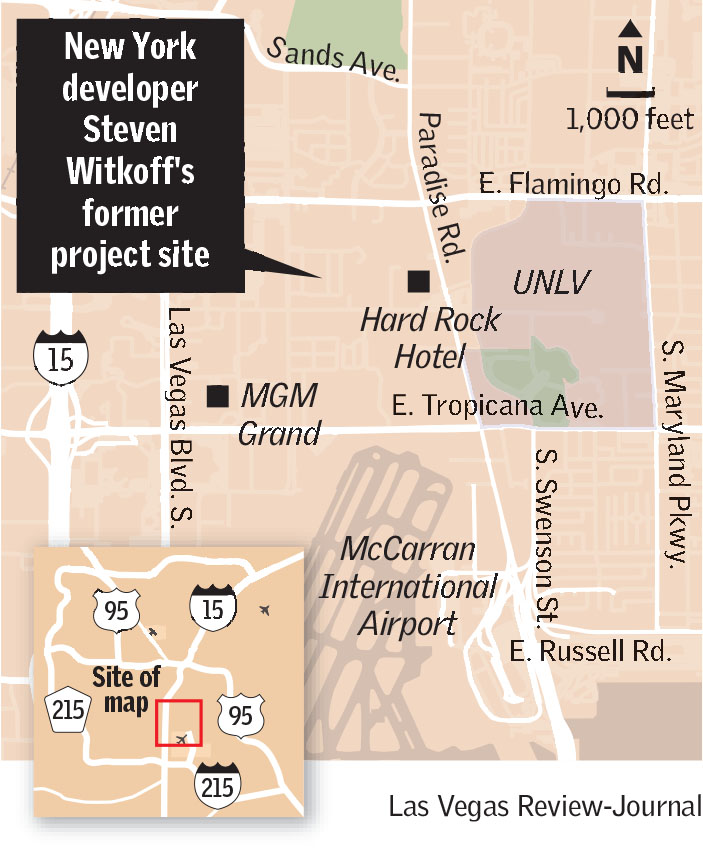 Big plans
Witkoff wasn't the first person to have big visions for Harmon and Koval.
In summer 2005, with easy money fueling the real estate boom, Starwood Hotels & Resorts Worldwide and Edge Resorts unveiled plans for the W Las Vegas, a $1.7 billion hotel-condo project.
The next week, actor George Clooney, nightclub owner Rande Gerber and two development firms announced plans for a project adjacent to the W — a $3 billion hotel-condo development called Las Ramblas.
In June 2006, less than a year after Las Ramblas' unveiling, the W's developers bought Clooney's project site for $202 million. The W, however, was canceled in May 2007 after Starwood bailed on the project, the Review-Journal reported.
Enter Witkoff.
'Worldwide crisis'
Diamond magnate Lev Leviev's conglomerate, Africa Israel Investments, announced in summer 2007 that it was buying 60 acres in Las Vegas for $625 million, and that it was partnering on the project with Witkoff and others.
Their hotel-casino project was expected to be completed in five years, Reuters reported.
They bought the W and Las Ramblas sites in August 2007, county records indicate. But the economy soon tanked, construction ground to a halt in Southern Nevada, and the project, like countless others in town, flopped.
Africa Israel said in its 2008 annual report that in light "of the worldwide crisis," it no longer planned to invest in the project's development or repay existing loans.
The company also said it had "written off the entire amount of its investment in the project."
By early 2015, a consortium of lenders foreclosed on the site, county records show.
Today, passers-by at Harmon and Koval see signage proclaiming the property "is intended to be used" for a casino and hotel.
A project-permit board for the "W LV Hotel & Casino Residences," with a listed expiration date of Oct. 26, 2007, is still there as well.
Contact Eli Segall at esegall@reviewjournal.com or 702-383-0342. Follow @eli_segall on Twitter.
Steve Witkoff file
■ Born in 1957 in New York
■ Founded namesake real estate firm in 1997
■ Portfolio includes residential towers, office buildings and hotels