Fore! Golfers to play through Strat casino to get to Atomic Golf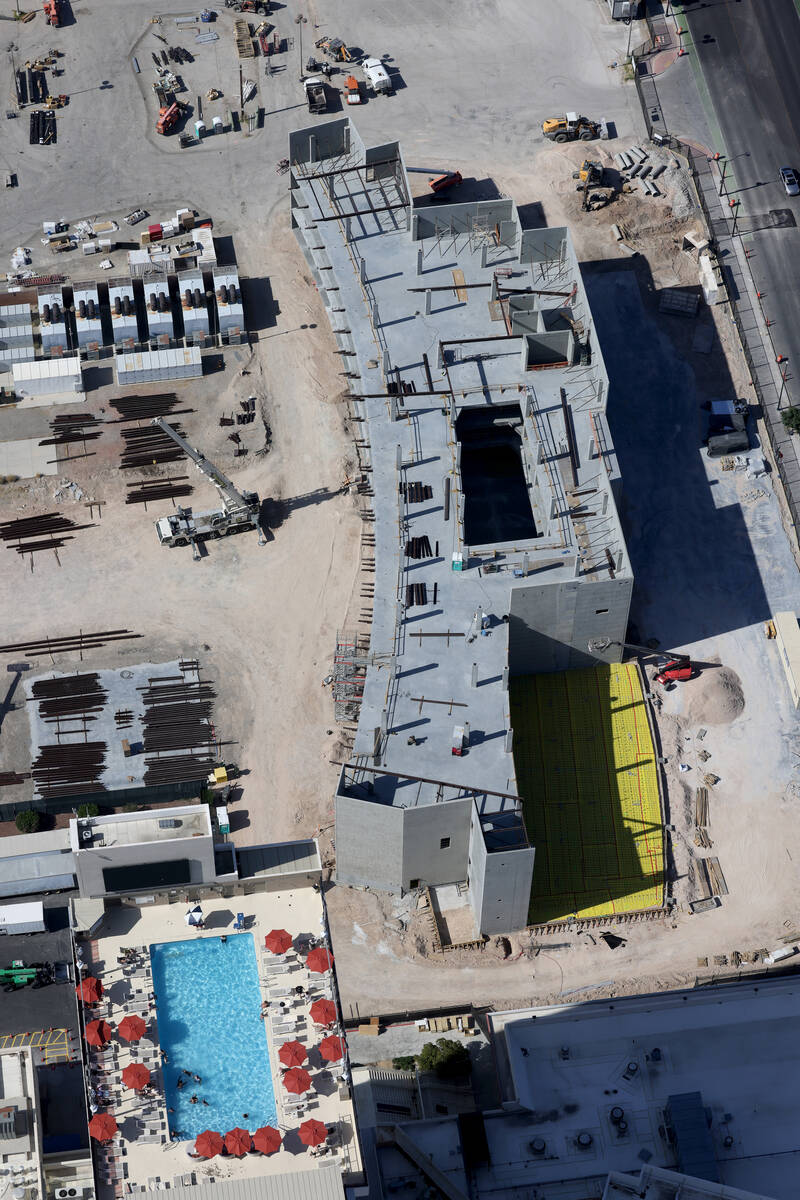 Don't be surprised if you see guests at The Strat toting golf bags through the casino later this year.
Executives with Golden Entertainment Inc., operators of The Strat, in an earnings call with investors Wednesday, said they're expecting half a million annual visitors to Flite Golf and Entertainment's Atomic Golf range. The facility is expected to open in time for the arrival of thousands of visitors coming to the city for the inaugural Formula One Las Vegas Grand Prix on Nov. 18.
At 99,000 square feet Atomic Golf will have 103-bay golf ranges and 10 putting bays.
It will be the latest of several new or refurbished amenities at the 2,427-room resort that features the tallest observation tower in the United States.
Chief Marketing Officer Brad Goldberg, in an interview following the earnings call, said the $75 million Atomic Golf was specifically designed to be located just north of the hotel-casino so guests could park at the Strat and access it by walking through the casino.
"We think there's going to be a lot of throughput," Goldberg said. "We'll have the ability to market to those guests as they're walking through with signage or any kind of special promotions."
Goldberg said Golden is working with Atomic to develop marketing crossovers that would enable holders of Golden's True Rewards loyalty card to collect points on purchases at the golf range or to use points for range transactions.
"There is that integration that we're focused on between the True Rewards program so that it's a seamless experience for those True Rewards members where it's one more amenity that's part of the overall program," Goldberg said.
Profitable first quarter
Golden reported a profitable first quarter that didn't measure up to analysts' expectations. The company reported net income of $11.6 million, 38 cents a share, on revenue of $278.1 million for the quarter that ended March 31. That compared with net income of $36.1 million, $1.12 a share, on revenue of $273.6 million in the same quarter in 2022.
During the call, Chairman and CEO Blake Sartini said two major transactions the company announced in the past year will close in 2023.
In August 2022, it announced it was selling its Rocky Gap Casino Resort in Flintstone, Maryland, to real estate investment trust Vici Properties Inc. for $203.9 million and casino operations to Colorado Springs, Colorado-based Century Casinos Inc. for $56.1 million. Sartini said that transaction would close in June.
In March, Golden announced it was selling its distributed gaming operations in Nevada and Montana to J&J Ventures Gaming in Effingham, Illinois, for $322.5 million, plus $39 million of estimated purchased cash.
The deal is expected to close by the end of 2023.
Analyst: Bright days ahead
Gaming industry analyst John DeCree of Las Vegas-based CBRE Equity Research said between the two big transactions, the completion of new and refurbished amenities and Las Vegas' strong convention and event calendar in the second half of 2023, Golden should be golden in future quarters.
"With the renovation program ongoing, we expect a similar drag in the second quarter as the first quarter," DeCree said in a Thursday report to investors.
"However, all rooms and the room renovation disruption should be complete by the end of the second quarter, which will position The Strat to take advantage of the strong group and event calendar in the second half of 2023. We had hoped the Strat would begin recouping midweek occupancy in the first quarter with the big convention calendar in Las Vegas, but the disruption to room inventory pushed out a larger occupancy recovery likely until second half."
DeCree noted that Strat occupancy remains below 2019 levels, but large conventions and midweek occupancy should return in the second half of the year.
"We estimate occupancy at the Strat in the first quarter was still almost 20 percentage points below pre-pandemic levels, which leaves upwards of $20 million of potential annual cash-flow recovery still on the horizon. This, coupled with the opening of Atomic Golf by year-end and return on investment on recent room renovations, should translate to earnings growth in second-half 2023 and fiscal year 2024 absent a deep U.S. recession."
Contact Richard N. Velotta at rvelotta@reviewjournal.com or 702-477-3893. Follow @RickVelotta on Twitter.