Full House Resorts reports 'phenomenal' fourth-quarter earnings
Updated March 8, 2021 - 6:54 pm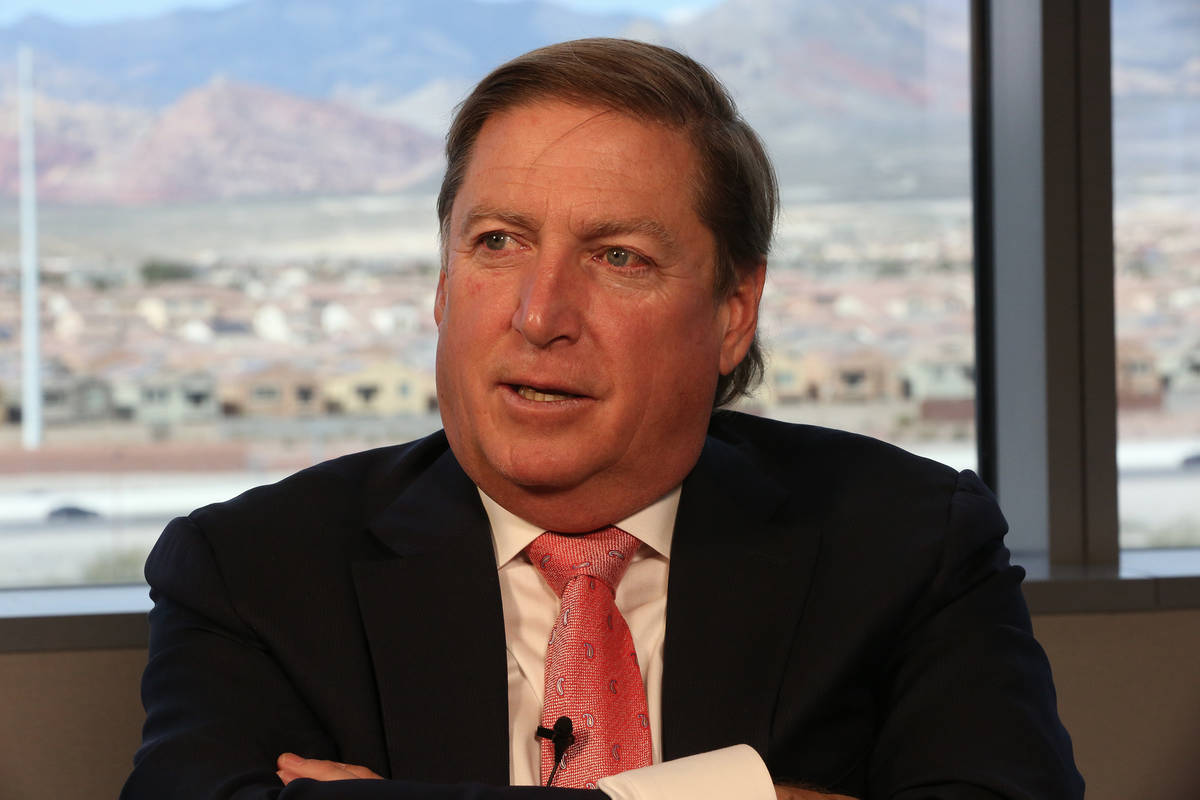 The head of Full House Resorts thinks the company had a "phenomenal" fourth quarter driven by new marketing programs, staffing improvements and expanded sports betting operations.
The Las Vegas-based company, which operates properties in Northern Nevada and three other states, reported $3.5 million in net income in the fourth quarter, up from a net loss of $4.1 million reported in the same period the previous year.
"Our properties continued to perform extremely well, adjusted for the seasonality," President and CEO Daniel Lee said in a Monday news release. "While capacity restrictions remain, as well as some additional costs related to the pandemic, so do the structural changes that we have made regarding our marketing and the ways we operate. We continue to believe that these results of the past several months are sustainable."
Cutting costs
Chief Financial Officer Lewis Fanger led Full House's quarterly earnings call Monday, filling in for Lee. He said the CEO had been in a "small accident" and missed the call for a last-minute appointment with a doctor.
Company revenue dropped from $39 million to $38.3 million between the fourth quarters of 2019 and 2020. Adjusted earnings before interest, taxes, depreciation and amortization rose from $2.3 million to $9.8 million in that same time period.
Fanger pointed to improved labor efficiencies, more refined operating hours and marketing efficiencies as drivers behind the growth. This includes a new slot marketing system with improved analytics, which has helped Full House eliminate unprofitable market offerings. The system is also more user-friendly, allowing players to access free slot play by swiping their rewards program card.
With the old system "we could not tell you what was a good marketing campaign and what was a bad one," Fanger said. "Under this new system … we can tell you in real time if a campaign is profitable or not. It's easier to pull out all of our unprofitable campaigns, and we're doing it now."
Sports betting expansion
Full House has three sports wagering websites operating in Colorado and Indiana that represent a minimum of $3.5 million of annualized contractual revenue. Fanger said three other websites are expected to go live soon, boosting that annual sports betting revenue to $7 million.
"Things got slowed down by the pandemic … but it does feel like our partners are in the homestretch to get their last skins launched," Fanger said.
As for brick-and-mortar business, Fanger said Full House has lost business from the 55-and-older crowd, but its absence has been "more than made up for" by younger customers in their 30s and 40s. He expects business to improve as vaccines roll out and more customers feel comfortable returning to casinos, and he said there are already positive signs of growth in early 2021.
"January and February, we're pretty pleased," Fanger said. "Even Northern Nevada in recent weeks, I feel like it's maybe starting to turn around and go the other way. As you know, that was our one laggard."
The company's two Northern Nevada properties, Grand Lodge and Stockman's Casinos, are the smallest in its portfolio. Revenues were $3.4 million in the fourth quarter, down from $4.6 million the same period the year before.
Opportunities for growth
As of Feb. 28, the company had roughly $232 million of cash and equivalents, including $180 million in a reserve account dedicated to the construction of a luxury hotel-casino project in Cripple Creek, Colorado.
After Colorado voters eliminated betting limits and permitted new table games in November, Full House decided to expand construction plans for the under-construction property and increased the size 67 percent to 300 rooms.
The new property will be physically connected to Full House's Bronco Billy's casino. The company has not yet released the name of the new property, but it is set to open in the fourth quarter of 2022.
Full House is also eyeing potential growth opportunities in Illinois and is one of three bidders for the opportunity to build a new casino in Waukegan, an area between Chicago and Milwaukee. Full House has proposed operating a temporary casino that would quickly generate tax revenues and jobs while accumulating funding for a permanent casino on the same site, American Place.
As for future opportunities near Full House's headquarters, Fanger said the company wasn't interested in operating a casino in the Southern Nevada market. The company views the Strip as a difficult operating environment — especially nowadays — and believes the Las Vegas locals region would be too competitive with major players like Red Rock Resorts in the market.
"We're happy where we are," Fanger said.
Full House shares closed up 10.7 percent Monday to $7.66 on the Nasdaq.
Contact Bailey Schulz at bschulz@reviewjournal.com. Follow @bailey_schulz on Twitter.
Full House Resorts Inc.
Fourth-quarter revenue and earnings for Las Vegas-based Full House Resorts Inc., operators of Stockman's and Grand Lodge casinos in Northern Nevada. (Nasdaq: FLL)
Revenue
Q4 2020: $38.3 million
Q4 2019: $39 million
Change: -1.9%
Net income/(loss)
Q4 2020: $3.5 million
Q4 2019: ($4.1 million)
Earnings/(Loss) per share
Q4 2020: $0.12
4Q 2019: ($0.15)