Gaming board won't change licensing procedures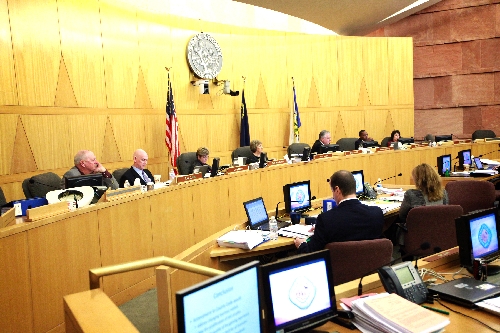 The Nevada Gaming Commission won't change how it decides licensing matters for restricted gaming applicants despite a Clark County Commission vote that effectively ended the business model used by one tavern operator, several commissioners said Wednesday.
Gaming Commissioner Randolph Townsend said the state already takes into account the incidental nature of gaming revenues compared to revenues produced by the primary business, no matter what standards are set by local jurisdictions.
Clark County commissioners, by a 5-2 vote Tuesday, approved changes to an ordinance that governs the operation of slot machines inside taverns.
All new taverns must have 2,500 square feet of public space, an operating kitchen open at least 12 hours a day, be at least 2,000 feet away from another tavern, and have a bar with eight of the location's 15 slot machines embedded.
Existing taverns will also be required to add bars with eight embedded slots but have been given two years to comply with the law. Taverns operating in the same location for at least 20 years were exempt from the bar-top slot requirement.
The changes were made after rival tavern operators, slot machine route businesses and the Nevada Resort Association complained the Dotty's Gaming & Spirits operations were glorified slot machine parlors and not taverns. Dotty's, which has operated in Nevada since 1995, has 67 locations statewide.
The vote, according to one Dotty's attorney, ensured no additional Dotty's would ever be built.
Gaming Control Board Chairman Mark Lipparelli said the ordinance changes means the state regulatory body won't see any more Dotty's-type gaming applications coming from Clark County. The state's restricted gaming application process requires approval of a local entity before gaming regulators get involved.
It will be up to the Nevada Gaming Commission, however, to decide if any Dotty's or similar business models coming from other jurisdictions, such as Las Vegas, Henderson, North Las Vegas or Washoe County, are approved. The ordinance changes cover Clark County only.
"At least three members of the commission have made it clear they don't plan to vote for these type of businesses," Lipparelli said. "The board would have to acknowledge that kind of change at the policy level."
At a March 24 gaming commission meeting, Townsend, John Moran Jr. and Tony Alamo Jr. said they were no longer comfortable with the Dotty's business model, which focuses heavily on gaming. Three new Dotty's were licensed by a 3-2 vote, but those commissioners said the company may be violating state law because gaming revenues were not incidental to the primary business.
"Clark County has stepped up to regulate its tavern and liquor licensees," Moran said Wednesday. "The (gaming) commission is concerned about gaming in Nevada. All the state's counties clearly understand the policy may be in the process of changing."
Moran said the Dotty's business model was a slot machine arcade.
"It's not a level playing field, not just for the nonrestricted licensees, but for the competing tavern owners as well," Moran said.
Dotty's does not have operating kitchens, so smoking is allowed. Dotty's offers customers prepackaged food and beverages from a service counter, and its slot machines are all slant-top games.
Dotty's representatives objected to the ordinance changes, including that current locations add bars with eight embedded slot machines.
During the hearing, Dotty's attorney Chris Kaempfer said bartop slot machines have "ancient" technology and the county shouldn't be dictating what type of games a business can offer. The company would have to change 66 percent of its current slot machines and reformat its existing locations.
"Sitting as a bar also promotes alcohol consumption," Kaempfer said at the hearing.
Dotty's officials weren't commenting Wednesday. Company leaders were huddling with outside legal advisers and consultants to determine the next course of action.
Kaempfer said after Tuesday's hearing he expected Dotty's to file a lawsuit to try to overturn the ordinance changes.
While the Dotty's debate has placed a stronger focus on incidental revenue figures, Townsend and Moran said they didn't believe the regulation should be reopened nor should a definition of the word incidental be developed.
"My feeling is that no one misunderstands what the word means," Townsend said. "You need to prove to me that your application for a restricted license will show that the results from gaming will be of an incidental nature to the primary business."
Moran, a Las Vegas attorney, doesn't think the law is broken: "It's an interpretation issue. I believe we can look at the intent of the legislation."
Contact reporter Howard Stutz at hstutz@reviewjournal.com or 702-477-3871.