Wall Street is placing its chips on Las Vegas.
Gaming industry stocks such as Wynn Resorts and MGM Resorts International have been on a roll this year amid solid revenue growth at home and on Macau. And the Raiders move to Las Vegas has helped draw investor attention to the city.
The Dow Jones U.S. Gaming Index is up 22.2 percent this year through Friday — triple the rise of the Dow Jones Industrial Average and surpassing the 21.5 percent gain for the Dow's red-hot technology index.
For the first time in years, investors have been net buyers of a U.S. gambling exchange traded fund, according to VanEck, the fund's manager.
"There has been increasing interest in gaming versus other sectors in large part because of fundamentals,'' said David Katz, an analyst at Telsey Advisory Group in New York. "Companies are generating free cash and have improving balance sheets. We see little in the way of specific risks or negative catalysts.''
Local gaming companies are benefiting from Southern Nevada's solid employment growth, the robust housing market and other indicators of a thriving economy, according to Marc Falcone, former chief financial officer at Red Rock Resorts Inc.
Nongaming revenue growth
Gross gaming revenue in Clark County has risen 4.6 percent through April with downtown Las Vegas surging 19 percent. That is putting Clark County on pace to break $10 billion in gaming revenue for the first time since 2007.
But nongaming revenue growth at Las Vegas casinos has been just as strong.
Robust convention attendance has helped lift the average daily room rate 5 percent this year while also driving greater demand for food and beverage services. The average convention attendee will spend $150 more on food and beverage than other guests, according to Caesars.
"We had an incredible quarter in our beverage and convention services area with record operating income and revenue," Bob Morse, Caesars president of hospitality, told investors last month.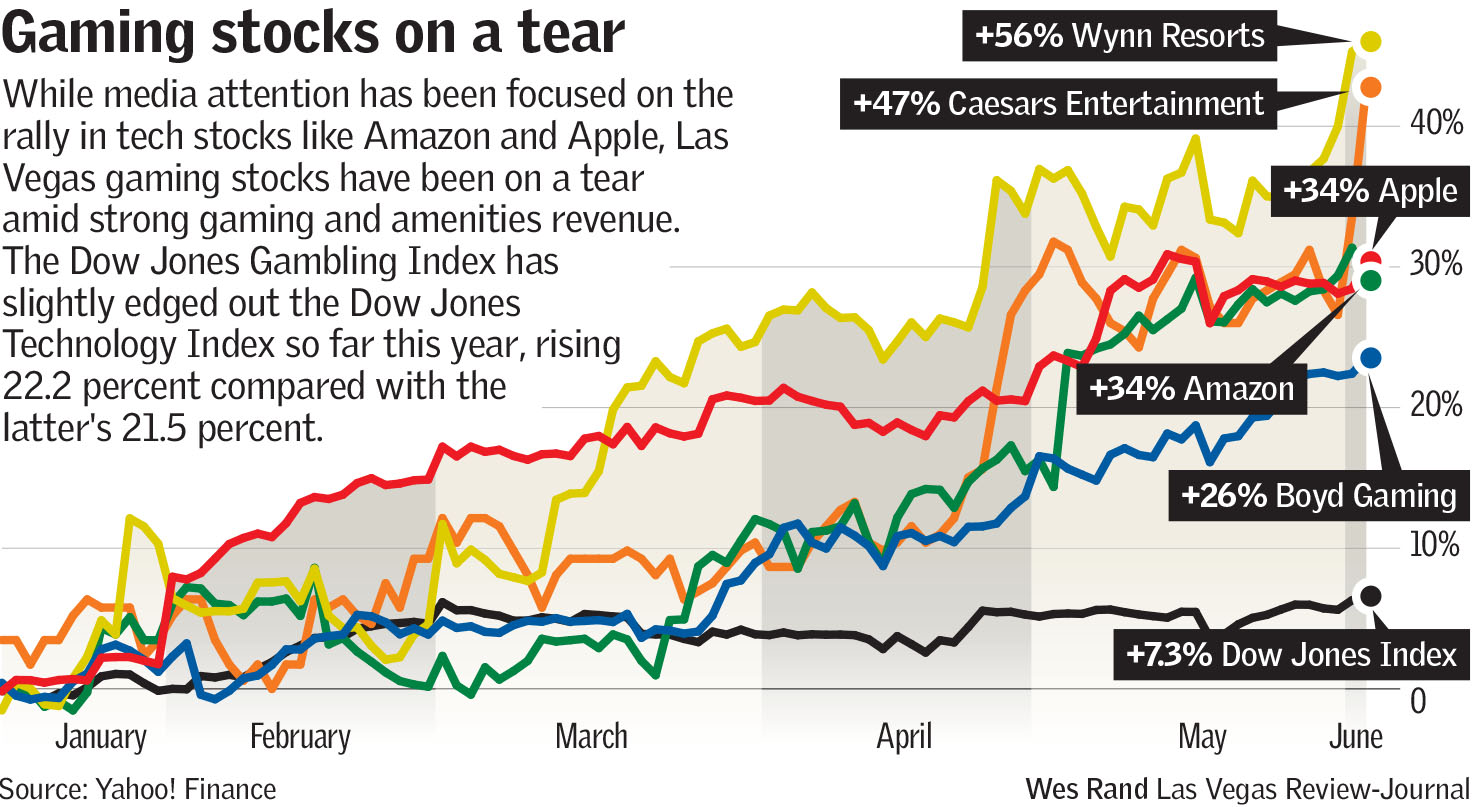 Macau revival
Macau has been on an even greater tear this year.
Gross gaming revenue on the Chinese resort jumped 17 percent through May as high rollers returned after a corruption crackdown. Rising property prices and government stimulus have been giving Chinese gamblers more confidence to take risks.
Wynn, Las Vegas Sands and MGM have casinos on the Chinese resort.
Sands rode the recent resurgence of Macau and the company's best cash flow performance in Las Vegas since 2008 to double-digit percentage increases in revenue and net income. The operator of The Venetian and Palazzo on the Strip, saw net revenue grow 14.3 percent to $3.11 billion in the first quarter.
Wynn Resorts also reveled in the magic of Macau, generating higher revenue there with last summer's opening of Wynn Palace. In the first quarter, Wynn reported a 47.9 percent increase in net revenue to $1.48 billion.
During a conference call with investors, Wynn Chairman and Chief Executive Officer Steve Wynn lamented that results could have been even better had potential Wynn Palace guests not been discouraged by the nearby construction of a new transportation system.
And while some Wall Street analysts are skeptical that Macau's rally can continue as the government seeks to curtail property prices, they remain upbeat on Las Vegas, especially the locals market dominated by Boyd Gaming Corp., Red Rock Resorts and Golden Entertainment Inc.
Las Vegas locals market
"We view the Las Vegas locals market as one of the most attractive gaming markets in the U.S. as it should continue to benefit from a strong macro, favorable supply-demand dynamics and low gaming tax rates,'' J.P. Morgan analyst Joseph Greff said in a May note.
First-quarter revenue at Red Rock Resorts, the parent company of Station Casinos, surged 16.3 percent to $417.7 million. That was the company's best first-quarter performance since 2008.
"We believe these (first-quarter) results are directly correlated to the ongoing expansion of the Las Vegas economy, which continues to see strong population growth, robust employment numbers, increasing wages, an improving housing market and a large pipeline of planned and under construction development projects, all of which attract new residents and businesses to the Las Vegas market," Falcone said.
Senior citizens, prime customers for Station's business model, are recognizing the region as an ideal place to retire, he added.
The Nevada economy grew 2.4 percent last year, significantly faster than the 1.6 percent for the U.S. economy. The growth help push the unemployment rate down to 4.7 percent in April, the lowest since December 2007.
Construction jobs are helping lead the way as new projects get underway in the region. That is helping lift average nominal weekly wages, which now stand at $770, near all-time highs.
And people are returning to the state to buy homes.
Boyd, Golden rally
Boyd's downtown Las Vegas segment was up 3.6 percent to $60.7 million, benefiting from additional downtown foot traffic and an expanded Hawaiian customer base, Chief Executive Officer Keith Smith said.
Boyd has been investing in local properties with the addition of the Aliante, Cannery and Eastside Cannery. That helped drive a 39 percent revenue increase in the company's Las Vegas locals segment to $220 million, its highest since 2008. Overall, Boyd's first-quarter revenue was up 9.6 percent compared with the year-earlier period.
The positive economic trends in Southern Nevada are enabling Boyd to reinstate a policy of share repurchases and dividends that was halted during the downturn.
Golden Entertainment, parent company of the PT's Pub and Sierra Gold tavern chains, had record first-quarter revenue and more than doubled its net income over last year. The favorable quarter is keeping Golden on track to invest in more taverns in Las Vegas.
"We remain on schedule to open a total of seven new Las Vegas taverns in 2017 and believe these taverns are one of the most attractive ways we can invest our capital given the positive macroeconomic trends seen in Nevada," said Blake Sartini, the company's chairman and CEO.
Shares of Golden Entertainment are up 41 percent this year, while Boyd shares have risen 27 percent. Red Rock has lagged, gaining 3.4 percent.
Raiders move
Even Wynn, whose company generates nearly 65 percent of its revenue from Macau, spent much of his time on a conference call with investors discussing the outlook for Las Vegas, including the long-term impact of the NFL's move to the city.
Wynn predicted that Las Vegas would become known as the sports capital of the nation when the Raiders arrive and that the National Basketball Association would locate a franchise at T-Mobile Arena, further driving visitations and resort revenue.
"I love that the Raiders are coming," Wynn told investors. "This was whipped cream and a cherry on the cake."
The Review-Journal is owned by the family of Las Vegas Sands Corp. Chairman and CEO Sheldon Adelson.
Contact Todd Prince at tprince@reviewjournal.com or 702-383-0386. Follow @toddprincetv on Twitter. Contact Richard N. Velotta at rvelotta@reviewjournal.com or 702-477-3893. Follow @rickvelotta on Twitter