Gaming, tourism numbers suffer on Leap Year comparison
Updated March 28, 2017 - 3:41 pm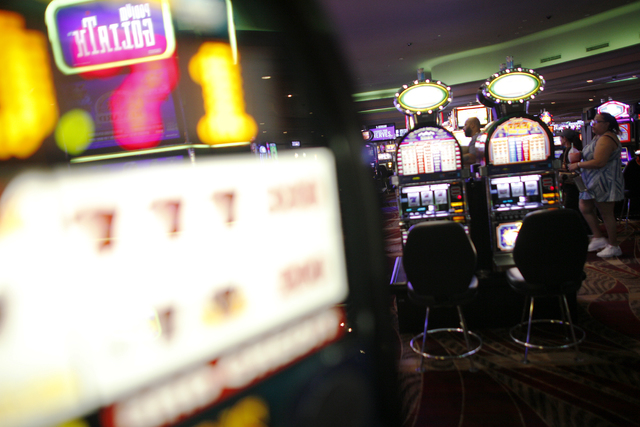 What a difference one day can make.
Southern Nevada visitation numbers and state and county gaming win in February were down from a year ago, mostly because of a lack of a Feb. 29. February 2016 had one more day than last month because of Leap Year.
The Las Vegas Convention and Visitors Authority on Tuesday reported declines in nearly every statistical visitation category, with visitor volume down 5.5 percent to 3.1 million people.
It was the first year-over-year decline since October and the steepest drop since a 6.3 percent decline in June 2009.
Nevada's state gaming win in February was down from a year ago in 18 of the 19 markets it tracks with total of $945.6 million, off 4.5 percent from February 2016, the state Gaming Control Board reported Tuesday.
In addition to Leap Year having an effect on February numbers, the number of conventions and meetings held was down 23.1 percent to 1,797 for the month. Convention attendance was actually up 2 percent to 620,206 because convention attendance is totaled on the closing date of a show and the International Air Conditioning, Heating, Refrigeration Expo with 66,600 attendees closed in February, but opened in late January.
Citywide occupancy, average daily room rates and revenue per available room also were down in February.
Citywide occupancy fell 1.7 percentage points to 85.5 percent for the month and the average daily room rate dropped 2.5 percent to $118.66 a night. Strip room rates were off 2.8 percent to $127,75 while downtown fell 7.9 percent to $57.51.
TRAFFIC ON MAJOR HIGHWAYS UP
While the number of passengers that used McCarran International Airport fell 0.3 percent to 3.4 million passengers, traffic increased on major highways into Las Vegas by 1.9 percent to an average 102,967 vehicles per day.
Laughlin and Mesquite also had disappointing results. Visitor volume was down 3.4 percent to 152,004 in February and down 6.5 percent to 103,365 in Mesquite.
Laughlin's average daily room rate increased 1.6 percent to $45.02 in February and occupancy was up 1.1 percentage points to 66.5 percent.
In Mesquite, room rates and occupancy were down, with the rate down 0.9 percent to $61.05 and occupancy off 5.4 points to 75.7 percent.
On the gaming side, despite declines in every market except downtown Las Vegas, three-month trends were still holding steady with win up 1.4 percent. Over the past 12 months, statewide win is up 1.5 percent to $11.3 billion.
For the month of February, Clark County numbers were down 4.3 percent to $825.9 million and the Strip was off 5 percent to $541.9 million.
Downtown Las Vegas continued its impressive roll since last summer as the only market in positive territory in February, up 2.2 percent to $51.7 million.
Contact Richard N. Velotta at rvelotta@reviewjournal.com or 702-477-3893. Follow @RickVelotta on Twitter.
GAMING WIN
While February gaming win was down in nearly every state market, the three-month trend remains favorable.
The numbers:
Market Win Compared with 3-month trend
FEBRUARY 2016
State: $945.6 million -4.5% +1.4%
Clark County: $825.9 million -4.4% +1.6%
Las Vegas Strip: $541.9 million -5% +2.2%
Downtown Las Vegas: $51.7 million +2.2% +10%
North Las Vegas: $23 million -7% -1.4%
Boulder Strip: $64.5 million -9.1% -3.5%
Laughlin: $43.1 million -0.6% -0.8%
Mesquite: $10.7 million -1.7% +0.2%
Balance of county: $90.9 million -1.7% -0.7%