Get a first look at Encore Boston Harbor, opening Sunday
Updated June 21, 2019 - 6:14 pm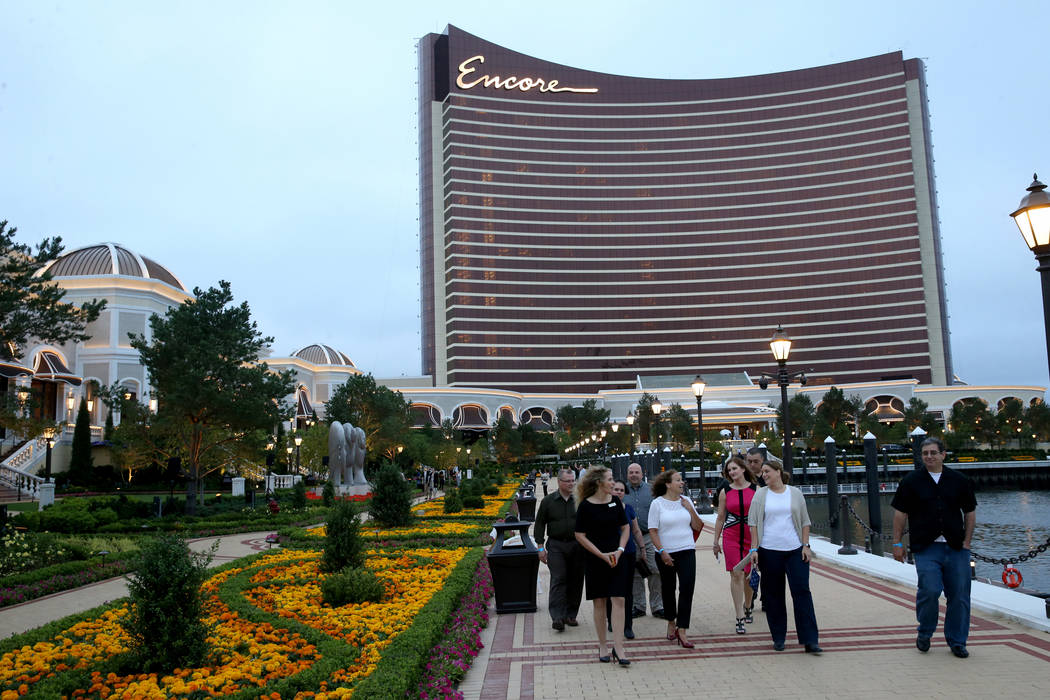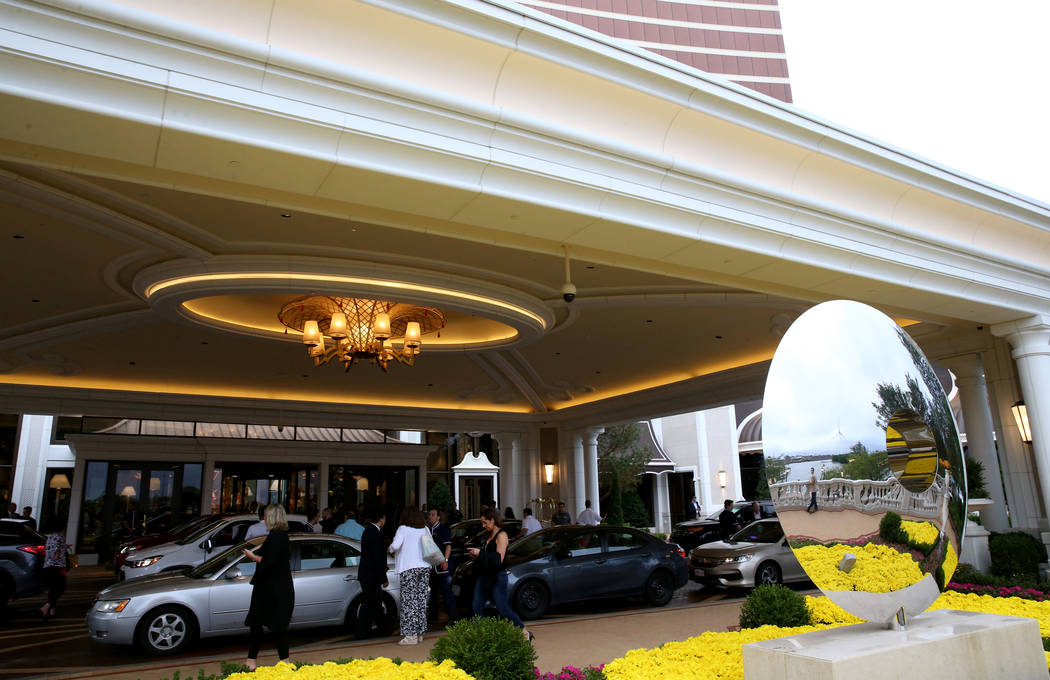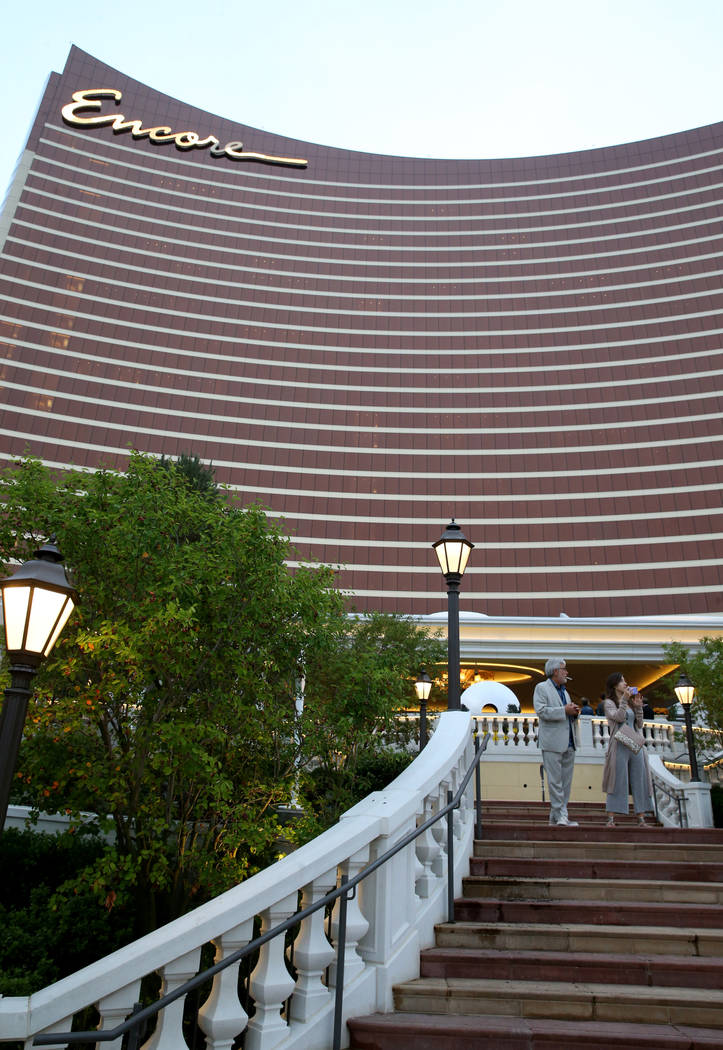 EVERETT, Mass. — Just as it looks like a replica of Encore Las Vegas, the inside of Encore Boston Harbor also looks like a replica of its Las Vegas sister property.
Set to open Sunday around 10 a.m., local time, the $2.6 billion, 671-room casino resort is expected to transform New England's tourism industry.
"If we didn't know we were in Boston, we would have thought we were in Las Vegas or Macau," Joseph Greff, an analyst with New York-based J.P. Morgan Securities LLC, said in a recent report to investors.
Massive crowds are expected to jam streets in the Boston suburb Sunday morning when Everett Mayor Carlo DeMaria and other dignitaries cut a ribbon at the property to open the resort.
What's inside
Encore Boston Harbor is a thorough Wynn design, from the inlaid floral tile design on the floors to the crest atop the roof of the bronze-colored glass tower.
"Wynn did a commendable job of making a large casino floor (3,158 slots, 143 table games, and 88 poker tables) feel intimate and neighborhoody and complemented it with a beautiful room product (standard rooms are 645 square feet) and a wide range of restaurants and food-and-beverage outlets (15 in total)," Greff said.
"Many of the same restaurants in Las Vegas are there (Sinatra, Rare – a version of SW, Fratelli, a version of Allegro, and Red8)," he said. "The spa product is another top version of Wynn and Encore Las Vegas, and the outdoor grounds are beautifully appointed to allow easy ingress and egress to the interior of various parts of the resort."
Encore is expected to be a prominent new site for weddings once it opens.
Words from the CEO
In a press conference Friday at the resort, Wynn Resorts CEO Matt Maddox and DeMaria made it clear they were already planning the company's next potential move: the development of 11 acres across the street from the resort. Over the past four years, Wynn has acquired more than 82 parcels to secure the land and Maddox said the process now is to determine what is missing with Encore and to fill in the gaps.
"You learn as you go," Maddox said, adding that the company is considering its area partners.
"Is it hotels? Is it arenas? What is it that needs to go here — and really take our time and work with the right people with the city to come up with a comprehensive master plan that will create one of the best entertainment districts in the Northeast."
Maddox said an entertainment component may be in store, although the resort won't be hurting in attracting big-name entertainers. Private performance events are scheduled in the property's 37,000-square-foot ballroom with Earth, Wind and Fire and Paul Anka scheduled to perform at separate events, and a championship boxing match planned July 12 in the ballroom.
The company also has the option of entertaining guests in luxury boxes at Fenway Park, Gillette Stadium and the TD Garden, venues which offer concert events as well as host Boston's sports teams.
Maddox said he is now focused on integrating Encore Boston Harbor into the corporate portfolio and how it will figure into Wynn's next foray of developing an integrated resort in Japan.
"It (Encore Boston Harbor) actually is a true part of Wynn Resorts' strategy," Maddox said. "This is one of the first integrated resorts in a major metropolitan area and it's a calling card for other states and other jurisdictions globally to think about putting large-scale integrated resorts that can create real urban renewal and economic progress, which is why we have 25 journalists visiting us from Japan on the 25th (of June), so this is really quite strategic for our company."
In the hour-long press conference, there was no mention of Steve Wynn or the year-long investigation that punctuated the relationship between the Massachusetts Gaming Commission and the company in the past year. Maddox also flatly declared that "Encore Boston Harbor is not for sale," after Wynn Resorts Ltd. and MGM Resorts International acknowledged last month that they had discussions about a possible sale.
Photo ban
Wynn officials continued their efforts to whet the appetites of potential guests, prohibiting journalists from photographing the interior of the building, a longstanding Wynn Resorts pre-resort-opening policy.
The ban was lifted later in the day at some spots — the $28.2 million, 2,000-pound mirrored stainless-steel Popeye statue created by artist Jeff Koons, and the floral carousel designed by Preston Bailey.
Thousands of people already got an early look at the resort participating in three test play practice events authorized by the Massachusetts Gaming Commission on Monday, Wednesday and Thursday. After the last of the three practice events, Gaming Commissioner Eileen O'Brien, who observed the test nights and was delegated by fellow commissioners to issue opening approval, gave the final regulatory nod needed for Sunday's public opening.
During the practice event, the commission's Investigations and Enforcement Bureau, the Information Technology Services Division and the Finance Division worked together to supervise gaming systems and procedures to ensure the integrity of the games, compliance with regulations and overall adherence to Massachusetts' gaming standards. Winnings generated in the practice nights were donated to local charities.
"As Encore Boston Harbor prepares to open its doors, the MGC remains focused on ensuring that our policies and procedures protect the integrity of the industry and safeguard fair play for patrons," O'Brien said.
Contact Richard N. Velotta at rvelotta@reviewjournal.com or 702-477-3893. Follow @RickVelotta on Twitter.
Encore Boston Harbor – Curated tweets by reviewjournal
Timeline
Nov. 22, 2011: Gov. Deval Patrick signs the Expanded Gaming Act that initiates a commercial casino industry in Massachusetts. The law provides for three destination resort casinos by geographic region.
Dec. 16, 2013: Wynn Resorts Ltd. and its Massachusetts subsidiary are found suitable to apply for a state gaming license.
June 2014: Wynn Resorts Ltd. completes an environmental report on a proposed resort site on the Mystic River in Everett, targeting a 2018 resort opening.
July 2014: Massachusetts voters oppose a measure to repeal the Gaming Act, setting the stage for hearings to award licenses.
Sept. 16-17, 2014: The Massachusetts Gaming Commission votes 3-1 for Wynn Resorts' $1.6 billion Wynn Everett proposal, beating out a $1.1 billion plan by Connecticut-based Mohegan Sun to revitalize the Suffolk Downs racetrack in Revere. The commission then votes 4-0 to award a license to Wynn.
November 2014: The state officially grants Wynn the license. Lawsuits are filed a month later from the cities of Revere, Somerville and Boston over traffic issues associated with the casino project. Mohegan Sun also sues, seeking reconsideration of the license issuance.
Jan. 2, 2015: Wynn Resorts acquires the 33-acre Wynn Everett site on the Mystic River.
Jan. 15, 2015: Wynn unveils renderings of a 24-story bronze-glassed hotel with 600 rooms and a convention center instead of an expected nightclub.
Sept. 28, 2015: Wynn receives unanimous approval from the city of Everett's planning board, enabling the issuance of building permits.
Jan. 19, 2016: Wynn names Suffolk Construction Co. as the project's general contractor.
Feb. 24, 2016: Legal challenges prompt Wynn to postpone an April groundbreaking.
March 2016: Wynn Resorts Chairman and CEO Steve Wynn announces new details about the resort, including an increased budget to $2 billion and a new working name , Wynn Boston Harbor, as well as a planned July startup.
August 2016: The city of Somerville drops an appeal and construction begins on the project.
August 2016-December 2017: Construction continues. The project grows to 671 rooms on 27 floors and the budget balloons to $2.5 billion.
Jan. 26, 2018: The Wall Street Journal publishes a story alleging sexual misconduct and sexual harassment over several years by Steve Wynn. The story notes a $7.5 million settlement payment made by Wynn to one of the alleged victims. Wynn denies harassing anyone.
Jan. 29, 2018: The Investigations and Enforcement Bureau of the Massachusetts Gaming Commission begins a regulatory investigation of Steve Wynn and Wynn Resorts. The IEB emphasizes that it's a regulatory, not a criminal, investigation.
February 2018-February 2019: The IEB conducts interviews with more than 100 people in six states in the Wynn investigation. The Nevada Gaming Control Board separately conducts its own investigation.
Feb. 6, 2018: Steve Wynn steps down as chairman and CEO of Wynn Resorts. His protege, Matt Maddox, is named CEO by the company's board of directors.
April 18, 2018: Steve Wynn is completely divested of Wynn Resorts.
May 3, 2018: The Nevada Gaming Control Board introduces new proposed regulations involving sexual harassment within gaming companies. The regulations get mixed reviews with some executives questioning the duplication of efforts with the Equal Employment Opportunity Commission and the Nevada Equal Rights Commission.
May 7, 2018: The Massachusetts Gaming Commission determines that Steve Wynn is no longer a "qualifier" for a license in the state.
Sept. 26, 2018: Massachusetts Gaming Commission Chairman Stephen Crosby, a Wynn Resorts advocate, resigns a month after the opening of MGM Springfield.
Nov. 15, 2018: The Nevada Gaming Control Board unanimously recommends the adoption of new regulations on sexual harassment in the gaming industry. The Nevada Gaming Commission has yet to take up the matter with Chairman Tony Alamo saying he wants all matters relating to Wynn Resorts to be resolved before regulations are considered.
November 2018-March 2019: Steve Wynn files a lawsuit in Clark County District Court against the Massachusetts Gaming Commission, its lead investigator, Karen Wells, and Wynn Resorts alleging they used privileged attorney-client information in the course of the investigation of Steve Wynn and Wynn Resorts. Ultimately, the case is settled and the Massachusetts Gaming Commission agrees to issue a redacted report to the public.
Jan. 15, 2019: Cathy Judd-Stein is named chairwoman of the Massachusetts Gaming Commission.
Feb. 26, 2019: In a special meeting of the Nevada Gaming Commission, Wynn Resorts is fined a record $20 million for damaging the state's reputation through the company's failure to investigate claims from at least eight women that they were sexually harassed in the workplace. Gaming Commission Chairman Tony Alamo and former Gaming Control Board Chairwoman Becky Harris say Steve Wynn and other former executives could still be subject to discipline in Nevada because their licenses were suspended and not surrendered.
April 2, 2019: The redacted Massachusetts Gaming Commission report on how Wynn Resorts responded to allegations that Steve Wynn sexually harassed female employees is released.
April 2-4, 2019: The Massachusetts Gaming Commission takes testimony in an adjudicatory hearing to determine how the company and its executives responded to sexual harassment allegations. Among the options available to commissioners was to revoke the license the company had received in 2014 and to fine the company.
April 30, 2019: The Massachusetts Gaming Commission allows Wynn Resorts to retain its gaming license, but penalizes the company with a record $35 million fine, a $500,000 personal fine against CEO Matt Maddox and the requirement that a monitor oversee Maddox's operation of the company for three years.
June 6 and June 12, 2019: Massachusetts Gaming Commission gives its final approvals for the opening of Encore Boston Harbor.
June 23, 2019: Encore Boston Harbor opens in Everett, Massachusetts.