Golden Entertainment buying 2 Laughlin properties for $190M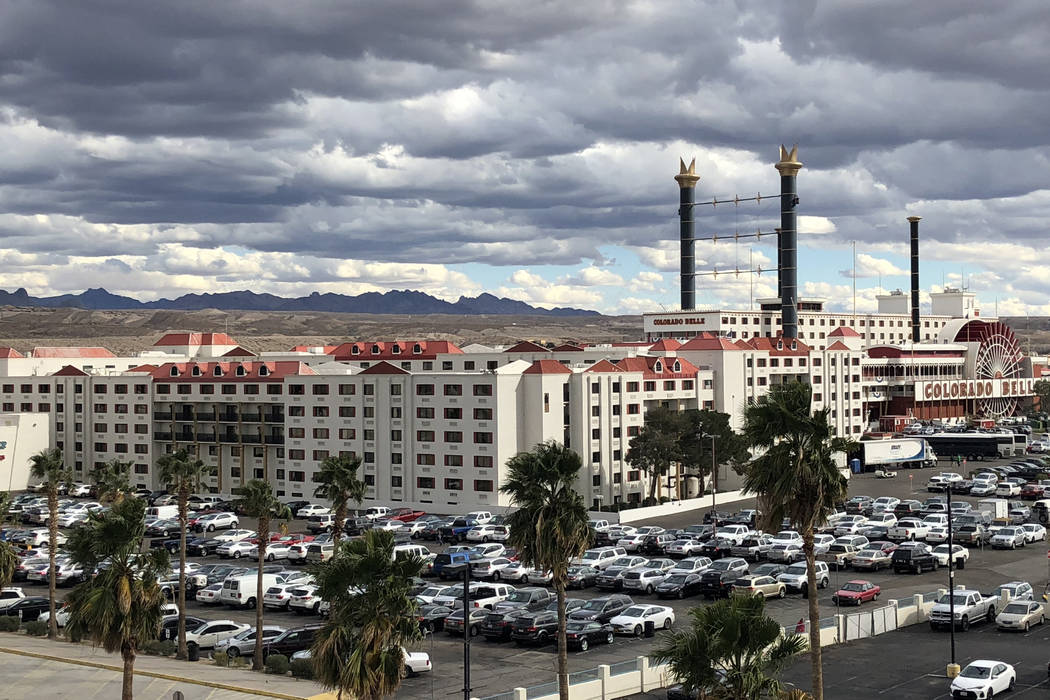 Golden Entertainment has agreed to buy two properties in Laughlin for as much as $190 million as CEO Blake Sartini pursues an aggressive growth strategy.
Golden said Monday that it will acquire the Edgewater and Colorado Belle from Marnell Gaming. The deal will give Golden the dominant position in Nevada's third-largest gaming market.
The acquisition comes 13 months after Sartini agreed to buy American Casino &Entertainment Properties for $850 million in a deal that transformed the company from a slot route and pub owner to a midsize casino operator. Golden picked up the Stratosphere, the Aquarius in Laughlin and two Arizona Charlie's in that acquisition.
"We view the transaction as a modest positive and part of what we expect to be a broader growth strategy," Jefferies analyst David Katz wrote in a note Monday.
Golden shares jumped 6.6 percent to $31.28, near a three-month high, valuing the company at about $850 million.
The Las Vegas-based operator will pay 8 times the combined trailing 12-months earnings of the two properties, Golden said in the statement. The final price tag will be between $168 million and $190 million, it said. Golden expects cost savings to reduce the multiple to 6.5 times.
The company will pay $155 million of the price in cash and the rest in restricted stock priced at $28.54 a share. Marnell Gaming is positioned to receive as much as a 4.2 percent stake in Golden.
The transaction is expected to close in the first quarter of 2019, Golden said.
Golden's net leverage is expected to be below 5 times earnings before interest, taxes, depreciation and amortization at closing time.
Marnell on board
Marnell Gaming CEO and Chairman Anthony Marnell III will have the right to sit in on board meetings following completion of the deal and will be nominated to the board at the annual meeting of shareholders next year, according to the statement.
Marnell built the M Resort in Henderson and other casinos around the U.S. and "would be a key partner for Golden" as it looks to develop land adjacent to the Stratosphere, said Union Gaming analyst John DeCree in a note published Monday.
Golden owns 15 undeveloped acres next to the Stratosphere and hasn't said what it will do with the land.
The two gaming families could combine more assets in the future, DeCree said in his note.
Marnell Group also owns the 1,400-room Nugget in Sparks, "which could represent an additional Nevada acquisition for Golden in the future," DeCree said.
Laughlin market
Laughlin, located 90 minutes from Las Vegas, is a $500 million gaming market growing around 4 percent a year, according to Katz.
He called the Laughlin market "stable" and "undervalued."
DeCree agreed, saying in his note that the market serves as a "value alternative" to Las Vegas for residents of Arizona and Southern California and Clark County locals.
The Edgewater and Colorado Belle have more than 1,400 slot machines, 40 table games and 2,150 hotel rooms combined.
They are situated next to the Aquarius, which features more than 1,200 slot machines, more 30 table games and almost 2,000 hotel rooms.
The three properties are situated on 55 contiguous acres, according to the company. DeCree said Golden will be able to centralize management of the three properties, combine their marketing and purchasing efforts and better employ staff.
Golden's Laughlin properties will compete head to head with the Tropicana, Harrah's, Riverside Resort and Laughlin River Lodge.
Contact Todd Prince at 702-383-0386 or tprince@reviewjournal.com. Follow @toddprincetv on Twitter.
Merger Mania
U.S. casino operators are scooping up smaller competitors at the fastest pace in a decade amid low borrowing rates and an improving gaming market outlook.
There have been more than 20 acquisitions totaling more than $10 billion over the past four years, according to Union Gaming data.
Caesars completed a $1.7 billion acquisition Monday of two casinos in Indiana while MGM Resorts International agreed to buy a casino in Yonkers, New York in May for $850 million.
Boyd Gaming has spent nearly $1 billion over the past seven months snapping up assets across the country.
Eldorado Resorts and Penn National have also been on the acquisition war path. Eldorado announced in April it would acquire seven properties from Tropicana Entertainment for $1.85 billion.
Penn National in December agreed to buy Pinnacle in a $2.8 billion deal, one of the largest in recent years. Boyd participated in that transaction.