Gulf Coast casino workers call area's recovery 'amazing'
August 28, 2015 - 7:52 pm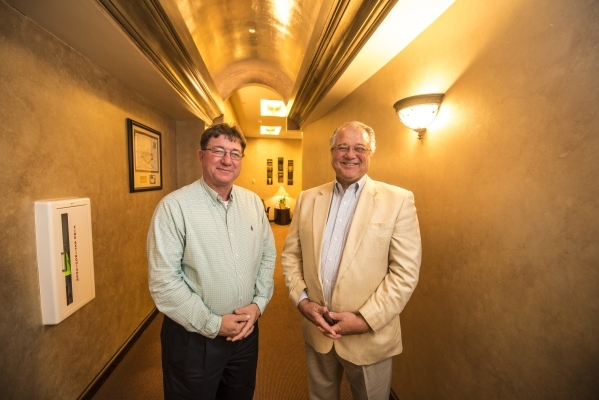 BILOXI, Miss. — Hurricane Katrina wiped out the nation's third-largest gaming market along the Mississippi Gulf Coast 10 years ago today, washing away 13 casinos and 17,000 gaming industry jobs.
Some casino workers, who lost their homes and all their possessions, left the Gulf Coast forever.
Many others chose to remain, anticipating that casino, hotel, restaurant and service industry jobs would return.
Today, as communities in southern Mississippi mark a decade since the Gulf's worst-ever natural disaster, not all of those workers are employed in similar roles they held before Katrina landed. There were nearly 7,800 fewer casino jobs on the Gulf Coast as of mid-2015.
Bonnie Charleton, a casino dealer who was part of the opening day crew of Beau Rivage in 1999, is one of several employees who waited exactly one year for the property — Mississippi's tallest building and the South's first true destination resort — to repair its demolished casino.
The hurricane's 35-foot storm surge washed through the Beau Rivage, taking out the back wall and sending gaming tables, slot machines and casino furniture into the hotel's lobby, where they piled up against the front doors. Some of the gaming equipment found a final resting place at the bottom of the Gulf of Mexico.
Robert Hannum, Beau Rivage's director of cage operations, was one of the first employees to reach the property the day after the storm. He said the public space was stark.
"You could see clear out to the water," Hannum said. "We knew then what was facing us."
Beau Rivage owner MGM Mirage (now MGM Resorts International) and Harrah's (now Caesars) Entertainment, paid workers of the closed properties through early December 2005.
"To come down and pick up that last paycheck was traumatic," Charleton recalled.
She worked part-time for an insurance company, but on Katrina's one-year anniversary, Charleton was one of 100 Beau Rivage employees who marched up the resort's driveway and into the casino amid cheers of customers, fellow workers, MGM Mirage executives, Mississippi's governor, and state and local leaders.
"To come back one year to the day and see everything refurbished was amazing," Charleton said.
Victoria Danish, a Beau Rivage shift manager, said 60 percent to 70 percent of the table games staff have been with the casino since before Katrina. During the yearlong rebuilding, company employee found other ways to rebuild their lives.
Hung Vu, a Beau Rivage dealer, did construction work until the casino reopened. He also marched up the driveway nine years ago.
"It was nice to see the familiar faces, such as customers and other employees," Vu said. "It's like family. I've worked in other casinos in Atlantic City. It was never like this."
Dealer Nick Schwartz and his wife left Biloxi. They lost everything in the storm. They moved to North Carolina and then to California. As soon as he was given word his job was returning, the couple raced back to the South.
"I felt depression. Everything we worked hard for was gone," Schwartz said. "People were tremendous helping us out, but I didn't want to rely on everyone."
He still deals cards at Beau Rivage, but he and his wife resettled on the north side of Interstate 10, farther from the coast.
Recovery plans
After the storm, Hannum opened a temporary casino cage in the Beau Rivage's hurricane recovery offices so that customers could cash unused chips.
He also oversaw a painstaking process of recovering casino chips, slot machine tokens and currency from the Beau Rivage's demolished casino and cage. Crews then spent months cleaning and bagging the items, which were then collected by the banks, credited to the Beau Rivage accounts and destroyed. The task took months to complete.
"The outcome is we now have contingency plans in place," said Hannum, who is also an opening-day employee. "We never thought the building could be damaged in a storm. It was like opening a whole new property again."
Alfred Sexton, the director of security at the IP Biloxi, wasn't a casino employee 10 years ago. He was a high-ranking Gulfport police officer.
He said much has changed since the storm. Harrison County, home to Gulfport and Biloxi, now has several emergency shelters, thanks to funds provided by the Federal Emergency Management Agency. All casinos owned by Boyd Gaming Corp., which bought the IP in 2011, now have satellite phones for emergency situations.
"The challenges were communications and shelter," Sexton said. "Who do you call? Who do you communicate with? Those were questions at the time. I was responsible for the shelters and we needed to get people food and water."
Hannum recalls finding all of Beau's restaurant food in storage. It was placed in refrigerated trucks. Using portable barbecues and grills, he and others cooked everything behind the relief center.
"We pretty much fed anyone who came in during that time," Hannum said.
Sexton said Gulf Coast residents were concerned in the early days after the storm because media attention was focused on New Orleans and the flooding that covered 80 percent of the city. But national news crews arrived a few days later.
"We were ground zero for the storm," Sexton said. "We had casino barges washed up on Highway 90. Eventually they made the shift here."
IP General Manager Duncan McKenzie, a regional executive for Isle of Capri Casinos 10 years ago, said Keesler Air Force Base provided 3 million MREs (Meal, Ready-to-Eat) and millions of bottles of drinking water to help the community get back on its feet.
"Tourism is the No. 2 employer on the Gulf, but the government and and military are No. 1," McKenzie said. "We all banded together."
Contact reporter Howard Stutz at hstutz@reviewjournal.com or 702-477-3871. Follow @howardstutz on Twitter.