Hard Rock Cafe demolition starts in Las Vegas
Updated November 19, 2019 - 12:25 pm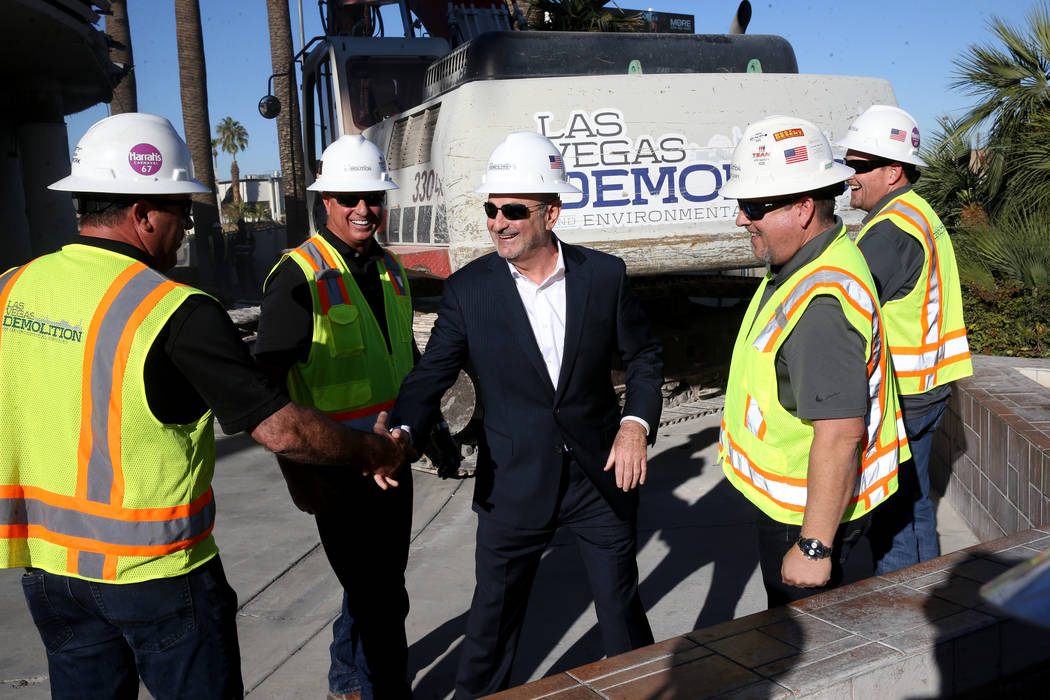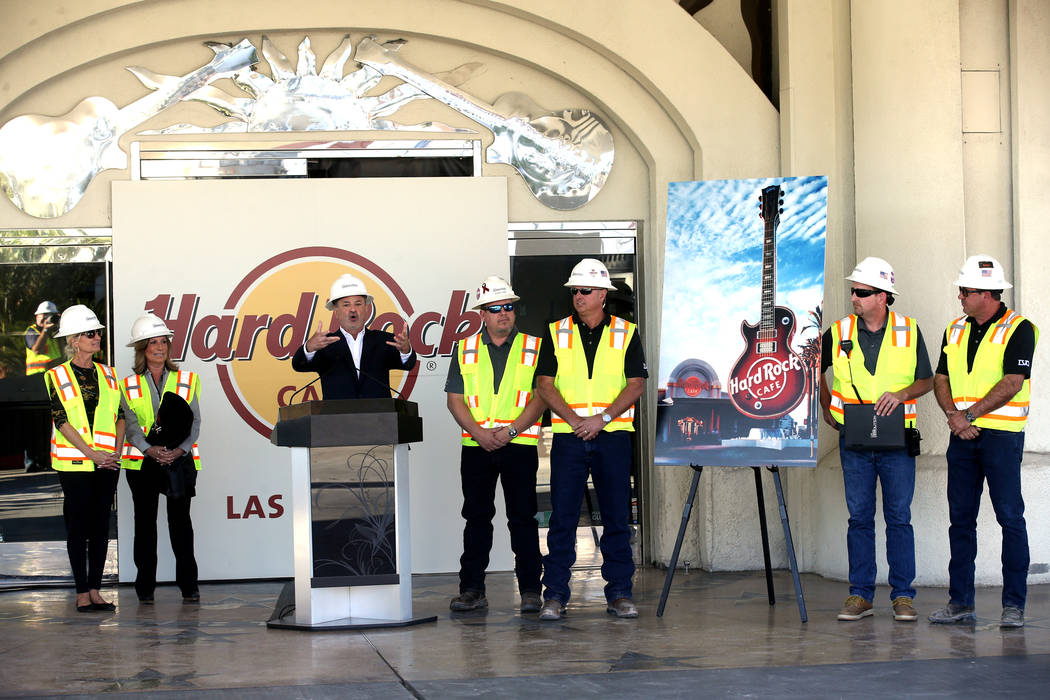 Twenty-eight years after opening, the Las Vegas Hard Rock Cafe is being torn down.
The two-week-long demolition of the Paradise Road cafe, which began Monday afternoon, is one of the first steps of the Las Vegas Hard Rock Hotel's transformation to Virgin Hotels Las Vegas. The off-Strip resort-casino will close its doors Feb. 3 for renovations and is set to reopen in the fall of 2020.
"Las Vegas is a deserving town. It is the hospitality capital of the world," said Richard "Boz" Bosworth, president and CEO of JC Hospitality, the owner of the resort-casino. "This is all part of going back to the future."
Bosworth said there will be "a new sense of arrival" where the cafe once stood, with access to Paradise Road and more valet parking, landscaping and ride-hailing areas.
"We're trying to make it much more user-friendly," Bosworth said.
The Hard Rock Cafe opened in 1990 and closed at the end of 2016. The iconic 82-foot-tall neon guitar that once stood in front of the cafe was disassembled and moved to the Neon Museum earlier this year. As for the Walk of Stars laid out in front of the facility, some of the stars in it will be returned to the artists, and others will be preserved.
"This was a very, very important location … for local residents," Bosworth said. "We're trying to preserve that energy and that vibe and bring it into the future."
The Virgin Hotels Las Vegas will open with 1,504 rooms, a newly designed 60,000-square-foot casino, 5 acres of outside space and pools, outdoor events and more than 130,000 square feet of event and meeting space. Pizza Forte, Nobu and MB Steak will stay, with a new slate of food and beverage options being announced later this year.
To keep its 1,850 team members around, the company is offering a "Stick Around and Come Back" program, giving a retention bonus if employees stay through early February 2020. Bosworth said he believes "the vast majority of our team" will come back to work at the renovated property.
This story has been updated to correct the Hard Rock Cafe's off-Strip location.
Contact Bailey Schulz at bschulz@reviewjournal.com or 702-383-0233. Follow @bailey_schulz on Twitter.