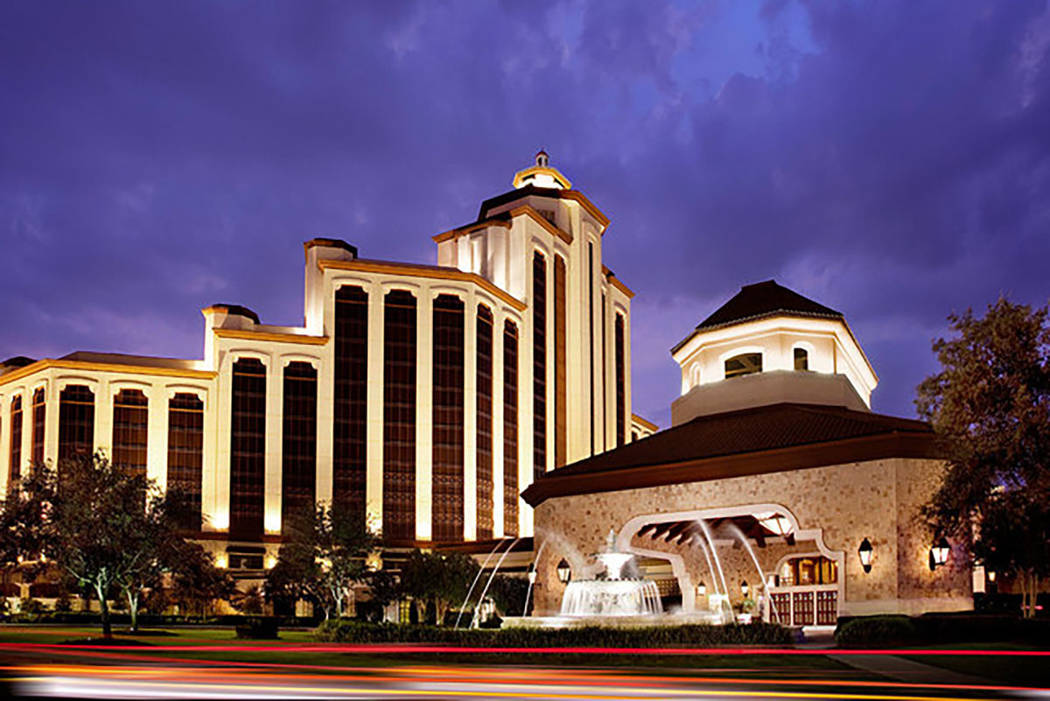 Three Nevada-based casino operators could see business impacted in the short-term by Hurricane Harvey as Texas residents potentially cut weekend travel to repair their damaged homes and businesses.
However, one Wall Street analyst says Harvey could potentially have a positive impact on the casinos.
Boyd Gaming, Pinnacle Entertainment and Eldorado Resorts Inc. all have casinos located near the Texas border in Louisiana, including Lake Charles, a popular getaway for Houston residents.
The lake is located about a two-hour drive from the Houston metropolitan area, the nation's fourth largest by population.
Hurricane Harvey dumped more than 40 inches of rain over eastern Texas this week, causing catastrophic flooding that damaged hundreds of thousands of homes and displaced more than 30,000 people. The storm then dumped more rain on Louisiana, though damage was minor.
"No doubt there will be some impact on business in the short-term," said Troy Stremming, executive vice president of government relations and public affairs for Pinnacle, adding that Houston is a major feeder market for the company's Lake Charles resort.
However, the impact isn't so straightforward. While some Texas residents and companies may cancel room reservations and group meetings at Lake Charles resorts, others are looking to them for temporary shelter.
Pinnacle's L'Auberge Casino Resort at Lake Charles has seen residents of Beaumont, Texas, a nearby town of 120,000, book rooms to escape the flooding and a lack of running water.
"It is uncomfortable to be in that hot environment without water," said Stremming.
The storm hit land ahead of the Labor Day holiday, a top 10 weekend for hotels and casinos around the United States.
Stremming said L'Auberge, which has about 1,000 rooms and suites, is full this weekend and will hold its planned concert.
Everything is operating at the casino except the golf course, which needs time to drain out and dry, he said.
L'Auberge at Lake Charles accounts for about 10 percent of Pinnacle's property earnings before interest, taxes, depreciation and amortization.
Pinnacle shares fell as much as 4.8 percent this week amid concern over the hurricane's impact on one of the company's biggest casinos.
Stremming said he expects business at L'Auberge to return to normal once Houston gets back on its feet.
Stremming said the company's other two Louisiana properties in Baton Rouge and Bossier City have seen almost no impact from Harvey.
Boyd has five casinos in Louisiana, including Delta Downs Racetrack, Hotel and Casino, located about 27 miles west of Lake Charles.
"Delta Downs draws heavily from Houston and east Texas. We are still assessing what that means for our business, but it is premature to provide specific details or predictions on business volumes," said Boyd spokesman David Strow.
Reno-based Eldorado Resorts has two casinos in Louisiana, one at Lake Charles and another in Shreveport. The company wasn't immediately available to comment on the storm's impact on its business.
Hotels in Houston and the surrounding markets that have not been damaged by the storm are generally fully occupied by displaced residents and transient visitors, said David Katz, a gaming and hospitality analyst at New York-based Telsey Advisory Group.
"We believe these circumstances should persist for an extended period of time as the repair efforts begin and ramp up," Katz said in a note on Friday. "History suggests these population dynamics could have a positive impact on gaming volumes in Lake Charles, as it is the nearest gaming market to Houston, as well as other Louisiana markets."
Contact Todd Prince at tprince@reviewjournal.com or 702-383-0386. Follow @toddprincetv on Twitter.
Lake Charles, La.