Hedge fund proposes REIT split for MGM Resorts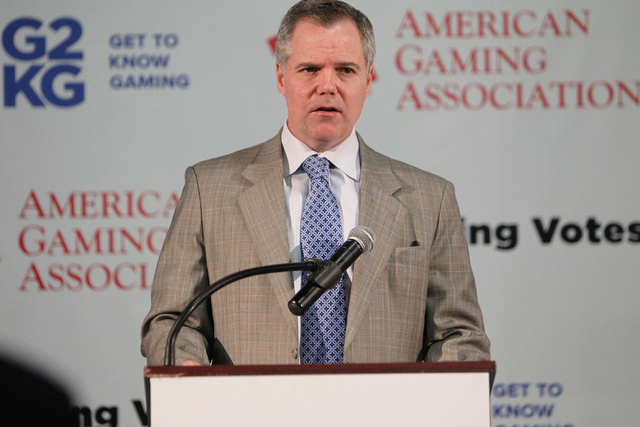 A New York hedge fund proposed Tuesday that MGM Resorts International convert its casinos and land holdings into a real estate investment trust, a move that would allow the Strip gaming giant to cut its debt by $5 billion and increase the company's valuation.
The move was proposed by Land and Buildings Investment Management, an investment firm headed by Jonathan Litt. Land and Buildings said it intends to nominate four directors to MGM's board. The hedge fund owns a less than 1 percent stake in MGM Resorts.
"We have been attempting to work collaboratively with MGM management to find an optimal corporate structure for the company and believe the proposed REIT conversion will maximize shareholder value while minimizing costs," Litt said in a statement.
Litt said the value of the company is $33 a share and could be as much as $55 a share. MGM Resorts currently has $14.17 billion in long-term debt, which Litt said could be reduced through the REIT and the sale of several pieces of the company, including the Crystals retail mall that is part of the CityCenter development.
MGM Resorts Chairman Jim Murren discussed the company forming a REIT last month during a quarterly conference call.
"We look at this all the time. We're pitched by every bank that is out there in terms of whether or not we should do that," Murren said. "There's nothing definitive. There's nothing to report, but we do look at these type of corporate transactions."
During a nearly hourlong conference call to discuss the proposal Tuesday afternoon, Litt said he had reached out to Murren to propose the idea.
"Hopefully, we'll be able to resolve this on a friendly basis," Litt said.
The gaming industry has embraced REITs, which, by law, don't pay federal income taxes. With real estate as their primary source of income, REITs are required to distribute at least 90 percent of their taxable earnings to shareholders.
The concept is to create two publicly traded companies; one that owns the real estate and a second that would manage the casinos.
Murren was traveling in Asia on Tuesday, and company spokeswoman Mary Hynes said the company "would carefully review" the proposal from Land and Building.
"We agree that our company is undervalued," Hynes said.
Deutsche Bank gaming analyst Carlo Santarelli put long odds on the deal taking place.
"While we believe MGM shares are fundamentally undervalued and believe price discovery on the Strip would serve as a meaningful catalyst, we struggle with some of the assumptions of the current proposal," Santarelli said. "We see the consummation of a transaction of this nature as a low probability."
Sterne Agee gaming analyst David Bain agreed that MGM Resorts would likely reject the offer.
"MGM has looked at the REIT structure both internally and externally for years and we doubt this particular proposal carries significantly new elements to what it has reviewed before," Bain said.
Andrew Zarnett, Deutsche Bank's high-yield debt analyst, said the Land and Building's REIT offer was "interesting," but also didn't believe it would happen.
"While we believe shares are undervalued, we see the consummation of a transaction of this nature as a low probability," Zarnett said. "We struggle with some of the assumptions of the current proposal."
In the statement, Land and Buildings said it has conducted "extensive due diligence to understand the potential value and feasibility of the ideas and framework it is proposing for MGM."
Litt made a similar REIT proposal in 2012 to Las Vegas Sands Corp., but the offer went away, "when the fundamentals surrounding the stock price returned," Litt said.
In 2013, Penn National Gaming split off 21 of its 29 casinos and racetracks — including M Resort — into Gaming and Leisure Properties, a publicly traded REIT. The properties are leased back to Penn through a management contract.
In 2014, Pinnacle Entertainment announced plans to split off the company's 15 casinos in eight states into a REIT. Last week, GLPI made a $4.1 billion offer for Pinnacle's properties.
Boyd Gaming Corp. said it spent $3 million in 2014 to investigate a potential REIT split.
Caesars Entertainment Corp., through its voluntary Chapter 11 bankruptcy plan, is asking the court to approve converting its largest operating division into a publicly traded REIT.
Shares of MGM gained $2.08, or 10.58 percent, to finish at 21.74 on Tuesday.
Contact reporter Howard Stutz at hstutz@reviewjournal.com or 702-477-3871. Find on Twitter: @howardstutz.