Hundreds picket at Station Casinos office over stalled union contract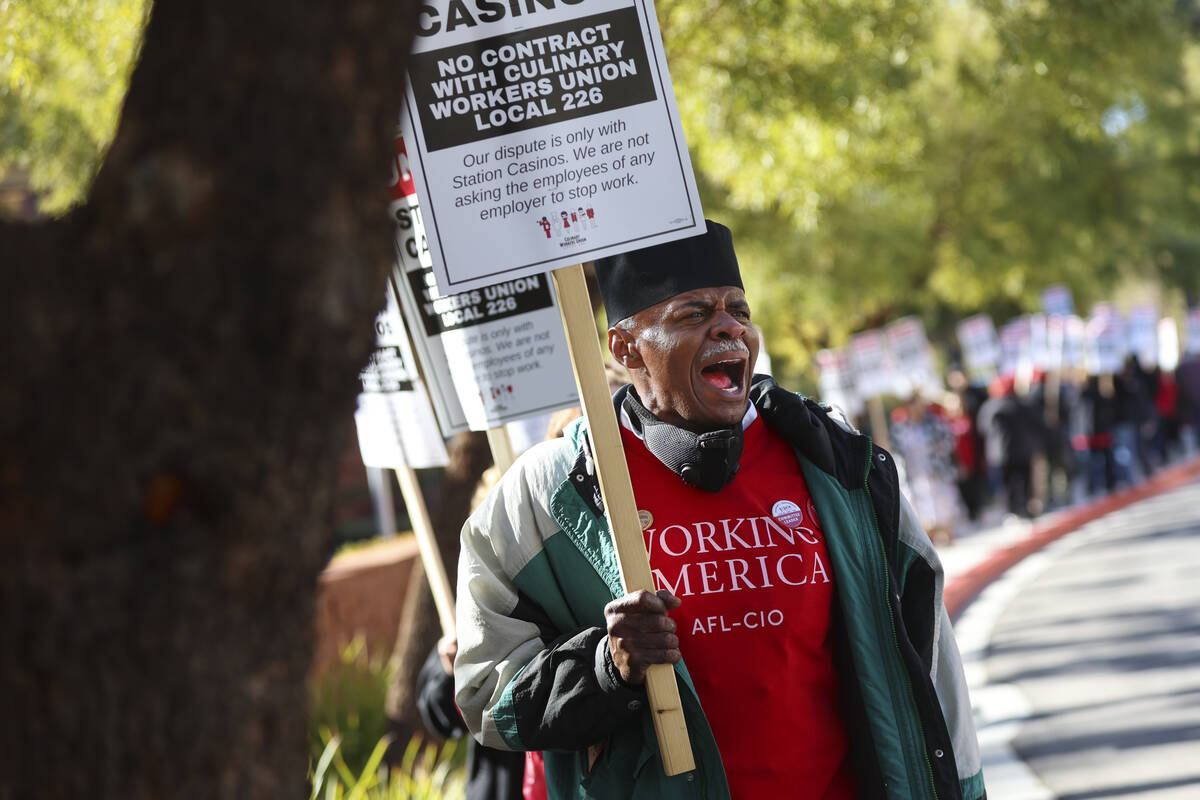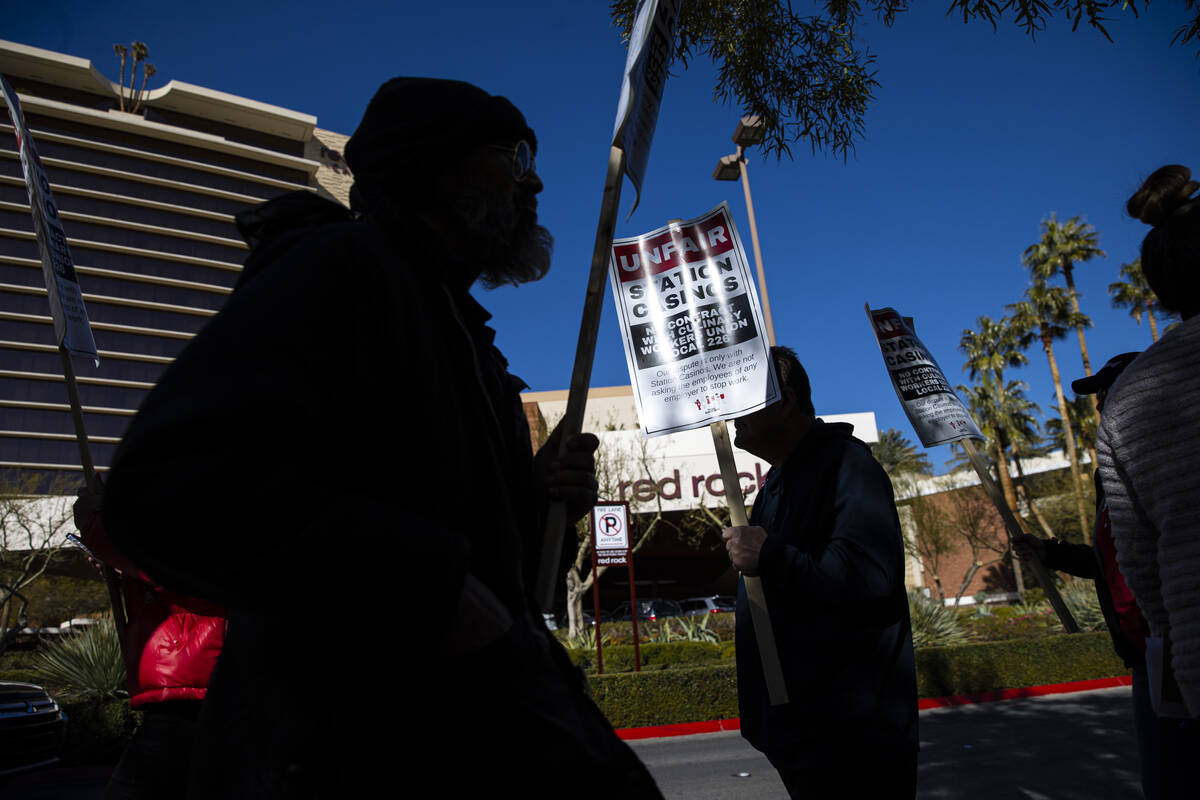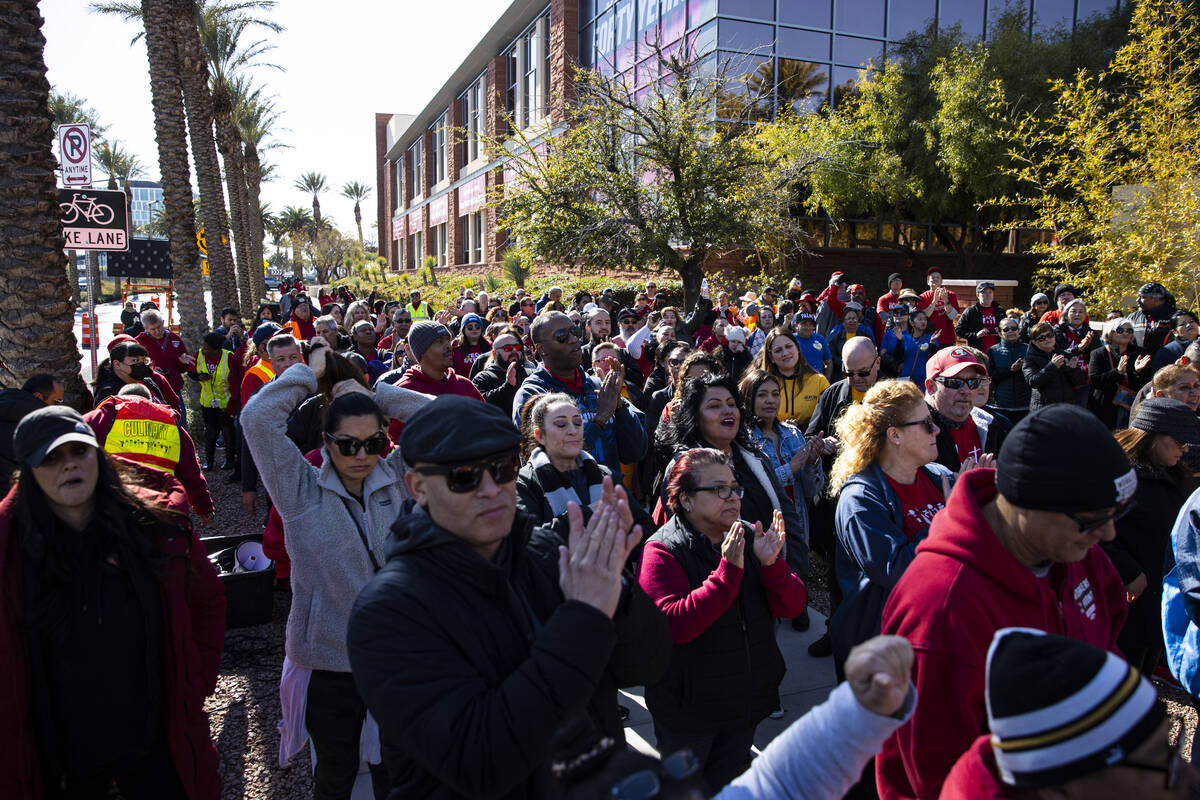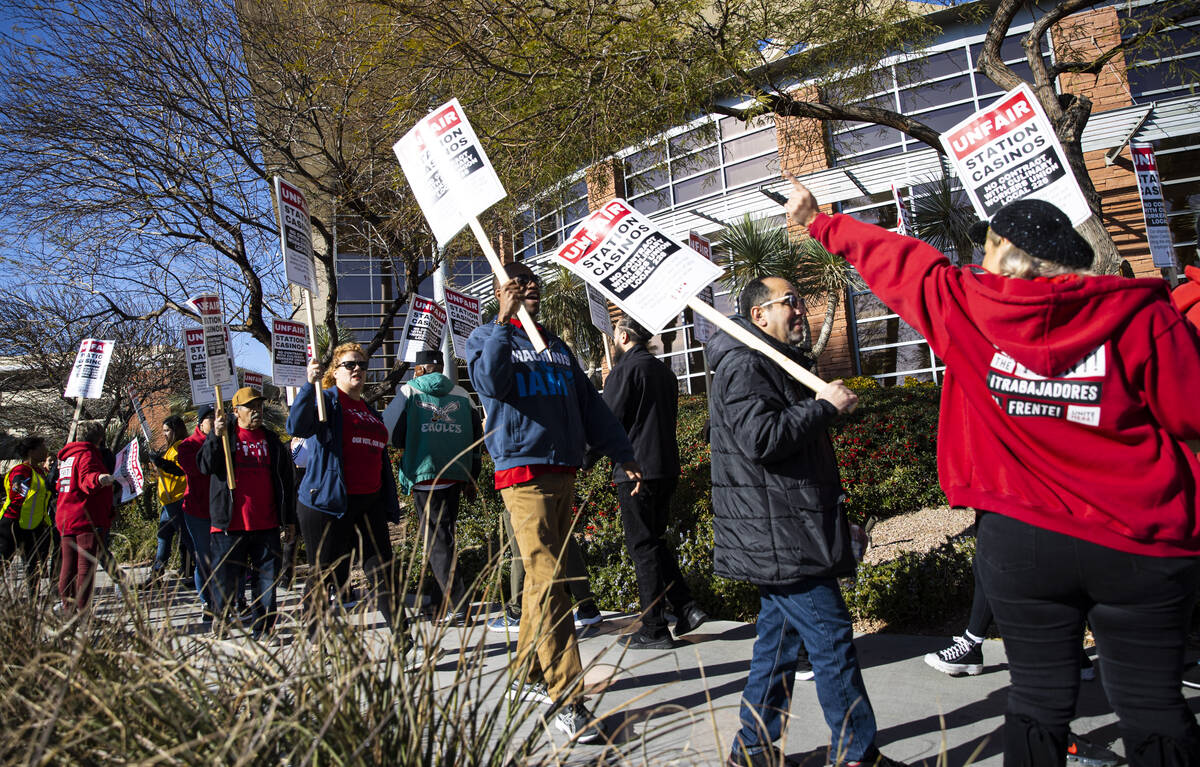 Hundreds of people carrying large signs tried to capture the public's attention outside of Station Casinos' corporate headquarters on Thursday.
Picketers from the Culinary union, partners from the Nevada AFL-CIO and current and former Station Casinos employees held signs that called the operator of Red Rock Resort, Palace Station, Green Valley Ranch Resort and other properties "unfair." Meanwhile, banners on the company's building touted it as a top gaming employer offering family health benefits.
The public push by Culinary Local 226 was meant to bring attention to its long-stalled effort toward having a first-time union contract for the casino company's employees.
The union has pursued representation votes at multiple Station properties since 2016. In April 2022, Red Rock Resorts, parent company of Station Casinos, was ordered by a National Labor Relations Board judge to bargain with the Culinary and Bartenders unions.
Negotiations are ongoing at properties where Station Casinos has recognized its bargaining obligations, the union said. But the goal of Thursday's picket was to draw attention to the company's lack of "good faith" bargaining, Culinary Secretary-Treasurer Ted Pappageorge said.
"It's really a shame that this company claims to be a beneficial part of this community to take on its own workers like this," he said. "We would say that they should sit down and negotiate a fair contract and allow these workers to have job security and the same standard set the rest of the workers in this town have."
Union members say they want hiring priority for the workers who were laid off when Texas Station, Fiesta Rancho and Fiesta Henderson permanently closed. The company has said about a third of those employees were retained at other Station locations, and it held job fairs for the remaining former employees who wanted to return.
Still, some workers said they were passed over in favor of new candidates.
Maria Balandran, a former buffet cook assistant at Green Valley Ranch Resort in Henderson, said she was laid off during the pandemic's shutdowns and tried to reapply to her position through a job fair, but she was told there was nothing for her.
"I felt bad because I'm a single mom, and my family depends on me," Balandran said through a translator. "I spent all these years working for them, and they didn't care about us. They didn't have a heart because they left all these people out. We just want to go back to our jobs. It's not fair for the new people to start working and all the people who had seniority were left out."
Other demands from the union include offering union and nonunion workers the same benefits, training opportunities through the Culinary Academy of Las Vegas, and a job security package that's in line with other Culinary union members across the Las Vegas Valley.
Adam Christian, a T-Bones Chophouse server at Red Rock Resort, said he wanted to continue his roughly 17-year career with Station Casinos.
"(I don't work on the Strip) because I like the commute and not having to go to the union properties," Christian said. "It's a little more difficult to get in there, based on union seniority and everything that's upheld with their contracts. I just want the same thing up here — they make enough money."
Station Casinos said it has been supportive of its employees, including paying its workers during the pandemic-fueled closure.
Red Rock Resorts spokesman Michael Britt pointed to its benefits package, which include free family health insurance for workers that make less than $100,000 and access to free medical and planned dental centers. Some of those benefits cannot be extended to union-represented employees without going through the bargaining process, Britt said.
"The Culinary Union's longstanding attempts to harass, intimidate and bully Station Casinos, its Team Members, and its business partners and associates will not succeed," Britt said in an emailed statement. "The union is rapidly losing support and it is because of the following facts."
Union leadership said they were prepared to continue their pressure campaign, noting their calls for more attention on the issue during the Nevada Gaming Control Board meetings and at city and county board meetings across the valley.
"We've been at the Gaming Control Board and Gaming Commission, every meeting for the last year. There really needs to be more action taken against this company, and we're gonna fight until there's real justice," Pappageorge said.
McKenna Ross is a corps member with Report for America, a national service program that places journalists into local newsrooms. Contact her at mross@reviewjournal.com. Follow @mckenna_ross_ on Twitter.