In like a lion: Dancers, pomp celebrate Lucky Dragon grand opening in Las Vegas
December 3, 2016 - 5:48 pm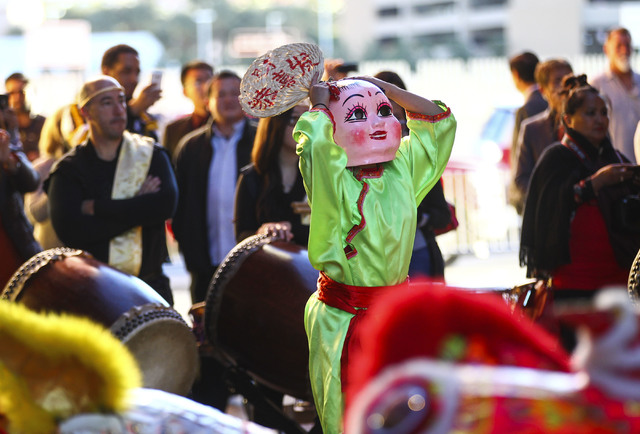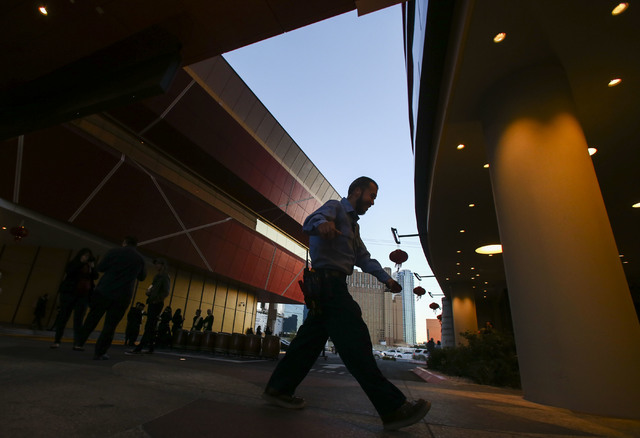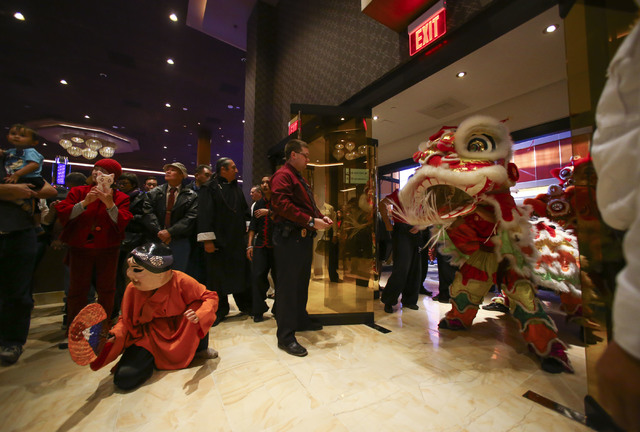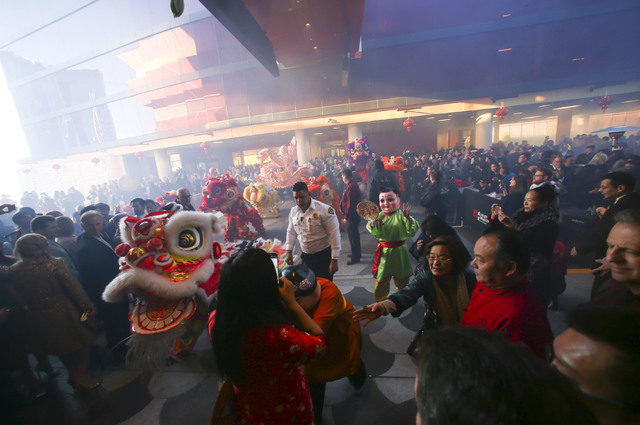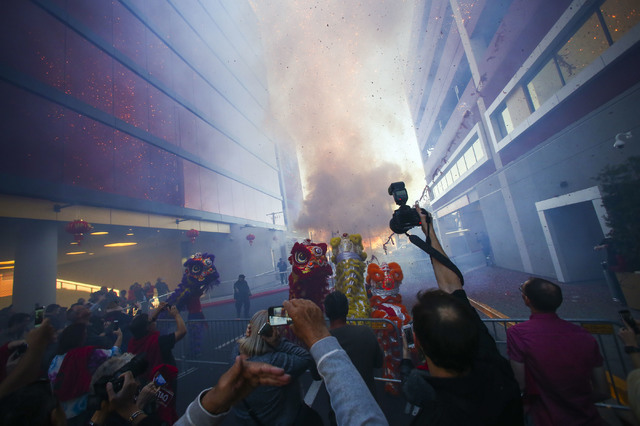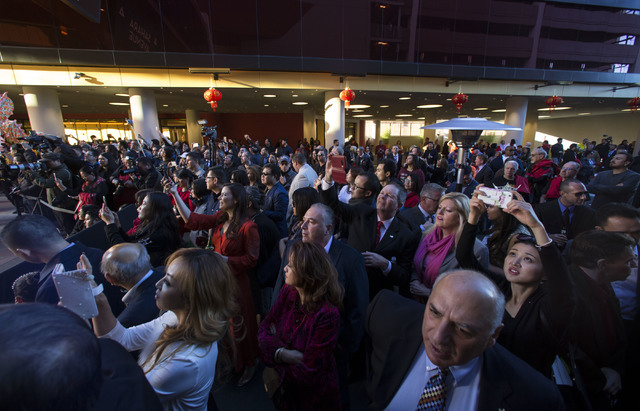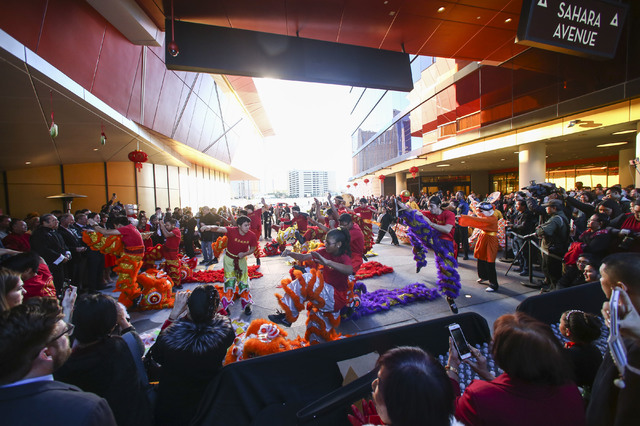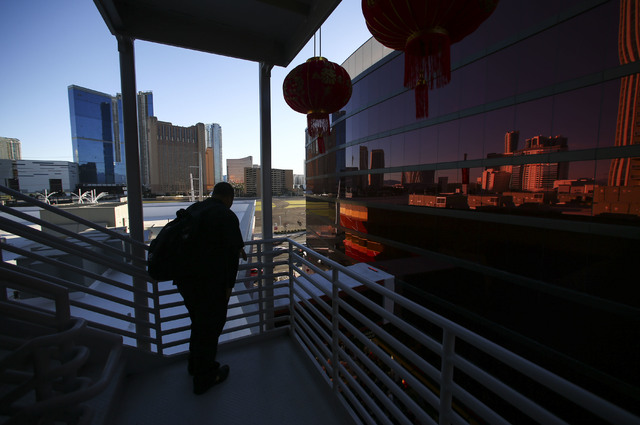 Dragon and lion dancers danced and marched past baccarat players to a staccato beat of drums and cymbals while gamblers snapped cellphone pictures Saturday as Las Vegas' newest boutique hotel property, Lucky Dragon, celebrated its grand opening.
Hundreds of people jammed the public areas around the 37 gaming tables and 300 slot machines as the parade wound its way through a sea of dignitaries, journalists, players and curious onlookers, many of whom haven't seen Asian culture up close.
"This is just beautiful and the costumes are so colorful," said Mary Black, a visitor from California. "I hadn't heard about this place, but I'm really glad I found it and am happy I got here for this event."
Before the parade through the casino, the dancers participated in a traditional eye-opening ceremony. During that ceremony, a specially trained leader dots each lion's eyes, ears, nose, mouth, leg and forehead to awaken its spirit before it participates in a lion dance.
The end of the ceremony was punctuated by a firecracker lighting in the Lucky Dragon porte cochere. The crackling explosions reverberated between the hotel and casino buildings for a full minute.
Traditionally, firecrackers awaken all and the lions lead the way to good fortune.
The hotel-casino, the first built from the ground up in Las Vegas since The Cosmopolitan of Las Vegas was completed in 2010, is on the north side of Sahara Avenue about a half-mile west of Las Vegas Boulevard.
Casino executives participated in Saturday's ceremony and briefly welcomed guests, including Las Vegas Councilmen Bob Coffin and Stavros Anthony, but had neither proclamations nor special remarks.
"They (the public) don't want to hear us talk," Chief Operating Officer Dave Jacoby said as the dancers made their way through the casino. "We just wanted to get started with some fun and tradition."
At most of the casino tables, play continued on while the celebration was underway. Some gamblers took a brief timeout to photograph the lions, costumed performers that work as two-person teams, or the dragon, a 50-foot costume atop eight standards that swayed as it moved through the 27,500-square-foot casino.
Another Chinese tradition — serving and drinking tea — was also part of the celebration. Quinba and Gongfu tea service was provided by tea sommeliers at stations throughout the property.
The Lucky Dragon defied tradition two weeks ago when operators agreed to a soft opening well before Saturday's grand opening. The property, which includes a 200-room hotel and restaurants that serve all Asian food, has received generally positive reviews as it works to corner a niche market that is expected to grow exponentially in the years ahead.
Lucky Dragon executives say their core market is local residents of Asian descent and Asian tourists from West Coast cities.
China-based Hainan Airlines on Friday launched nonstop flights three times a week between Beijing and Las Vegas. Lucky Dragon officials aren't expecting to get most of that business, but will gladly take it if overseas travelers find their way to the property.
The property is taking a Chinese-first approach to signs and most of the table games are baccarat and pai gow — although there are a few blackjack and roulette tables on site.
Contact Richard N. Velotta at rvelotta@reviewjournal.com or 702-477-3893. Follow @RickVelotta on Twitter.
RELATED
Lucky Dragon, Las Vegas' newest resort, firing up casino market
Las Vegas' newest resort, Lucky Dragon, is opening doors early
Lucky Dragon seeks to carve out niche in Las Vegas market
Lucky Dragon, being built near Las Vegas Strip, announces restaurant offerings
Lucky Dragon project moving forward on north Strip