Industry watchers see big potential for Las Vegas Strip's Fontainebleau
September 16, 2017 - 9:39 am
It was MGM Resorts International Chairman and CEO Jim Murren who jump-started the most recent conversations about Fontainebleau, the 68-story blue glass monolith that has long been the Strip's reminder of the economic damage caused by the Great Recession.
In the middle of reporting the company's quarterly earnings in July, Murren pivoted and told analysts that he had heard that the second-tallest structure in Las Vegas that cost an estimated $2.8 billion to build was about to be sold.
He assured those listening to the call that MGM wasn't the buyer, but the transaction could mean good things for his company, which operates the nearby Circus Circus property and holds 26 acres at Las Vegas Boulevard and Sahara Avenue that has been used as a music festival site.
Murren remarked that he'd heard "a hotel flag will be put on it," immediately sparking rumors that Marriott, a big player in nongaming hotels in the neighborhood, would be the flag-bearer, taking advantage of Fontainebleau's closeness to the expanding Las Vegas Convention Center.
The Hilton brand also has been mentioned as a potential operator.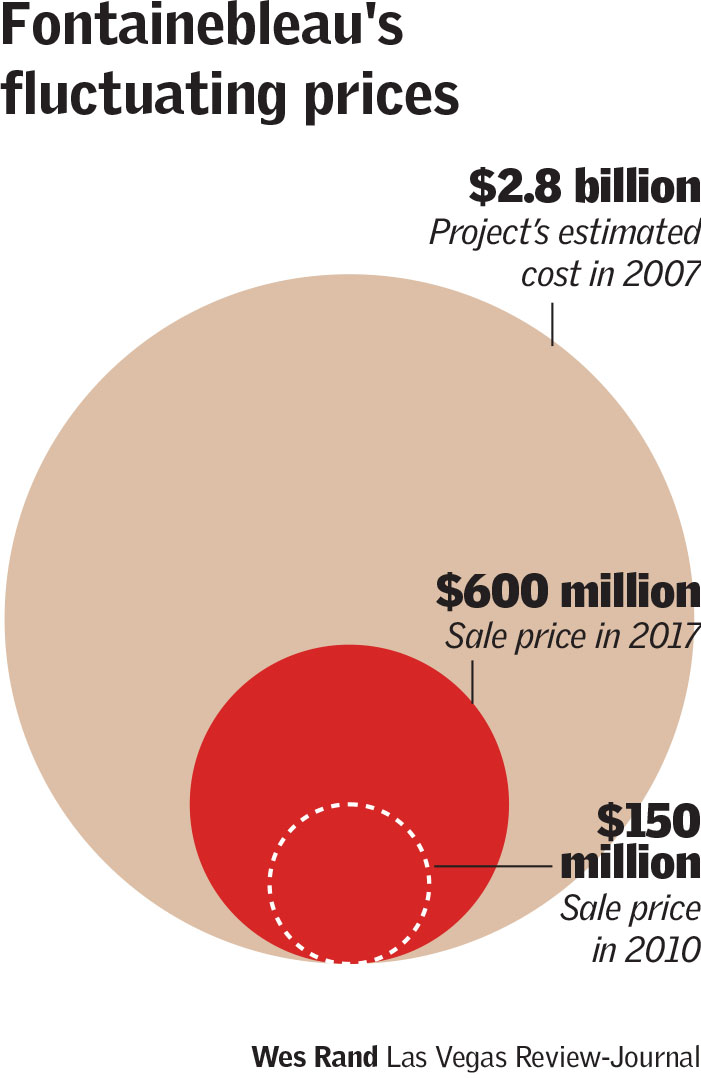 Keeping quiet
The people with the answers, Fontainebleau's New York-based buyer, Steve Witkoff, and Miami investment firm New Valley, who picked up the property Aug. 29 for $600 million, aren't talking.
It's possible that Witkoff and New Valley haven't wrapped up talks with a hotel operator or that other players could be in the mix. That hasn't stopped industry watchers from speculating about what they would like to see Fontainebleau become — or what they expect it to become.
When the property's original developers, Fontainebleau Resorts and Turnberry Associates, launched work in 2005, they envisioned it as a sister property to the famed South Beach Fontainebleau in Miami with 2,800 hotel rooms, 1,200 condominium units and a 95,000-square-foot casino.
High-end property
Clark County Commissioner Chris Giunchigliani, whose district includes the Fontainebleau, said she thinks the new owners continue to envision it as a high-end property.
"The new owners definitely plan on keeping it as a casino and high-end hotel," Giunchigliani said. "They did their due diligence, and (the building is) very structurally sound."
Giunchigliani said she was "thrilled" by the news of Fontainebleau's sale and sees it as a means to the completion of unfinished projects underway on the Strip's north end.
"What I want is to make sure that north end of the Strip gets finished, whether it's Resorts World or Fontainebleau," she said. "It also spearheads Jackie Robinson's project next door, the All-Net (Arena) project. It'll bring synergy to the area."
The Robinson project plan includes a nongaming boutique hotel, so Giunchigliani doesn't expect Fontainebleau's re-emergence to be a competitive issue. She said she hasn't heard whether the new owners will continue plans for condominiums.
"They're going to have to see what their price point is and what makes the best sense for that north end of the Strip so that they complement each other. SLS is doing well with their new W brand, and they've got some fantastic restaurants internally."
John DeCree, a gaming industry analyst with Las Vegas-based Union Gaming, said the new owners would be best-served seeking a variety of customers and not focusing on just conventioneers.
"It needs to be an all-in-one entertainment resort destination," DeCree said. "Las Vegas has become a lot more than just gambling, and it's still a lot more than just conventions. Because that property is somewhat removed from the rest of the contiguous Strip, it needs to be the whole shebang."
Casino important
DeCree said that though casinos generate around 40 percent of resort revenues, gaming is still a key ingredient for the property's success.
"That big chunk that is gaming really subsidizes the development costs," DeCree said.
He said because the property will be competing with MGM, Caesars Entertainment and Wynn Resorts for customers, he expects the successor to Fontainebleau to be a high-end competitor.
"I don't know if it has to be uber-high-end, but it has to be competitive," he said.
Room glut?
DeCree isn't concerned about Fontainebleau's hotel rooms coming on line at around the same time 3,000 rooms open at Genting Group's nearby Resorts World Las Vegas property.
"Right now, the hotel occupancy rate is around peakish," he said. "It's well into the 90 percents. During peak periods like CES and ConExpo-Con/Agg, these places are completely full. We're seeing a lot of the hotel revenue growth coming from rates, the increase in the price."
"I think we've finally absorbed much of the supply that had come on line around the recession," he said.
"When these projects come on line realistically in the next 24 to 36 months, there is some capacity for hotel rooms. We wouldn't want to see the Strip get overbuilt."
Another industry watcher who believes the Strip will be able to absorb the new rooms brought in by Resorts World and Fontainebleau is Bo Bernhard, director of UNLV's International Gaming Institute.
Bernhard and his colleague, Shekinah Hoffman, special projects coordinator at the institute, got a close look at Fontainebleau's potential by bringing in industry experts to talk about it with 30 high school students during the Young Executive Scholars Hospitality and Tourism Program.
Millennial viewpoint
The final project of the five-week summer program was to have the students design what they would like to see happen to Fontainebleau — an exercise that enabled Bernhard to get perspectives from millennials.
Every major operator on the Strip workshopped ideas with the students and their leaders.
"It's been a long time since the Strip has absorbed that much new room volume," Bernhard said of the prospect of 6,000 rooms being added within four years.
"But we have occupancy rates that the rest of the tourism world drools over," he said. "But there obviously has been a pause in development. With a creative room product or value proposition and the linkage to the convention center," the north Strip should be able to absorb the new supply.
Bernhard said many have lost perspective of how access to the property from Paradise Road can provide new opportunities for the development.
Convention center link
"It really links up well with the convention center and, especially, the new convention center (a 600,000-square-foot expansion that is expected to be completed by 2020). The ability to be both Paradise-facing and Strip-facing is not to be underestimated," Bernhard said.
While Bernhard isn't as versed in hotel branding, he sees the value of marketing potential with a national brand in the same way that casino companies use data collected with loyalty cards drawing customers or targeting specific customers with appealing offers that will bring them back as repeat customers.
Contact Richard N. Velotta at rvelotta@reviewjournal.com or 702-477-3893. Follow @RickVelotta on Twitter.
Related
Wrap planned for unfinished Fontainebleau on Las Vegas Strip
Deal for Fontainebleau casino project expected by late summer