Kaos worker files class-action lawsuit against Red Rock Resorts
Updated November 6, 2019 - 10:10 pm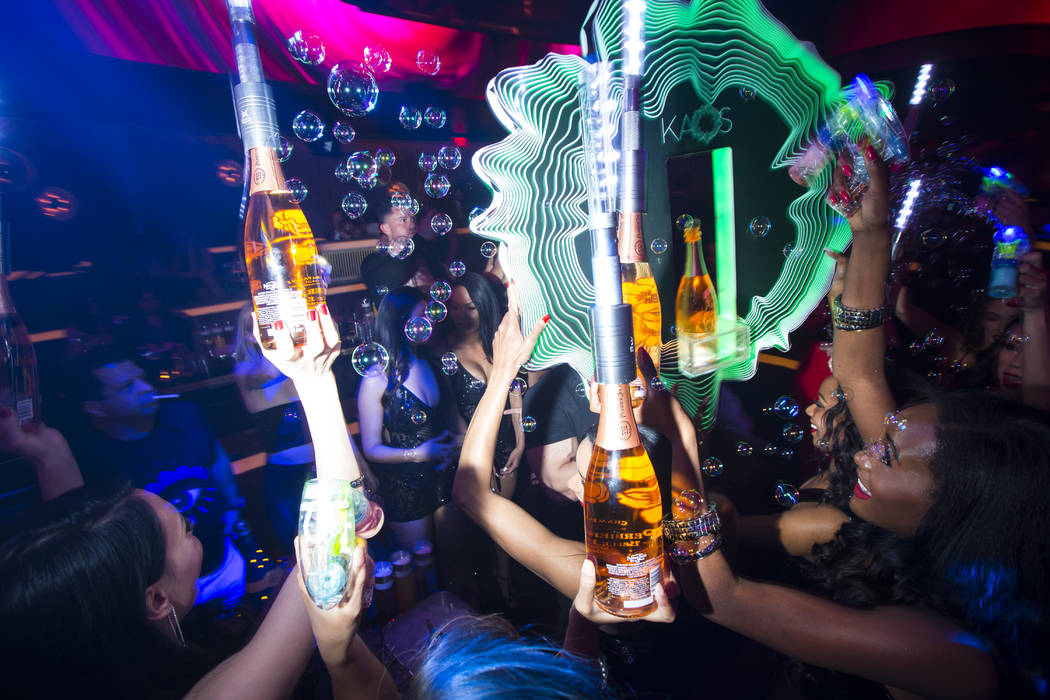 A lead cocktail server at the Palms nightclub and dayclub Kaos filed a class-action lawsuit against the hotel-casino's owner Wednesday afternoon, alleging it failed to give her and other staff members 60 days' notice of their termination.
On Tuesday, executives from Red Rock Resorts, which owns the Palms, announced Kaos would be shut down, effective immediately. It had been open less than a year.
"It's definitely been disheartening," said plaintiff Alyssa Faulstick. Everybody who worked at Kaos "had been there from the beginning. We've all put in blood, sweat and tears to get the venue open and try to turn it into what it could be."
A representative from Red Rock said the company does not comment on pending litigation.
The lawsuit alleges that Red Rock's method of termination goes against the Worker Adjustment and Retraining Notification Act, which requires most employers with at least 100 employees provide 60-day notice of mass layoffs.
Faulstick told the Las Vegas Review-Journal that she first learned about Kaos' closure — and the loss of her job — from media coverage Tuesday.
"We have a cocktail server group chat, and somebody had put in the group chat that article (about the closing)," she said.
That day, employees were sent a letter from management alerting them about the club's closure.
According to the letter, all Kaos positions were set to be eliminated within the next 60 days. Team members were presented two options: They could have their position eliminated Friday and receive two weeks' severance pay in addition to their final paycheck, or they could work on an on-call basis, meaning they would have to be available to work at selected events over the next 60 days.
The letter also said employment recruiters will work directly with Kaos employees interested in pursuing other opportunities within Red Rock.
Employees were given until Thursday at 5 p.m. to make their decision.
Local attorney Christian Gabroy of Gabroy Law Offices said the WARN Act is for scenarios "exactly" like this.
"If you're a big company and you have this many layoffs, you have to give people enough of a chance … so they don't have their life uprooted," he said. Red Rock "had to have known they were having these financial concerns. … At a minimum, (the employees) should get the 60 days' notice."
The lawsuit states that "while the precise number of Class Members has not been determined at this time," the plaintiff's party has reason to believe Kaos employed more than 100 people "at all material times." The lawsuit alleges Faulstick and others have suffered damages in excess of $15,000.
Faulstick also said this wasn't the first last-minute notice given to Kaos employees. She said she also learned from the news media about the club shutting down for several weeks to allow for the construction of a 70-foot dome.
As the club was shut down for construction, Faulstick contends she and other employees were told they would be compensated for five weeks' worth of their average gratuity during that time. She said there has since been confusion among employees on when and if that money will be paid to employees.
Contact Bailey Schulz at bschulz@reviewjournal.com or 702-383-0233. Follow @bailey_schulz on Twitter.
Kaos letter of termination by Las Vegas Review-Journal on Scribd