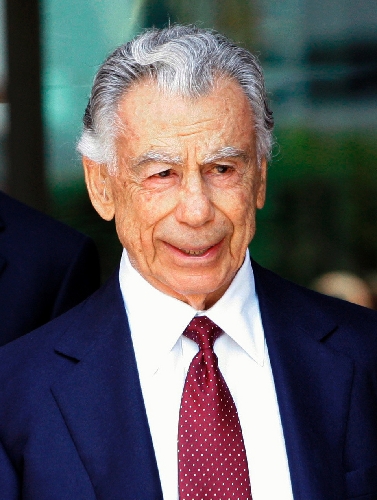 Billionaire financier Kirk Kerkorian continued a slow-paced dispersal of his holdings in casino giant MGM Resorts International, selling 20 million shares of the company he founded for $268 million.
In a filing with the Securities and Exchange Commission Tuesday morning, the 94-year-old Kerkorian said the sale was completed Monday through Tracinda, his privately held Los Angeles-based investment arm.
The transaction marked the second time in six months that Kerkorian sold 20 million shares in MGM Resorts. The last sale took place in August and netted Kerkorian more than $214.8 million.
According to the SEC filing, Kerkorian, through Tracinda, will remain MGM Resorts' largest shareholder after the stock sale is finalized Thursday with almost 91.2 million shares, or 18.7 percent of the company.
Nearly a year ago, Kerkorian said he was "evaluating" his investment in MGM Resorts. He retired from the company's board of directors in June.
In Monday's transaction, Tracinda said the stock was sold at $14.02 per share but had a net value of $13.40 per share.
In a statement, Tracinda said it would not sell any additional MGM Resorts stock for at least 60 days. The company said it monitors its investment in the casino operator.
"As the company's largest stockholder, Tracinda occasionally receives inquiries regarding the company and Tracinda's shares of common stock," the statement read. "From time to time, Tracinda may continue to explore potential transactions involving its shares of common stock (including negotiated or other sale transactions). Tracinda may ultimately not enter into any such transaction."
Nomura Securities gaming analyst Harry Curtis told investors that Tracinda seems to be slowly liquidating its stake in MGM Resorts.
"We view this news as a positive," Curtis said. "The more Tracinda sells, the less of an overhang on the stock."
Shares of MGM Resorts closed at $14.03 on the New York Stock Exchange, up 36 cents, or 2.63 percent. The Kerkorian deal was announced before trading began Tuesday.
Following Kerkorian's August transaction, shares of MGM Resorts fell more than 13 percent, but rebounded within a week.
Kerkorian's stake in MGM Resorts has diminished over the past seven years. He was the company's majority owner with more than a 50 percent stake as recently as 2009.
Over the years, Kerkorian had made announcements about his MGM Resorts holdings that many analysts have viewed as ways to try to drive up the price the stock.
Kerkorian is ranked No. 117 on the Forbes list of wealthiest Americans with a net worth of $3 billion.
Contact reporter Howard Stutz at hstutz@reviewjournal.com or 702-477-3871. Follow @howardstutz on Twitter.