Knowing Vegas: How many names has Palace Station had in 40 years?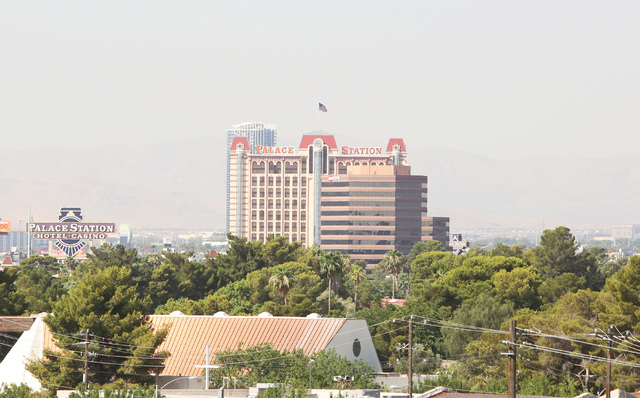 For many longtime Las Vegans, Palace Station is — and, to them, will always be — Bingo Palace.
The property, celebrating its 40th anniversary on Friday, had a different name before it was known as Bingo Palace — The Casino.
When it first opened its doors on July 1, 1976, Station Casinos' flagship property was known as The Casino and occupied only 5,000 square-feet of space on Sahara Avenue just west of the Las Vegas Strip.
Attached to the Mini Price Motor Inn, The Casino had 100 slot machines, a few table games, a snack bar and 90 employees when it first opened, according to a news release.
Within a year of operation, the property quickly outgrew itself and underwent the first of more than a dozen expansion projects.
"It went from about seven table [games] to like 25, then to Palace Station, which was like even bigger," said Mike Manning, a Station Casinos employee of 39 years.
Not only did the first expansion bring a bingo parlor to the property, but with the expansion also came a new name — Bingo Palace, which remained for a few years short of a decade when Palace Station became official in 1984.
But where did the name Palace Station come from? A contest.
Frank Fertitta Jr., the owner of the property, wanted to give his guests a chance to be more involved with the evolution of the casino and instituted a "Name the Casino" promotion.
With an all expense paid Hawaiian vacation up for grabs, the contest drew a whopping 26,000 entries in three weeks.
The winning submission — Palace Station — was the brainchild of a Las Vegan named Claire Jarvis.
The name of the property may have changed over the past 40 years, but not all of the original "Casino" has been completely lost in the shuffle.
Inside the casino, in the area nearest to bingo parlor, not only will you notice a Bingo Palace sign, but you will also be standing in the original 5,000 square feet of space that once comprised The Casino.
Contact Caitlin Lilly at clilly@reviewjournal.com. Find her on Twitter: @caitielilly_