Lake Las Vegas bouncing back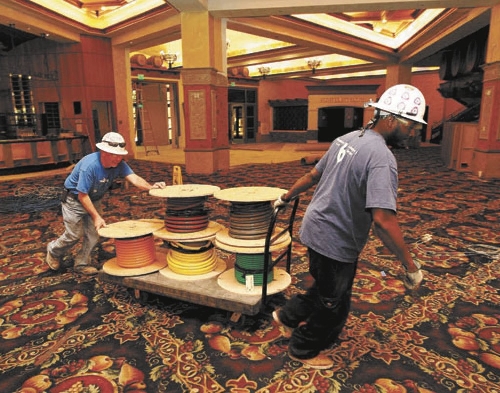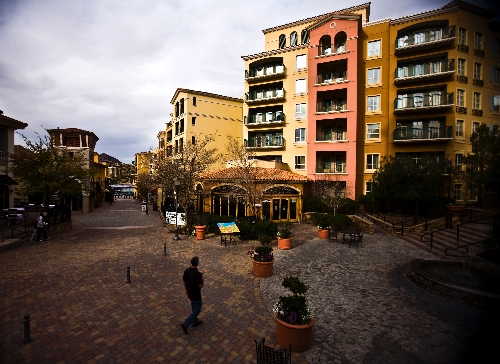 No one is going to confuse Casino MonteLago with Bellagio.
To the folks tasked with keeping Lake Las Vegas vibrant during the past two years of bad news, the reopening of the small casino following its closure in March 2010 is as important to the community as any Strip megaresort.
"I like seeing the activity and seeing people coming and going in and out of the door," MonteLago Village commercial manager Maurice Talley said, referring to the continuing construction inside the 40,000-square-foot casino. "We're looking forward to an announcement of when it will officially reopen. It will give people another reason to explore the village."
The reopening of Casino MonteLago will be the second reopening of a Lake Las Vegas property this year. In February, Dolce Hotels and Resorts reopened the former Ritz-Carlton as Ravella at Las Vegas. The 340-room nongaming hotel had been closed for 10 months.
Jon Berkley, chief executive officer of Intrepid Gaming, which is taking over management of Casino MonteLago, is confident problems are in the past for Lake Las Vegas, 3,600-acre master-planned development in Henderson that is centered around a 340-acre man-made lake.
Two of the development's three golf courses closed after Lake Las Vegas operators filed for bankruptcy in July 2008.
Throughout the economic downturn, the 493-room Loews Lake Las Vegas and the condominiums at the Aston MonteLago Village Resort remained operating, along with the Jack Nicklaus-designed SouthShore Golf Club.
MonteLago Village, the resort's retail and dining attraction, is more than 90 percent occupied.
Bringing back the casino is being welcomed by the community.
"It offers another amenity to our guests," said Brian Johnson, general manager of Loews Lake Las Vegas. "Having the activity around the casino helps clean up any negative perceptions. I feel like we've turned the corner and we're headed toward a great summer of activity."
Berkley said Casino MonteLago would be marketed to residents of Lake Las Vegas and the surrounding community of Henderson.
"We are very confident that we'll bring a tremendous product to Lake Las Vegas," Berkley said.
Casino MonteLago was "stripped clean" when it closed more than a year ago. Construction workers are renovating the property to house 275 gaming positions, a mixture of electronic table games and slot machines. Berkley said Intrepid Gaming is using the newest in gaming technology for the casino, which will open with 95 employees and one restaurant.
He isn't discounting adding live table games with dealers if the operators see a market for a casino pit.
"We don't want to overextend ourselves initially and we want to run a lean operation," Berkley said. "The market will tell us if we need to add to what we're initially bringing to the casino."
Berkley's background is in gaming technology. He managed several gaming software providers. Intrepid's chief operating officer, Marcus Suan, worked in the locals gaming market with Coast Casinos and Boyd Gaming Corp.
Intrepid plans to develop a customer loyalty program for Casino MonteLago.
"We've studied the market and we will offer a much better product than any of the direct competition near Lake Las Vegas," Berkley said.
An opening date has not been set. The company is planning to host job fairs in the next few weeks. When Casino MonteLago closed, it eliminated 177 positions. Berkley said former Casino MonteLago employees will be considered for jobs at the reopened casino.
Berkley is hopeful that Casino MonteLago will be in front of Nevada gaming regulators next month for licensing.
"We're moving fast and we're looking forward to being open as soon as possible," Berkley said.
Intrepid will be the fourth operator of the casino, which opened in April 2003. Built at a cost of $60 million, the casino was small by Las Vegas standards.
The property was originally owned by the Cook Inlet Indian tribe in Alaska and faced closure in June 2007. Gaming regulators held an emergency meeting to keep the property open.
CIRI Lakeside operated Casino MonteLago from 2007 until its closure.
Berkley said the operators plan to keep the Casino MonteLago name.
Contact reporter Howard Stutz at hstutz@reviewjournal.com or 702-477-3871.