'Landing three planes at once': How union, casino operators avoided strike
Updated November 10, 2023 - 3:57 pm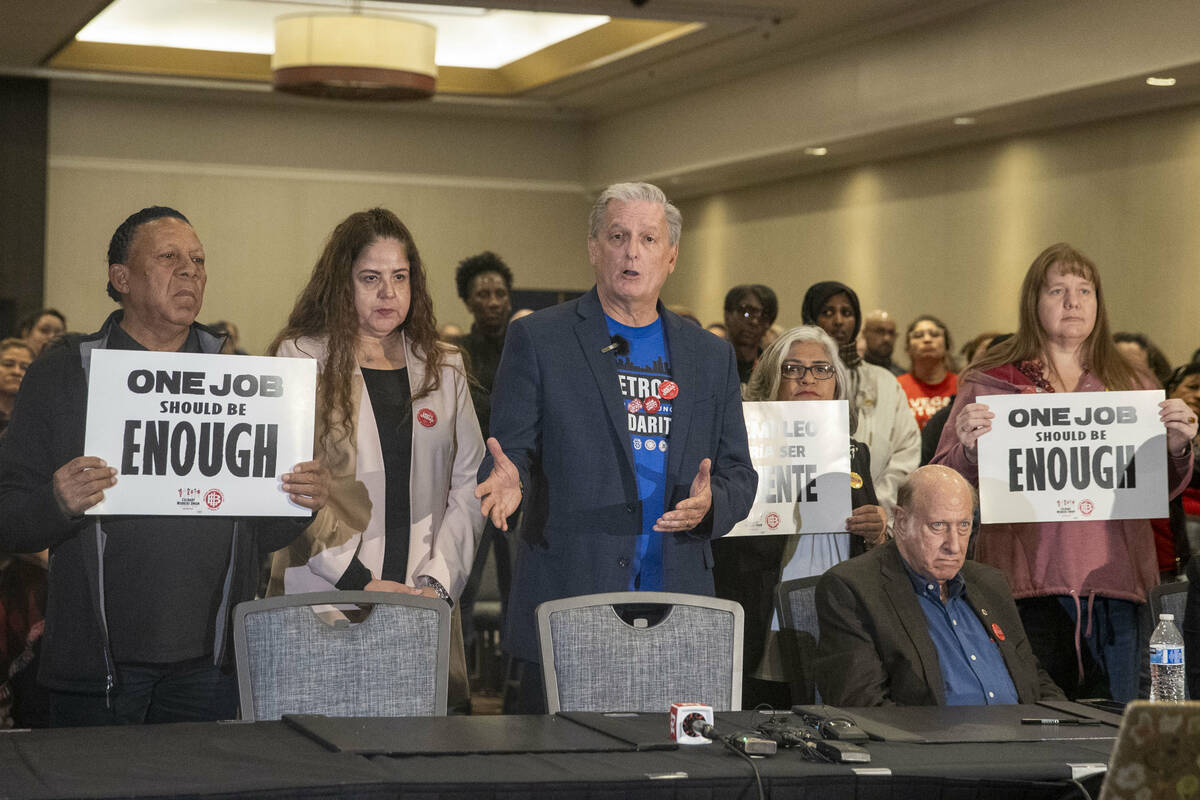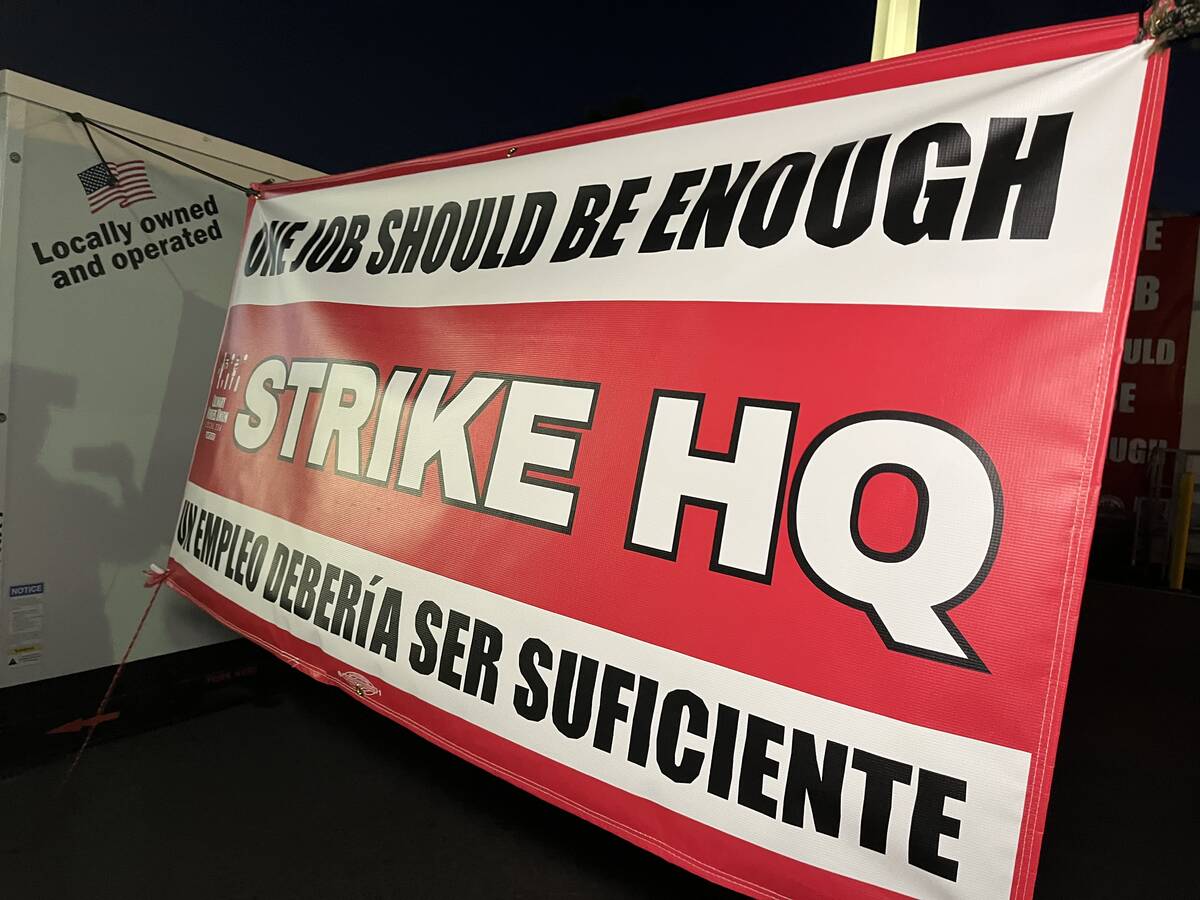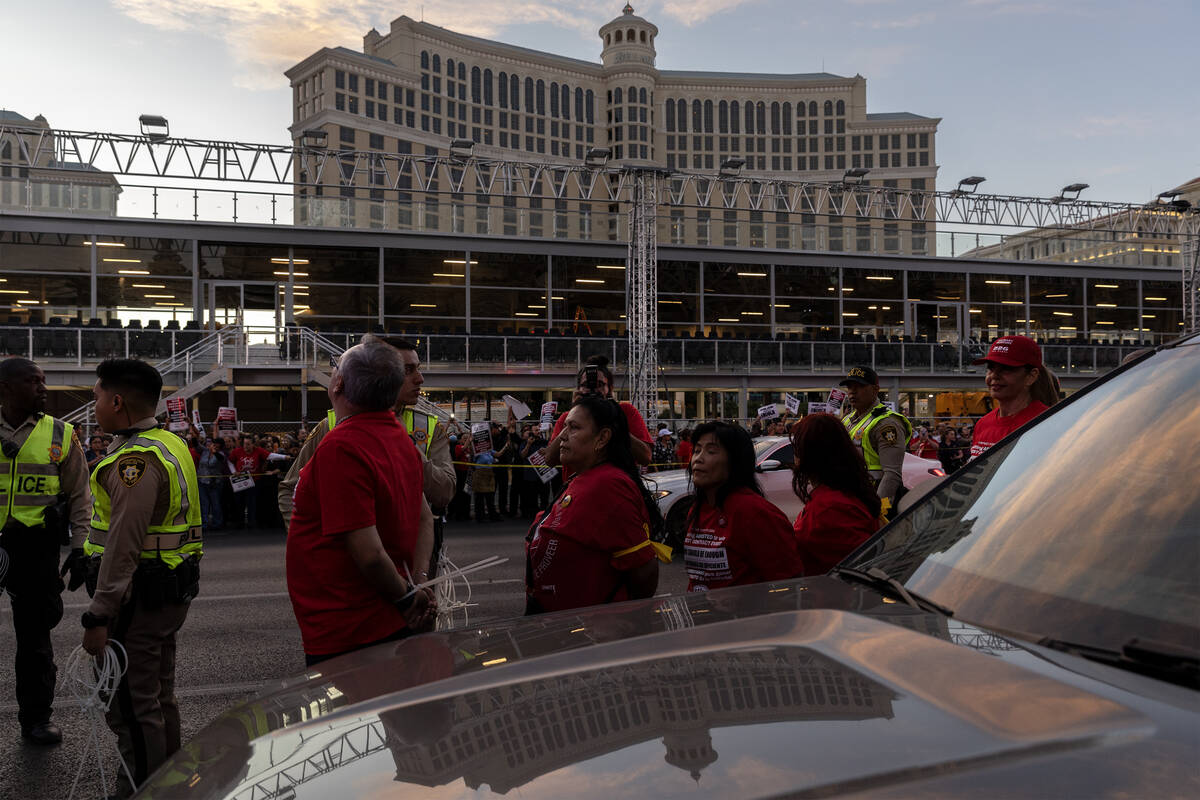 With only days left until thousands of Culinary Local 226 members on the Las Vegas Strip threatened to go on strike, negotiations took a bit of skill and several late nights to wrap up.
"It's a little bit like landing three planes at once," secretary-treasurer Ted Pappageorge said before Caesars Entertainment negotiations on Tuesday. "We're prepared here to stay tonight as long as it takes."
Those preparations included late-night babysitters and throw blankets in the negotiation rooms.
Social media videos posted by the union show MGM Resorts International workers cheering at the close of bargaining at 5:45 a.m. Thursday. Caesars Entertainment workers were up until a similar time early Wednesday — one video showed several draped in their blankets in a Horseshoe resort ballroom meeting space. And Wynn Resorts workers scrambled to resolve bargaining before the 5 a.m. Friday strike deadline, ultimately wrapping up at about 2 a.m. that day.
The Culinary union and the three largest Strip employers reached tentative agreements with their union workers this week under the threat of a strike before the inaugural Formula One Las Vegas Grand Prix, a massive event with worldwide interest. The five-year contracts at MGM, Caesars and Wynn, covering roughly 35,000 workers, avert what could have been the largest hospitality strike in U.S. history.
Casino operators lauded the agreements and their workers in individual statements.
"Our employees are the heart of our company and the driving force in the success we've enjoyed in Las Vegas post-pandemic," MGM CEO Bill Hornbuckle said in a Thursday statement. "We're pleased to have reached a tentative agreement that averts a strike, gives our Culinary Union employees a well-earned boost to pay and benefits and reduces workloads – all while continuing to provide opportunities for growth and advancement."
While many observers say they aren't surprised with this week's outcome, they contend the historic conditions surrounding the contract — namely, record-high inflation and the COVID-19 pandemic — led to a lengthier discussion and significant new five-year contracts.
Lengthy negotiations
The parties were in negotiations for about seven months. Contracts at the three companies had been set to expire on June 1 but were extended to address the complexity of the contracts. The union ended extensions in September and began to call publicly on companies to agree to contracts in dramatic fashion, including a demonstration where dozens of members were arrested for blocking traffic in front of the Bellagio and Paris.
Still, negotiations went on, and the union set a 5 a.m. Friday deadline for the companies. Workers said they were prepared to go on strike but were eager to reach a resolution without doing so.
"We've been doing this since April," Chelsea McDougall, a food server at Wynn Las Vegas, said during a break in negotiations Thursday night. "This has been a long road. We've had many meetings, many discussions about all different aspects of the contract. And we want this to come to a fantastic conclusion with a great contract that gives us everything that we're looking for from our employers."
Union leaders called the deals "historic in nature" and said they included the most significant wage increases and other work-related protections in the union's history. They declined to share specific terms, citing the need for workers to ratify the agreements in the coming days. But they contended the wage and benefit increases for the first year are "nearly larger" than the increases received during the entire previous contract cycle.
Other parts of the contracts focus on reducing workload, improving on-the-job safety with things like panic buttons, strengthening protections related to job-replacing technology and extended recall rights. The union said it achieved provisions that require rooms to be cleaned daily unless a guest opts out — something it has called for since the Nevada Legislature rolled back a mandate this spring.
MGM and Caesars agreed to a severance package that gives $2,000 per year for every year of work and six months' of health care if a job is cut and replaced with technology, Pappageorge said Thursday.
The three deals are largely seen as setting a standard for other Strip properties run by independent operators. The union said 24 other casino-resort companies on the Strip and in downtown Las Vegas are still working under contract extensions. Culinary has said it could call other strike deadlines.
Industry reacts
Industry watchers say the lengthy discussions don't reveal the full picture. For months, Wall Street analysts reported to investors that settlements were expected. There were few mentions of the negotiations in research notes published during the third-quarter earnings season, except mentions that the companies were accruing for incremental labor expenses stemming from the new contract.
Some analysts forecast a double-digit percentage increase in wages in the first year and single-digit increases in the following years of the contracts, according to analysts' reports for investors.
Brendan Bussmann, an industry analyst with Las Vegas-based B Global, said his belief that a strike would be averted was confirmed by the operators' decision to accrue additional labor costs since June.
"Clearly there was always a willing partner in the deal," Bussmann said. "It's not surprising this came down to the 11th hour — I think a little bit was for showmanship — but I'm glad to see, barring any hiccups later on, that we'll have averted an unnecessary activity."
Still, the negotiations lasted nearly seven months, the union said. During the last citywide contract cycle in 2018, the union authorized a strike to be called if necessary, but a deadline wasn't set. Most major employers reached settlements that summer, Review-Journal archives show.
David Edelblute, an attorney at Howard and Howard who has worked with hospitality clients, said the lengthiness could have been because of world and macroeconomic events that have happened since the last contract cycle, and the resorts' ability to recover with record profits.
"You have a group of people who worked to get these companies through a very trying period for several years during COVID," Edelblute said. "And then on the back end of that they're rewarded, not directly from these companies, but through the state of the economy, with rising costs for basic necessities, like rent or owning utilities, putting their kids through school, and these things juggling."
Bussmann also pointed out the complexity of the contracts, as have Culinary officials. In previous comments, Pappageorge has said the union's demands related to technology, recall rights, workload reductions contributed to several contract extensions throughout the summer.
Averting an international spectacle
Culinary members set the strike deadline for six days before the valley was set to host the Las Vegas Grand Prix. The international motorsport event is projected to bring more than 100,000 daily visitors — many of them new to Vegas and deep-pocketed.
Experts say the date was meant to set consequences for further delays. The union's informational pickets and the rally that ended with arrests were all held against the backdrop of rising grandstands above the Fountains of Bellagio. Local and national media outlets were quick to point out the impact of a strike before the race.
"I was pretty sure that the thought of having a major labor action during Formula One was too much to handle," said Jeff Waddoups, a labor economist at UNLV. "Whenever there's leverage like this, it gives the unions quite a bit of extra bargaining power. It causes people to focus on solving the problem — really carefully on what the problem is and what the consequences are if they don't solve it."
McKenna Ross is a corps member with Report for America, a national service program that places journalists into local newsrooms. Contact her at mross@reviewjournal.com. Follow @mckenna_ross_ on X.