Las Vegas casino workers vote to authorize strike
Updated May 22, 2018 - 10:24 pm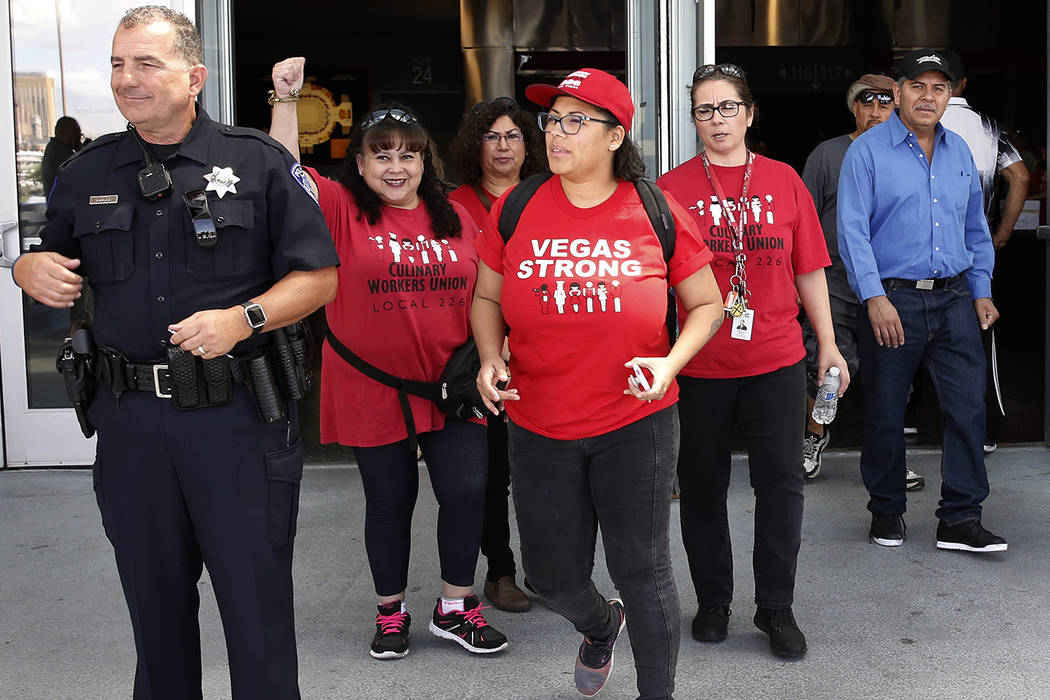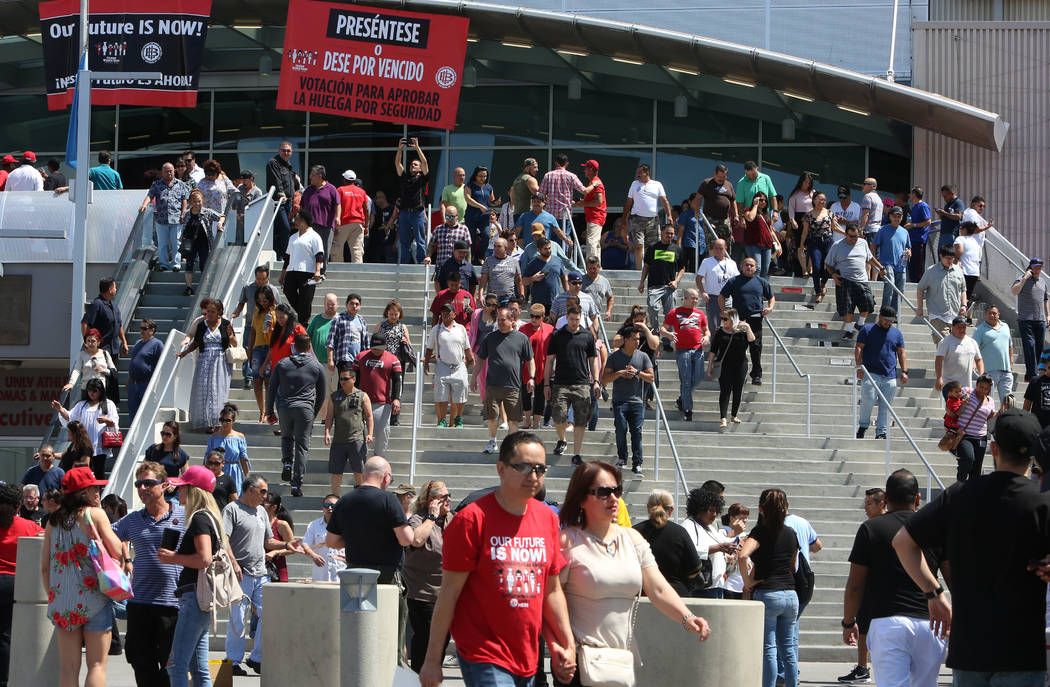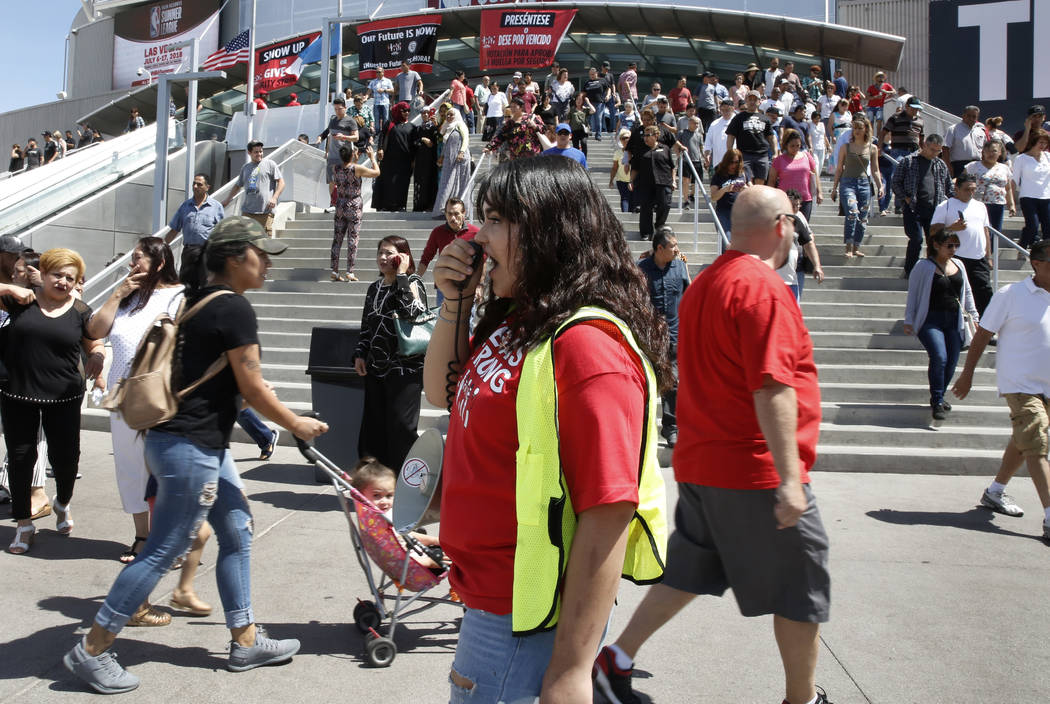 Unions representing Las Vegas casino workers won the right Tuesday to call a citywide strike as early as June 1 if they do not reach a deal with employers.
Roughly 25,000 members of the Culinary Local 226 and Bartenders Local 165 participated in two voting sessions, and 99 percent voted to go on strike if a new five-year contract isn't reached, according to a Culinary union press release.
Contracts for 50,000 employees such as bartenders, housekeepers, bellhops and porters expire at the end of the month at 34 Strip and downtown resorts, including properties operated by MGM Resorts International, Caesars Entertainment Corp., Penn National, Golden Entertainment and Boyd Gaming Corp.
Representatives of the union workers are demanding higher wages, protection from layoffs caused by new technology, greater workplace safety measures and protection for immigrants with temporary status.
Tuesday's "yes" vote was widely expected by the industry. The unions have held several strike votes over the decades with not a single "no" outcome, said Culinary union spokeswoman Bethany Khan.
Strike not certain
Las Vegas casino strikes have been avoided in most cases following a "yes" vote by union members. The last citywide strike was in 1984. It affected 32 resorts and lasted 67 days.
Casinos still have at least a week to reach an agreement with unions before they potentially call a strike. Talks could even continue after June 1 without a strike being called.
Caesars spokesman Rich Broome reiterated Tuesday that the company expects to reach an agreement with the unions and avoid a strike.
James Kraft, a professor who authored a book on the 1984 strike, said he expects the two sides to reach an agreement, as both workers and casinos stand to lose from a walkout.
During the 1984 strike, Las Vegas casinos lost as much as $100 million in revenue (about $250 million today), while city and state budgets lost millions in tourist-related taxes, according to Kraft.
A union strike fund helped support workers during the period they picketed.
Ready to strike
Lewis Thomas, a 59-year-old utility porter worker at the Tropicana, was among the thousands who voted Tuesday in favor of striking.
Thomas said he wants better health benefits and company-sponsored training so employees like him are not made redundant by technology.
"We are ready to walk if we don't get the contract. Even if it means striking one month, two months or a year," said Thomas.
Pamela Hughes, an MGM Resorts employee, also said she is concerned about technology replacing workers such as bartenders and cocktail waitresses.
Strip hotels have been rolling out innovations such as delivery robots, chatbots and self-check-in terminals that have the ability to replace some employees.
MGM, which recently talked of a future with drones delivering margaritas, said it is working with the unions to soften the impact of job disruption from technology by providing training and new opportunities.
"While new technology may change the way some jobs function, we will always rely on the skill and personal touch that can only come from our employees," the company said in a statement to the Review-Journal.
Piece of profit
Jose Licea, an on-call kitchen worker at Planet Hollywood Resort, arrived at the Thomas & Mack Center with a U.S. flag and a bullhorn, chanting "No contract, no peace."
Licea, who has worked on the Strip for 25 years, said workers need a wage boost to cover rising prices.
"Everything is going up: gas, food, supplies. We need to raise salaries," he said.
Hughes said casino operators like MGM are sharing too much of rising profits with stockholders and not enough with workers.
MGM announced this month that it would return about $2.5 billion to shareholders over the next three years through dividends and buybacks. Caesars also announced this month that it would buy back $500 million of its own shares.
The two casino operators, however, hadn't returned any money to shareholders in at least a decade before MGM reinstated its dividend last year.
MGM and Caesars had been paying down billions in debt and investing billions more to refurbish existing properties, including ones on the Strip. MGM has also invested several billion to build three new casinos.
Contact Todd Prince at 702-383-0386 or tprince@reviewjournal.com.Follow @toddprincetv on Twitter.