Las Vegas couple's casino collection fills their home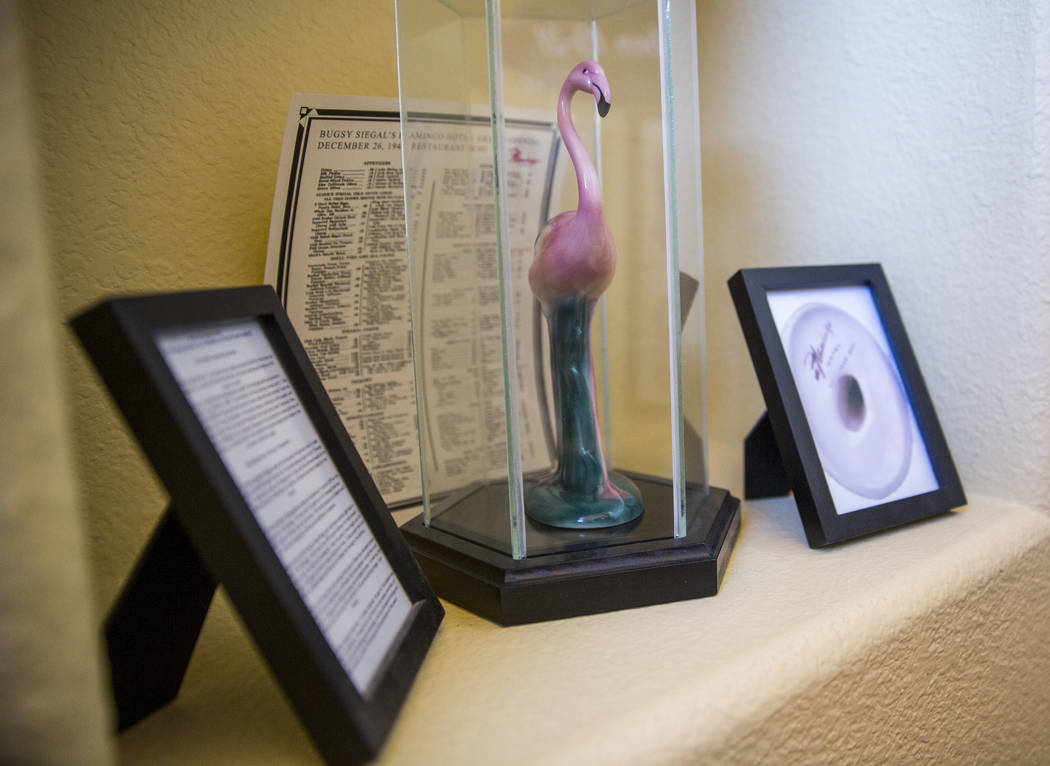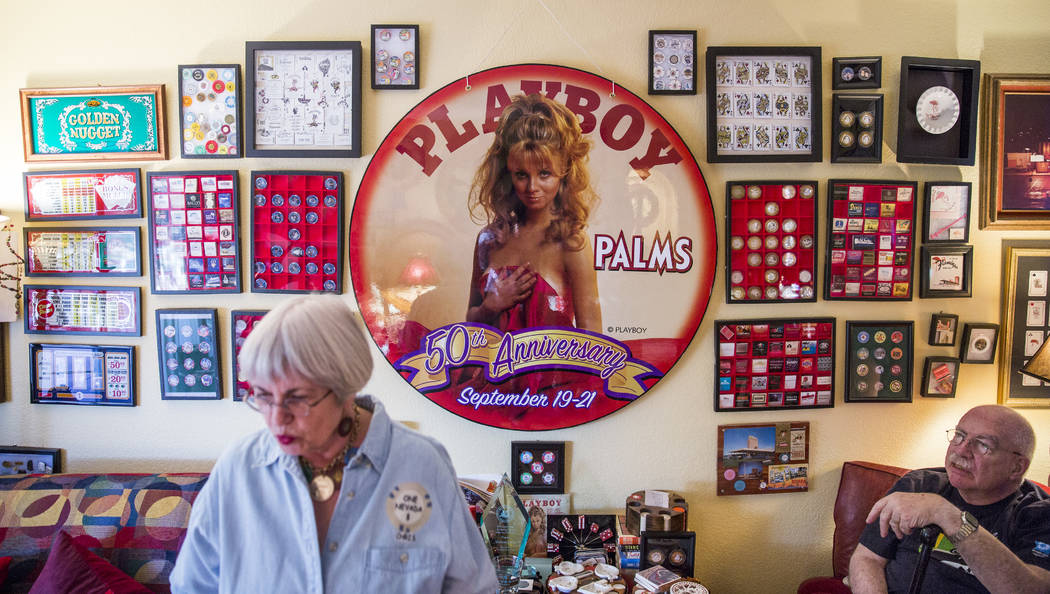 The first thing visitors notice when walking into the Smith's home is the Playboy bunny chip.
The 4-foot-tall image of the model hangs in living room, her image trapped on a giant foam poker chip. She gazes seductively from the wall, covering herself with a thin red sheet atop an inscription announcing Playboy's 50th anniversary celebration at The Palms.
Surrounding her are other mementos of Las Vegas casinos. In the corner stands shrinelike cabinet covered in playing cards and poker chips. The tables hold dozens of books, board games and other items, with more spilling onto the floor. Even the bathroom carries the theme, with a toilet seat cover inlaid with poker chips hanging from the wall.
"(Visitors) all look around the room a little bit quizzically because it's a little much," Sheldon Smith said. "A lot of people collect art. This is our folk art."
A match made in heaven
For Sheldon and Christine Smith, their casino collection is a symbol of a shared interest, the glue that keeps the couple passionate 31 years after first meeting.
The couple met in a Las Vegas casino in April 1986 — they disagree on whether it was MGM or Bally's. Both were working for Kaplan at the time, and came to Las Vegas for the annual National School Boards Association's convention.
"We bonded over the concept that we both loved Las Vegas,'' Christine Smith said.
The two had been in previous marriages, but neither of their exes had the same fascination with casinos.
"If you don't have a common interest with your partner, it can be tough,'' Sheldon said.
The two started dating the next year and married in 1996. They lived together in Illinois for 20 years, but made trips to Las Vegas three to five times every year.
Beginnings of the collection
The collection started innocently enough, with Christine Smith carrying a $1 chip out of Bally's during a visit to Las Vegas in the early 1990s. It became a tradition — they'd bring back a chip after each trip, collecting the mementos in a green canvas bag that hung on a shutter in their bedroom.
During one Las Vegas visit, Sheldon Smith noticed a $1 Dunes chip with a $12 price tag at the Gamblers General Store.
An employee told them about chip collecting. Sheldon Smith believed it was joke at first, but within minutes the two were signed up for the national club. They later started a local chapter in Chicago.
By 2001, the two were spending Sunday nights scrolling through eBay, placing bids on chips and growing their collection. Today, the Smiths have a piece of about half of all known $1 Nevada casino chips — the rest are either lost in time or out of their price range.
The casino collection holds more than just chips, with an assortment of items found in flea markets, auctions, estate sales and garage sales.
"I like casino stuff, especially cards," Christine Smith said. "I like things I can touch, tactile, and I really like it if I can wear it. I like things that are colorful, I like things that depict the history of where we are."
Sheldon Smith said there's a standard concept among casino collectors: if it has the name of a casino on it, it's collectible.
Life in Vegas
The two have embraced the Las Vegas life since moving in 2008, especially with the ever-changing line of casinos. They have been at every hotel opening since moving to the city, aside from the Red Rock Resort's, to check out the rooms and collect chips.
The SLS Las Vegas was one of the couple's most memorable openings; Christine Smith said she was the first person to walk into the hotel.
"I'm a little old lady, I'm good at weaving in and out of the lines," she said.
But hotel openings are just one perk the couple has found with living in Las Vegas.
As a former lawyer, Christine Smith said the relaxed atmosphere of the city is a major draw. For Sheldon, it's the gaming.
"I liked the turn of the cards, the role of the dice,'' Sheldon Smith said. "I want to see what fate has in store for me."
For Sheldon and Christine Smith, the mementos are symbols of the complexity of Las Vegas' history. But most of all, Christine Smith said the collection serves as a reminder that anything is possible.
"All of these are just mementos of a development in gaming, which is people's optimism," she said. "Everybody thinks they're going to win, or they could win, and I like that. I like the whole thing about being willing to take a chance and make a jump. We took a chance with each other, and it worked."
Contact Bailey Schulz at bschulz@reviewjournal.com or (702)383-0256. Follow @bailey_schulz on Twitter.