Las Vegas gaming company boards below average in women members
Updated February 14, 2018 - 4:30 pm
The boards of Las Vegas' six largest gaming employers have just eight women among their 57 directors, and only two of the boards have female representation that is higher than the 21.2 percent average for S&P 500 companies, according to Catalyst, a nonprofit advocate for women in business.
Steve Wynn stepped down as chairman and CEO of Wynn Resorts Ltd. on Feb. 6 amid allegations of sexual misconduct. The company's board of directors now has nine members, including just one woman.
Having more women on corporate boards would reduce the likelihood of allegations of broad sexual misconduct by employees, a UNLV law professor said.
"Not having enough women sitting on your board is a material risk to shareholders," said Benjamin Edwards, associate professor at UNLV's Boyd Law School. "It's a particularly strong risk in a corporation where the brand and ability to motivate the public to spend money at their business may be tied to their reputation."
Wynn Resorts noted in its most recent annual report filed with the Securities and Exchange Commission that "our ability to maintain our competitive position is dependent to a large degree on the efforts, skills and reputation of Stephen A. Wynn."
But the company failed to consider the risk of Wynn staying at the company with an impaired reputation, said Nir Kossovsky, CEO and director of Steel City Re, a Pittsburgh-based underwriter and adviser specializing in corporate reputation management and risk transfer.
"The risk was Steve Wynn and his valuable reputation leaving the firm," Kossovsky said. "What actually happened was that Steve Wynn's valuable reputation left Steve Wynn."
Three years ago, stakeholders weren't as sensitive to what is known today as #MeToo, he said. "What today would be a risk to a firm would not have been considered a risk two or three years ago."
Just as companies have had to evolve to address the risk of cyberattacks, companies must evolve to manage the risk of reputational damage as a result of sexual harassment and misconduct allegations, he said.
Misconduct protection
Having additional women serving on corporate boards is a way of managing a company's risk of sexual misconduct allegations, Kossovsky said.
MGM Resorts International, Caesars Entertainment Corp., Wynn Resorts, Red Rock Resorts, Boyd Gaming Corp. and Las Vegas Sands Corp. are Las Vegas' six largest gaming companies by employment. Among those six companies, Boyd and MGM have the highest percentages of female board members. Each board has 27.3 percent female representation — three women among 11 directors.
Phyllis James, executive vice president and chief diversity and corporate responsibility officer for MGM, said women are "well-represented at all levels of our organization," and the company is "deeply engaged in continuing our efforts to promote gender equality and empowerment of women and girls — at our company and in our communities."
"In today's world, every board of directors should be asking in the boardroom, 'Do we have risk around sexual harassment?'" said Hilary Sale, a law and management professor at Washington University in St. Louis.
"In light of what's been happening in this country over the last 4½ months in a very rapidly unfolding manner, one would expect either the full board or an appropriate committee of the board to ask, 'How are we managing this? Do we have issues?'"
The Wynn Resorts board said late Monday that it will begin "a process to add additional directors to strengthen the composition, skills and experience of the board." A spokesman for the board declined to give further details Tuesday or say whether the board would look to add more women.
The Norfolk County Retirement System, a Wynn Resorts shareholder in Massachusetts, filed a lawsuit against Wynn and the company's board Feb. 6 alleging, among other things, that the "majority of the board lacks independence from Wynn because of a multitude of interrelated business, professional, and personal relationships."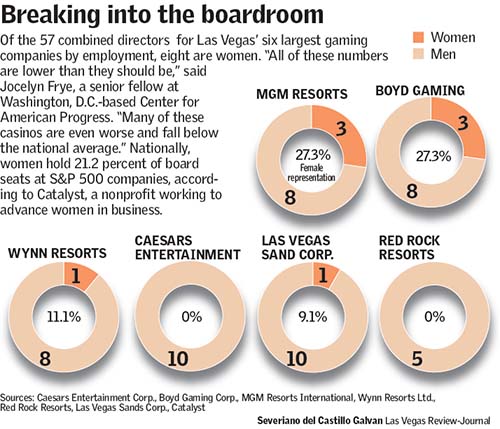 'Important discussion'
Ron Reese, a spokesman for Las Vegas Sands Corp., whose board consists of one woman and 10 men, said in a statement, "Anyone following the news has to acknowledge the important discussion taking place right now and the implications for all of corporate America, but our board and senior executives have been having conversations about these topics prior to any of these current events unfolding."
Reese said future additions to the board "will be made as they always have — through the selection of individuals, regardless of their sex, race, sexual orientation or age, who are the most qualified and bring the most value to the board."
Caesars Entertainment spokeswoman Jennifer Forkish said the company is "committed to increasing female board membership going forward," adding that the company announced in November a commitment to achieve gender equality among its leadership ranks by 2025. The board currently has zero women on its board, because the only woman who was on the board resigned for personal reasons last month.
A representative of Red Rock Resorts, which has no women on its board, declined to comment Tuesday.
A spokesman for Boyd Gaming did not respond to a request for comment.
The Review-Journal is owned by the family of Las Vegas Sands Corp. Chairman and CEO Sheldon Adelson.
Correction: This story has been updated to correctly identify the number of board members for Las Vegas' six largest gaming companies by employment.
Contact Nicole Raz at nraz@reviewjournal.com or 702-380-4512. Follow @JournalistNikki on Twitter.
Related
#MeToo may have repercussions for working women, experts say