Las Vegas Hilton faces loan default, second-quarter earnings drop
August 10, 2011 - 10:04 am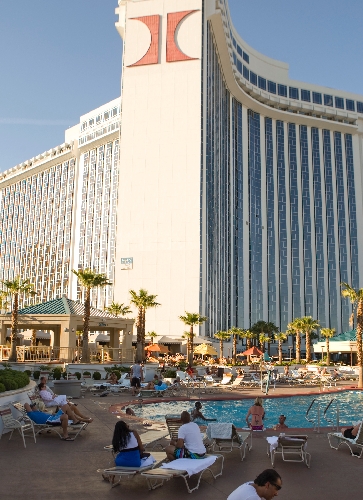 The Las Vegas Hilton has been missing interest payments on a $252 million loan, putting the landmark hotel into default status, its parent company said in an earnings report released late Tuesday.
Colony Resorts LVH Acquisitions LLC, owner of the 2,950-room resort on Paradise Road, said the hotel-casino lost $8.8 million in the second quarter compared to a loss of $9.8 million for the same period last year.
Net revenue declined to $45.5 million from $47.5 million, the company said. Casino revenue declined 9.1 percent, to $14.2 million in the second quarter.
Hotel revenue remains steady at $19.3 million, while food and beverage revenue dropped by 8.6 percent, to $14.4 million.
Colony Resorts LVH reported that it had decided to not make monthly payments totaling $3.5 million for June, July, and August. The privately held equity firm said the decision was made "in order to conserve liquidity for operating and other needs."
The loan represents a majority of the company's $296 million in debt and equity.
While the lender is entitled to seek remedies to deal with the default, Colony Resorts LVH said it "is currently in discussions with its lender to negotiate a restructuring of its debt."
The term loan lender is Goldman Sachs Commercial Mortgage Capital L.P.
"If the company is not successful in a restructuring agreement or entering into a transaction to address its liquidity and capital structure, the note holders have the ability to demand accelerated repayment of all amounts under the term loan," Colony Resorts LVH said in its earnings report.
Colony Resorts LVH said if that were to occur the "company would not have the liquidity to meet this demand."
During the second quarter, Colony Resorts LVH was notified by Hilton Hotels Corp. that Hilton is not renewing the property's franchise license agreement, meaning the well-recognized brand would be looking for a new home in Las Vegas effective Jan. 3 .
On Tuesday, Colony Resorts LVH said it is in "discussion with other major hotel brands." The company also said it could still "sign a new license agreement" with Hilton.
However, Colony Resorts LVH warned that if it is unable to reach a new license agreement with a major hotel brand, the company's "financial condition … would be adversely affected."
Contact reporter Chris Sieroty at
csieroty@reviewjournal.com or 702-477-3893.