Las Vegas Sands executives remain patient through Asian downturns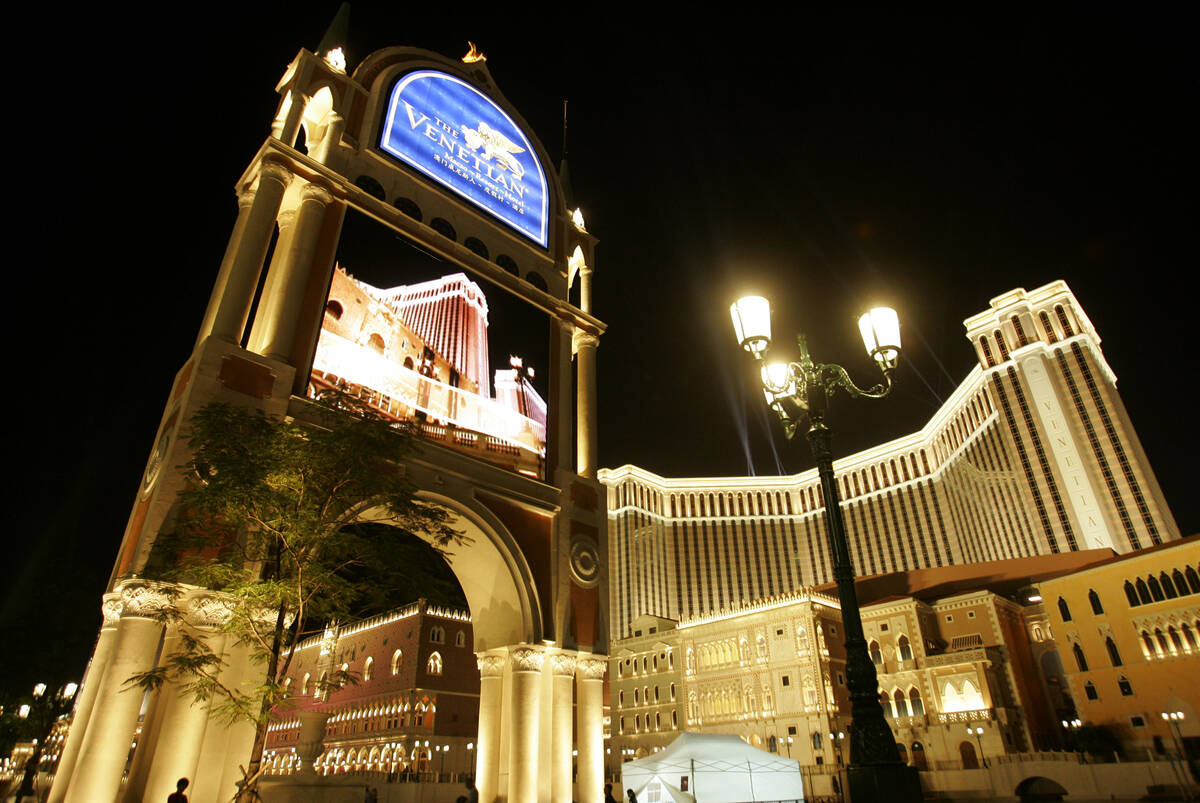 Las Vegas Sands Corp. executives said they will stay the course with their big investments in Macao and Singapore as the company prepares for its next phase of operations — one without Las Vegas resorts.
Company leaders also made clear during the fourth-quarter earnings call Wednesday that they are focused on other U.S. gaming opportunities, namely in New York, Florida and Texas.
They told investors the company will continue to be patient in Macao, where it is the market leader, and go forward with a $1 billion investment in Singapore's Marina Bay Sands resort, even while COVID-19 and omicron variant restrictions continue to pummel those regions.
Sands is on the verge of selling The Venetian, Palazzo and The Venetian Expo in Las Vegas to two New York-based entities, Apollo Global Management Inc. and partner Vici Properties Inc., for $6.25 billion. Nevada regulators would have to approve the deal but have yet to schedule a hearing.
"We remain confident in the eventual recovery in travel and tourism spending across our markets and enthusiastic about the opportunity to welcome more guests back to our properties in 2022 and the years ahead," said Rob Goldstein, chairman and CEO. "While pandemic-related travel restrictions continue to impact our current financial performance, we again generated positive cash flow in each of our markets. We remain deeply committed to supporting our team members and to helping those in need in each of our local communities as they recover from the impact of the pandemic."
Losses in 2021
For 2021's fourth quarter, which ended Dec. 31, Sands reported a net loss of $315 million, 17 cents a share, on revenue of $1.008 billion. That compares with a net loss of $303 million, 40 cents a share, on revenue of $1.015 billion for the same period a year earlier.
For the year, Sands showed a net loss of $1.276 billion, $1.51, on revenue of $4.234 billion. That compares with a net loss of $2.143 billion, $1.89, on revenue of $2.94 billion in 2020.
One reason for Sands' optimism: Company officials believe they are likely to have no trouble navigating a revised licensing process, for which Macao's government recently provided new details. During the call, Grant Chum, chief operating officer and executive director of Sands China Ltd., said there are still some details to work out before a June deadline for six existing concessionaires to be licensed, but company officials are encouraged that there were no new gaming tax increases, that a proposal for greater government oversight wasn't approved and that it appears companies will continue operating properties through at least 2035.
Londoner progress
Sands is nearing the completion of the $4 billion Londoner themed resort. It also operates The Venetian Macao on the region's Cotai Strip, off the main peninsula of Macao.
Officials also expect a rebound in Singapore with a major suite refresh planned at the iconic Marina Bay Sands. Optimism prevails despite a previously announced and soon-to-be-implemented tax increase in Singapore. The new tiered rate, under a new gaming duties bill first proposed in 2019, will go up 3 percentage points to 18 percent for the first $2.29 billion in gross gaming revenue and 22 percent for amounts exceeding that level.
No immediate capital returns
During the call, executives explained they would begin returning capital to investors once numbers improve in Macao and Singapore and not in the wake of the $6.25 billion windfall it will receive from Apollo and Vici. They said they are firmly in place to work toward developing integrated resorts in New York, Florida and Texas. And the company will have a new potential investment location to keep an eye on: the United Arab Emirates.
"From our standpoint, we view return of capital for a very long-term shareholder-enhancing process," said Patrick Dumont, president and chief operating officer for the company. "So I think for us we're going to want to see a return in our markets with a stable level of cash flow and post-pandemic conditions where there's operational clarity before we begin a return of capital program. It's something we hope will come soon. We view the proceeds from the Las Vegas sale as permitting us to develop large-scale resorts in new jurisdictions."
Goldstein and Dumont explained those prospective new jurisdictions.
New York prospects
"We've been talking about New York for years," Goldstein said. "We're big believers in that market. The recent announcement by Gov. (Kathy) Hochul about three licensees is encouraging. We're in the hunt, but I wouldn't want to overplay our hand about what our opportunity might be. It's a massive market, underserved by the current product, and by any metric that should be a massive market for us. We were there last week and we have a team on the ground working through it and I hope we can get a license."
Goldstein also summarized activity in Florida and Texas.
"In Florida, we're in the signature-gathering mode. It's a struggle down there, it's not an easy process to go through, but we're trying very much to be in the hunt in Florida. We really appreciate how underserved that market is and material opportunities exist for a top-tier, land-based opportunity. Florida would be wonderful.
"Same goes for Texas, but Texas is two years away. We've been down there and we have spent time in the market. We have people trying to find our place in that market. I think it will happen, but it's probably the farthest away for a decision," he said.
Keeping watch on UAE
Dumont said Sands will keep watch on the United Arab Emirates, where Wynn Resorts Ltd. earlier this week announced plans to build a 1,000-room, multibillion-dollar resort on Al Marjan Island with a partner.
"As someone who's in the tourism business, our company is very focused on looking at markets and evaluating them and see what different markets present in terms of competition and things our customers like," Dumont told investors. "If you go to the UAE and see the investments that are going on there, it's really remarkable. It's a very special place and I understand why Wynn would have interest going there. It is a tremendous tourism market with a lot of potential there. It's something we will continue to watch and look at, but there are a lot of high-quality markets that are available to our company, and we're going to keep all our options open."
Las Vegas Sands shares, traded on the New York Stock Exchange, closed down 75 cents, 1.7 percent in Wednesday trading to $44.12 a share. After hours, shares began rebounding with a $1.02, or 2.3 percent, gain to $45.14 a share.
The Review-Journal is owned by the family of Dr. Miriam Adelson, the majority shareholder of Las Vegas Sands Corp.
Contact Richard N. Velotta at rvelotta@reviewjournal.com or 702-477-3893. Follow @RickVelotta on Twitter.
Las Vegas Sands Corp.
Fourth-quarter revenue and earnings for Las Vegas-based Las Vegas Sands Corp., operators of The Venetian and Palazzo on the Strip and resorts in Macao and Singapore. (NYSE: LVS)
Revenue
4Q 2021: $1.008 billion
4Q 2020: $1.015 billion
Change: -0.7%
Net (loss)
4Q 2021: ($315 million)
4Q 2020: ($303 million)
(Loss) per share
4Q 2021: ($0.17)
4Q 2020: ($0.40)