Las Vegas Sands in 'very early discussions' to sell Las Vegas assets
Updated October 26, 2020 - 8:28 pm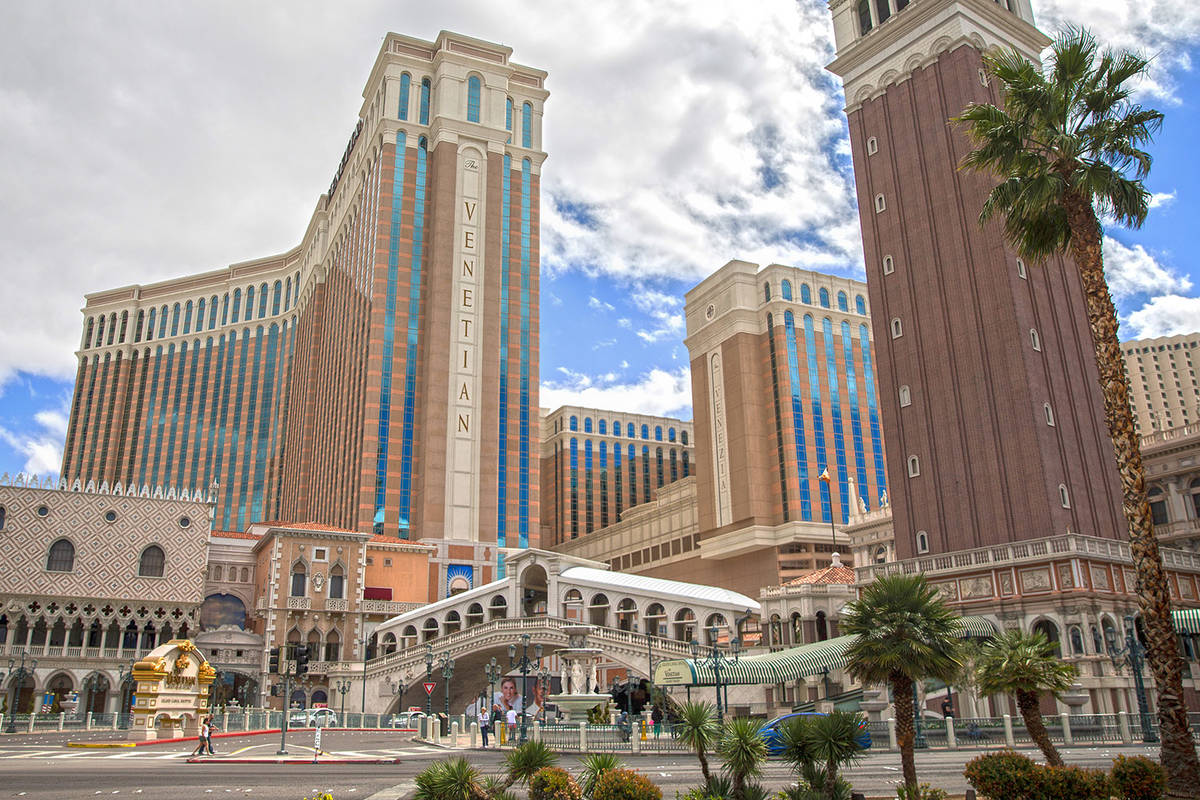 Representatives of Las Vegas Sands Corp. confirmed that the company is in "very early discussions" to sell its Las Vegas assets but said Monday that "nothing has been finalized."
The confirmation follows a Bloomberg News report that the company is exploring a $6 billion sale of its Las Vegas operations.
The company operates The Venetian, Palazzo and the Sands Expo and Convention Center, a multibillion-dollar integrated resort complex on the Strip. Sands also has teamed up with Madison Square Garden to invest in the $1.66 billion MSG Sphere project, located east of the Sands Expo Center at The Venetian and set to open in 2023.
The discussions of a potential sale come as Las Vegas' economic recovery from the coronavirus pandemic appears long and uncertain. Meanwhile, the company's most lucrative properties are in Asia, where it operates hotel-casinos in Singapore and the Chinese special administrative region of Macao.
Las Vegas' slow recovery
In 2020 earnings calls, the Las Vegas-based company has signaled a continued commitment to the Asian market, which is expected to recover from the pandemic faster than its Las Vegas counterpart.
Sands' operations in Macao and Singapore each generated more revenue in the third quarter than its Las Vegas assets. Its Macao properties generated combined revenue of $167 million and its Singapore asset reported $281 million, while its Las Vegas properties brought in $152 million, according to filings with the U.S. Securities and Exchange Commission.
Chairman and CEO Sheldon Adelson said in an earnings call last week that Sands' business volumes have continued to be affected by the pandemic, but operating results have been on the mend, "especially in Asia."
Much of the company's recent and future investments are aimed at its Asian operations.
Sands plans to spend $3.3 billion on a new luxury tower at its Marina Bay Sands property in Singapore, which reported a profitable third quarter.
In Macao, the company recently opened Grand Suites at Four Seasons Macao, a $450 million investment in 290 luxury suites in two towers. The company also is spending $1.35 billion to rebrand Sands Cotai Central into the Londoner, with various improvements scheduled to debut through 2021.
"Macao has the potential to become one of the greatest business and leisure tourism destinations in the world," Adelson said during the call. "We would welcome the opportunity to invest billions of digital investment dollars and extend our contributions to Macao's diversification and evolution into Asia's leading leisure and business tourism destination."
Las Vegas' economy has been hammered by the coronavirus pandemic. Last week, Sands reported an 82 percent net revenue drop in the third quarter year over year. Net revenue was $586 million, compared with $3.3 billion in the third quarter of 2019. Net loss was $731 million, a stark contrast from the $669 million in net income in the same period last year.
Adelson said there have been some improvements in Las Vegas — weekend occupancies have been as high as 70 percent, and recovery is "well underway" — but the lack of group business has continued to devastate the city's midweek visitation rates.
An 'interesting' move
Gaming analyst Chad Beynon of Macquarie Research expects that Las Vegas resorts will reach full recovery in 2023 or beyond, but he said the long-term growth and returns are higher in Asian markets.
"Sands has well-located and well-operated integrated resorts in Las Vegas," he said. "Given additional convention capacity in Las Vegas and uncertain demand levels post-(COVID-19), we believe this is an interesting time to engage with potential buyers."
Gaming consultant Josh Swissman, founding partner of the Strategy Organization, said he can't imagine why Sands would want to exit the Las Vegas market, considering the company's historical ties to Las Vegas.
"It's just interesting that they would move away from all of that after all the time and energy that they've spent building and growing (their flagship properties) over the years," he said.
The company has turned its attention toward Asia in recent years. Swissman said "nobody more than" Adelson has invested in Macao as a gaming market.
Additionally, Swissman said, Sands President and Chief Operating Officer Robert Goldstein has been more "realistic" than other gaming operators about the difficult path to recovery that lies ahead for Las Vegas' gaming industry.
In last week's earnings call, Goldstein said he expects that Las Vegas will have the slowest recovery among the company's markets, pointing to capacity restrictions and limited convention business and airlift.
"Until people feel safe, they're not coming to Vegas," Goldstein said.
The Venetian and Palazzo rely on group and convention business more than other local gaming companies in town, Swissman said.
Nehme E. Abouzeid, president and founder of Launch Vegas LLC, said the drop in convention business could have been the main driver behind Sands' decision to entertain offers. Additionally, he pointed out that the vast majority of the company's overall corporate revenue comes from Asia, and competition within the U.S. is getting fierce.
"Sands operates large, beautiful resorts in destination markets that are best-in-class, but it doesn't have the network effects, loyalty program reach, or market access to U.S. online gaming and legalized sports betting that is fashionable right now," he said. "Still, its strong financial position and premium brand give it so many options."
Abouzeid added that Adelson has flirted with moving its headquarters to Asia in the past, but has always "walked it back."
Brent Pirosch, director of gaming consulting at CBRE, said the sale of Sands' Las Vegas operations — if it comes to fruition — could highlight the devastating impact the pandemic has had on the city.
"Las Vegas is in the midst of an evolution as the market reacts to COVID-19 and prepares for new competition," he said. "This moment is an inflection point that will be discussed and studied for the next decade."
George Markantonis, the president and Chief Operating Officer of The Venetian, Palazzo, and the Sands Expo and Convention Center, sent a letter to Sands employees on Monday, obtained by the Review-Journal, about the possibility of a sale.
"While I know this will come as a surprise to you, it would be premature to draw any conclusions at this stage," the email says. "As you can imagine, this is a complex process and nothing may come of it."
Shares of the company on the New York Stock Exchange closed Monday at $49.13, down 3.1 percent, and traded higher after hours.
The Review-Journal is owned by the family of Las Vegas Sands Corp. Chairman and CEO Sheldon Adelson.
Contact Bailey Schulz at bschulz@reviewjournal.com. Follow @bailey_schulz on Twitter. Review-Journal staff writers Mike Shoro and Richard N. Velotta contributed to this report.