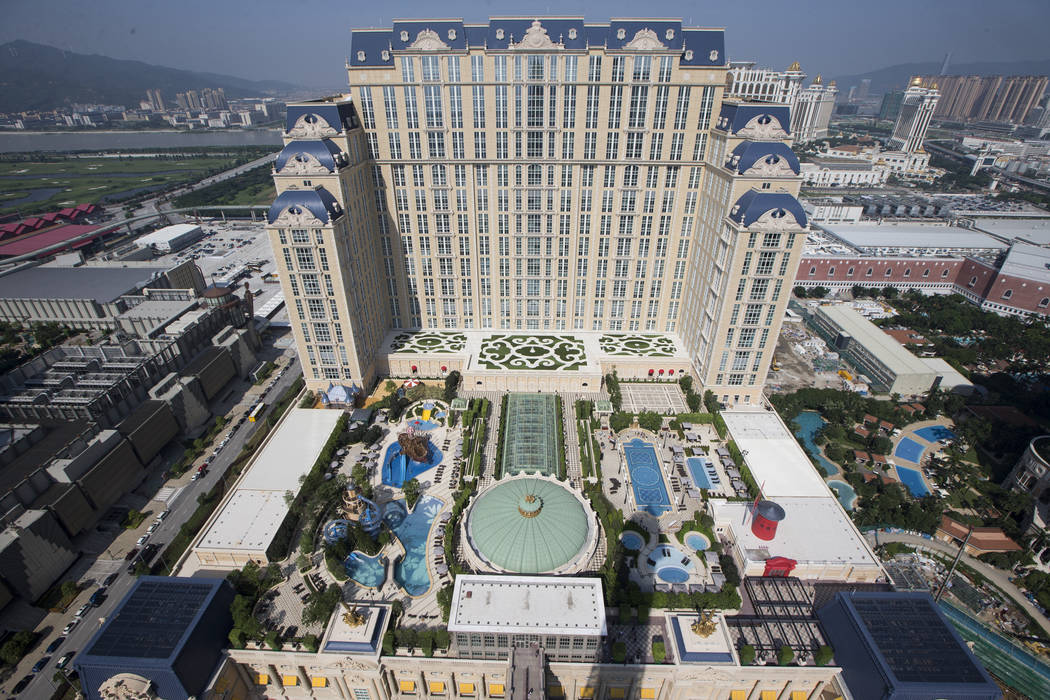 Las Vegas Sands Corp.'s Asian investments pushed the company past $3 billion in revenue as the company's second-quarter earnings on Wednesday posted double-digit percentage increases over last year, beating Wall Street forecasts.
The company that operates The Venetian and Palazzo on the Strip saw cash flow expand dramatically in Macau and to record levels in Singapore in the quarter that ended June 30.
The company also benefited from $361 million in net revenue — a 13.5 percent increase over the first quarter — from its new property on Macau's Cotai Strip, The Parisian.
A survey of 14 Wall Street analysts had projected earnings of an average 59 cents a share while 11 analysts said they expected the company to post $3 billion in revenue.
For the quarter, net income was $638 million, 61.9 percent ahead of 2016's second quarter.
The company also reported Wednesday it is continuing its dividend policy and will pay shareholders of record on Sept. 21 73 cents a share on Sept. 29. During the quarter, the company repurchased $75 million in common stock.
Sands' Las Vegas properties showed less robust increases than expected for the quarter and executives said in an afternoon conference call with investors that they were disappointed in their Las Vegas results.
"I think you know this quarter was disappointing in terms of the lodging component, which is more and more important in Las Vegas," Sands Chief Operating Officer Rob Goldstein said in the call.
"George Markantonis (president and chief operating officer of The Venetian and Palazzo) tells me that the summer looks better to him and that room business is picking up considerably and he thinks the second half we'll do well," Goldstein said.
In Las Vegas, Sands reported net revenue of $384 million, 7.9 percent ahead of last year's second quarter. Table-game drop was down 6.1 percent from last year to $352 million, but the casino played lucky, winning 16.3 percent. Slot handle was down 8.5 percent to $606 million with an 8.3 percent hold.
But room revenue also fell with the properties' occupancy rate down 2.3 percentage points to 92.7 percent. Higher room rates offset some of the downturn as the average daily room rate went up 1.7 percent from last year to $244 a night.
"He (Markantonis) thinks the FIT (free and independent traveler) business is picking up and the group business is accelerating, so we'll do well," Goldstein said. "So we're hoping for more there. Obviously, we didn't have as good a quarter as we'd hoped for after a stellar first quarter."
But Macau and Singapore carried the company for the quarter.
Sands is the dominant player in Macau and Chairman and CEO Sheldon Adelson reminded investors on the conference call that next month marks the 10th anniversary of the opening of The Venetian Macao.
"When it opened in August 2007, The Venetian stood alone on Cotai," Adelson said. "Its opening marked the first effort in my vision to create the Cotai Strip. I was absolutely committed then and I remain as deeply committed today to continuing to support Macau's economic diversification and its transformation into Asia's leader in the tourism business."
The company has invested more than $13 billion in Macau since first arriving there in 2002 as one of the first American companies to take advantage of new concessions offered by the government.
The company's Singapore property, Marina Bay Sands, meanwhile, is one of two casino resort properties operating there. It is often cited by Japanese policymakers as an example of the type of integrated resort that nation wants to develop.
Because of that notoriety, Adelson believes his company is the front-runner to develop a resort in Japan when the government develops legislation and regulations for gambling in that country.
The company's stock price fell 1.5 percent, 97 cents, in Wednesday trading and another 0.9 percent, 55 cents, to $61.10 a share after hours on above-average volume.
The Review-Journal is owned by the family of Las Vegas Sands Corp. Chairman and CEO Sheldon Adelson.
Contact Richard N. Velotta at rvelotta@reviewjournal.com or 702-477-3893. Follow @RickVelotta on Twitter.
Las Vegas Sands
Second-quarter revenue and earnings for Las Vegas-based Las Vegas Sands Corp. (New York Stock Exchange: LVS).
2Q 2017, 2Q 2016, Change
Revenue: $3.14 billion, $2.65 billion, +18.5%
Earnings: $638 million, $394 million, +61.9%
Earnings per share: 69 cents, 41 cents, +68.3%