Las Vegas Sands, MGM front runners for Japan resorts, Morningstar finds
Updated October 24, 2018 - 12:17 pm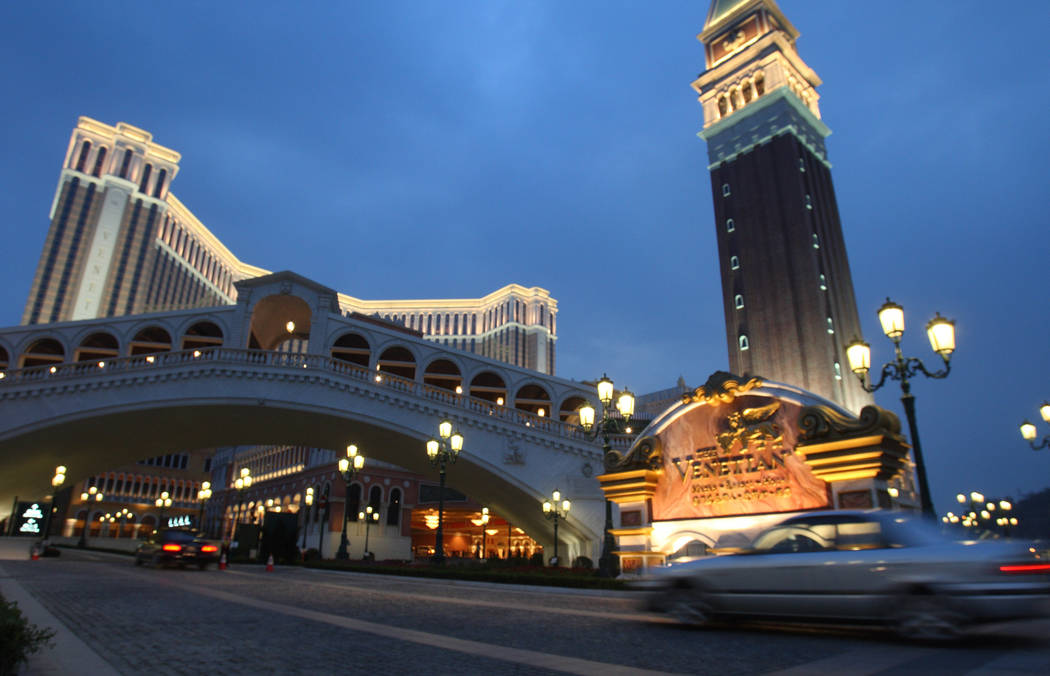 A top gaming industry analyst said two Las Vegas companies could be the first to build casinos in Japan.
Las Vegas Sands Corp. and MGM Resorts International appear to have the inside track to be selected to build two of Japan's first integrated resorts and casinos at Osaka and Yokohama, senior equity analyst Dan Wasiolek of Chicago-based Morningstar Inc. said Monday in a research report to investors.
Two other Las Vegas-based casino giants,
Caesars Entertainment Corp. and Wynn Resorts Ltd., also have hopes for Japan.
Wasiolek said he expects the Japanese to consider operating experience in stringent regulatory environments, balance sheet strength, partnership experience, appreciation of Japanese culture and experience in meetings, incentives, conventions and exhibitions to be considered when concessions are awarded.
In the report, Wasiolek said Sands and MGM are stronger than Wynn in the meetings industry. Morningstar does not monitor Caesars.
Japan legalized gambling in late 2016, and receiving a license to develop casino resorts there is viewed by the gaming industry as one of its most lucrative opportunities in history. After the first two properties open in 2025 and 2026, projected annual revenue is at $26 billion combined.
Process still in motion
Wasiolek projects that Las Vegas Sands, which operates The Venetian, Palazzo and the Sands Expo &Convention Center on the Las Vegas Strip, is positioned to win the concession in Osaka.
"We see Las Vegas Sands as most likely to win one of the two urban gaming licenses, due to its strong resort experience in Singapore and Las Vegas, where we believe regulation is more stringent than in Macau and the Philippines, and where problem gambling and crime issues have been controlled," Wasiolek said in the report. "Additionally, Las Vegas Sands has shown itself to be a valued partner in Macau where it has invested $13 billion since 1999."
Sands spokesman Ron Reese told the Review-Journal Tuesday that the company is "happy to be recognized, but we'll let Japan make the ultimate determination."
Wasiolek projects that MGM, with 10 Las Vegas Strip resort properties, is in line to open a resort in 2026 in Yokohama, the second-largest revenue opportunity.
"MGM Resorts is well-situated to receive a concession based on its leading position in Las Vegas, a market where gambling issues and crime have been well-controlled as well as its experience working with partner companies, while also displaying a strengthening balance sheet," he said.
MGM spokesman Brian Ahern told the Review-Journal Tuesday that the company has had a team in Japan "for several years" becoming immersed in Japanese culture, history and values.
"We feel we are well-positioned for opportunities in Japan and look forward to sharing with stakeholders a vision for a uniquely Japanese, world-class integrated resort," he said.
Japan's government leaders are still establishing a regulatory process and naming a casino control commission that would issue regulations.
After regulators are chosen, local governments in the regions where casinos would be located would issue requests for resort proposals, probably in the first half of 2020, with licenses approved by the end of that year.
Wynn, Caesars in the mix
"Wynn Resorts is very focused on Japan as a development opportunity and very active in the major cities of Osaka, Yokohama and Tokyo," a company spokesman said in an email.
"Chris Gordon, who leads our development team, and CEO Matt Maddox are both in Japan this week," he said. "Wynn Resorts also relaunched our Japanese language website this week with additional content about our company and our vision for Japan."
Jan Jones Blackhurst, executive vice president of government relations and corporate responsibility for Caesars, said the company's track record on responsible gaming and partnerships with local entities should serve the company well when it competes for a concession.
Two key pieces of legislation relating to preventing addictive gambling behavior and the implementation of the industry were approved in July.
"The dynamics are completely different in Japan than in any other Asian location," Blackhurst said. "We take our corporate responsibilities (on problem gambling) very seriously and I don't think there's any company that does it better than we do."
Blackhurst also said she expects the company's record of developing decades-long partnerships with locally based entities, including several U.S. Indian tribes, and the company's vast database that can attract thousands of foreign visitors will be appealing to Japanese decision-makers.
The Review-Journal is owned by the family of Las Vegas Sands Corp. Chairman and CEO Sheldon Adelson.