Las Vegas Sands to turn Macau hotel into London-themed resort
October 25, 2017 - 5:39 pm
Updated October 25, 2017 - 5:42 pm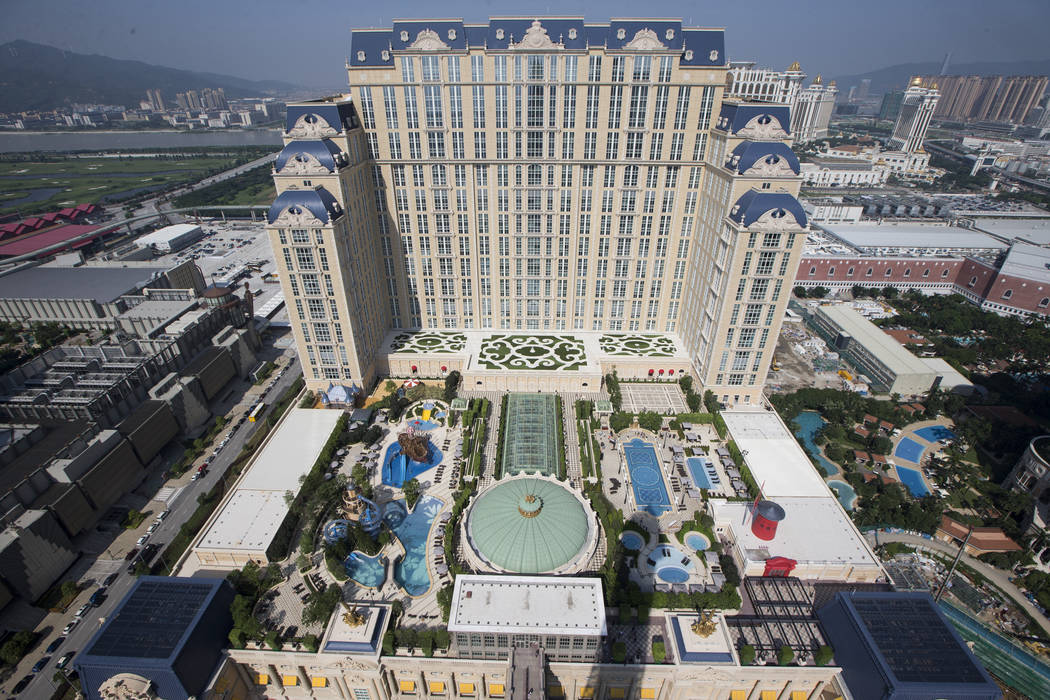 Las Vegas Sands Corp. Chairman and CEO Sheldon Adelson said Wednesday he'll replicate another European cityscape in the Chinese enclave of Macau: London.
During Sands' quarterly earnings call, Adelson said his company would invest $1.1 billion in Macau, including new facades at Sands Cotai Central that would transform the hotel complex into The Londoner.
President and Chief Operating Officer Rob Goldstein said the curb appeal of the year-old Parisian Macao and the 10-year-old Venetian Macao properties convinced the company to develop new facades resembling Big Ben and other landmarks over the next three years.
"When you drive by the Parisian, it's visibly stunning, the same way as the Venetian," Goldstein said during the call with investors. "It's very, very attractive and it makes you want to go inside the building. We want to achieve that with The Londoner, something with all the iconic architectural look and feel with Big Ben, something you'll be able to see from the street so that people will very much want to come in and explore it."
Some disruptions
Goldstein cautioned that there would be operational disruptions when The Londoner transformation occurs, "but the payoff pitch for the company will be extraordinary."
"The thing about London is it's iconic in so many ways with the buses and the beefeaters," he said. "Our team is having great fun playing with that. We'll re-theme the casino experience to be much more iconic and thematic. We want to make this a place where the base mass gravitates."
The announcement overshadowed the company's profitable third quarter. For the period ending Sept. 30, Sands reported earnings of $685 million, 72 cents a share, on revenue of $3.199 billion. In the same quarter a year earlier, the company reported earnings of $606 million, 65 cents a share, on revenue of $2.969 billion.
The company saw declines at its Macau properties, some of which could be attributed to the arrival of powerful Typhoon Hato on Aug. 22. The company showed lower casino and hotel revenue for Venetian, Cotai Central, The Plaza Macao, Four Seasons Macao and Sands Macao.
Typhoon relief
In the call, Adelson disclosed that the company donated $3.75 million while his Adelson Foundation gave $4.3 million to typhoon relief after the storm.
A 4.1 percent revenue increase at Marina Bay Sands in Singapore helped offset the declines in Macau.
Adelson also told analysts during the call that the company's progress in Japan is unclear after this week's national election. He said the Japanese government could take up legislation to approve integrated resorts in that country as early as next week, or it could take more time.
Sands officials have said they believe they have the inside track in being one of the companies selected to develop a resort. MGM Resorts International, Wynn Resorts and Caesars Entertainment are among the Las Vegas companies vying to build resorts in Japan, which analysts believe could rival Las Vegas and Macau as a gambling destination.
Higher dividend
Sands also announced Wednesday that its board of directors voted to raise the annual dividend to $3 a year, or 75 cents a quarter, beginning next year. The company paid a 73-cent dividend in the current quarter and is scheduled to pay another in December.
Sands closed down 24 cents a share, 0.4 percent, to $62.91, but rebounded by $1.24, 2 percent, to $64.15 in afterhours trading on above-average volume.
The Review-Journal is owned by the family of Las Vegas Sands Corp. Chairman and CEO Sheldon Adelson.
Contact Richard N. Velotta at rvelotta@reviewjournal.com or 702-477-3893. Follow @RickVelotta on Twitter.
Las Vegas Sands
Third-quarter revenue and earnings for Las Vegas-based Las Vegas Sands Corp. (New York Stock Exchange: LVS).
3Q 2017 3Q 2016 Change
Revenue $3.199 billion $2.969 billion +7.7%
Earnings $685 million $606 million +13%
Earnings per share 72 cents 65 cents +10.8%