Las Vegas shooting boosts urgency for more counterterrorism funds
October 6, 2017 - 7:42 pm
Updated October 6, 2017 - 7:50 pm
Just last week Mike Bolognini, vice president and market leader for Cox Las Vegas, was in Washington, D.C., speaking with members of Congress about the need for additional counterterrorism funding.
"There we were in Washington, pressing not only our congressional delegation but also the other congressmen and senators that we met with about funding and the fact there is a major problem," Bolognini said.
The Department of Homeland Security has undervalued Las Vegas' relative risk of terrorism, he said, which depresses the level of Urban Area Security Initiative funding Las Vegas receives for terrorism preparedness and response overall.
Bolognini was one about 100 other business and government leaders representing the Las Vegas Metro Chamber on its annual lobbying trip. Bolognini arrived Sunday evening, right before McCarran International Airport shut down in response to the mass shooting at Mandalay Bay.
'Super important'
Nevada's initiative funding has steadily declined from $10.5 million in fiscal year 2004 to $2.8 million in fiscal year 2017.
Chuck Callaway, a lobbyist for the Metropolitan Police Department, said the department has felt that decrease.
Urban Area Security Initiative funding is "super important," he said, and has helped the department fund the Southern Nevada Counter-terrorism Center, which he said possibly prevented an act of violence, possibly a school shooting, "a couple of years ago."
He couldn't say how more or less initiative funding would have affected the preparedness or response to Sunday's mass shooting. But Callaway did say that while the response to the shooting was "remarkable," "more funding helps with everything."
In addition to the decline in initiative funding, Callaway said he is also concerned about the way the homeland security department evaluates Nevada's critical infrastructure.
Tourism as critical infrastructure
Bolognini said the Department of Homeland Security sees Las Vegas as a city of 2.2 million people.
"There's not really a way to calculate our 42 million visitors that come in because they're not residents," he said.
Sen. Catherine Cortez Masto, D-Nev, wrote to Secretary of Homeland Security Elaine Duke Aug. 9 in which she wrote about her concern for how the department evaluates Las Vegas' relative risk of terror attacks.
"Las Vegas hosts more than 20,000 conventions, including the Consumer Electronics Show (CES), which broke an attendance record with over 180,000 attendees this past January," she wrote. "Including these types of special events, accounting for their size, attendance, and appeal would provide a more accurate scope of risk."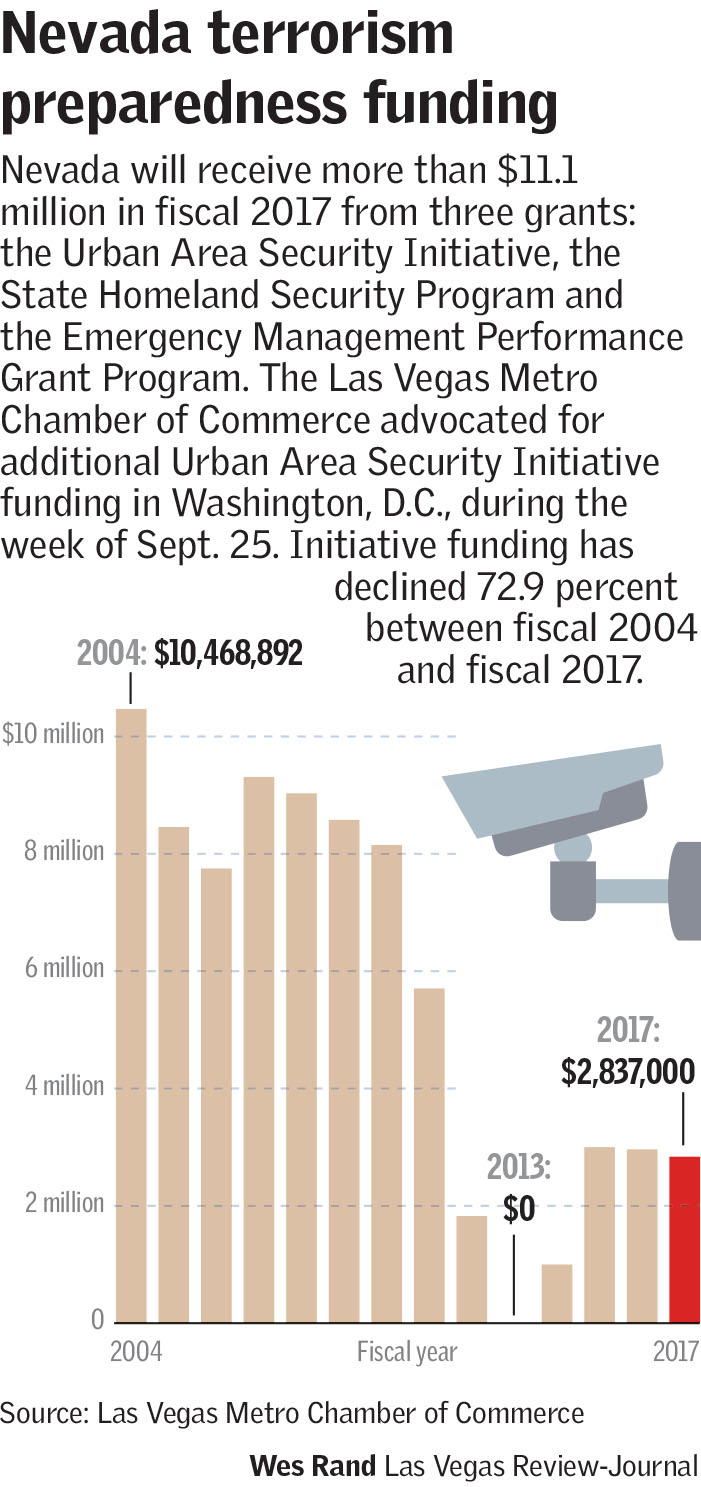 Paul Moradkhan, vice president of government affairs for the chamber, says the department also wrongly views all properties on the Strip as one "cluster."
"Even though we have a few of the world's largest hotels on the (Las Vegas) Boulevard, it's viewed as one asset, while we argue it's multiple assets on the Strip," he said.
If the department were to account for additional assets in Las Vegas, he said the state would likely get additional funding.
Department of Homeland Security Spokesman David Lapan provided some data to the Review-Journal but was not able to respond to requests for comment.
Shawn VanDiver, director of the San Diego Chapter of the Truman National Security Project, a defense think tank, said he agrees that it is a problem for the homeland security department to view the Strip as one large entity rather than as individual properties.
"Some sites are easier to secure than others," VanDiver said, and properties have their own security needs. But it's "hard to say" whether one approach is right or wrong, he said.
Lobbying harder
Moradkhan said the chamber has advocated for increased terrorism preparedness funding since 2013. That year, Nevada received zero Urban Area Security Initiative funding.
Moradkhan and Bolognini are hopeful that the mass shooting might exert more pressure for the chamber's cause.
Sen. Dean Heller, R-Nev, said he raised the issue with President Donald Trump Wednesday during his visit to Nevada.
"This week's tragedy in Las Vegas underscores the need for Homeland Security to reconfigure its risk profile assessment formula and direct more federal resources to the city," Heller said in a statement.
The conversation about the initiative comes after Trump released his proposed budget in May, which would cut funding for the Urban Area Security Initiative by 25 percent, to about $431 million. Up to $587 million is available in total funding for the initiative in FY 2017, according to national grants services company Grants Office, LLC.
White House press secretary Sarah Sanders said Friday, "At this point we're continuing to move forward" with the proposed budget.
"If there is a moment where we feel like the safety and security of American citizens may be at risk because of cuts, I think we'd have to revisit it at that time," she said.
Review-Journal White House Correspondent Debra J. Saunders contributed to this report. Contact Nicole Raz at nraz@reviewjournal.com or 702-380-4512. Follow @JournalistNikki on Twitter.