Las Vegas Strip crowds expected for Fourth of July holiday weekend
Updated July 3, 2020 - 6:53 pm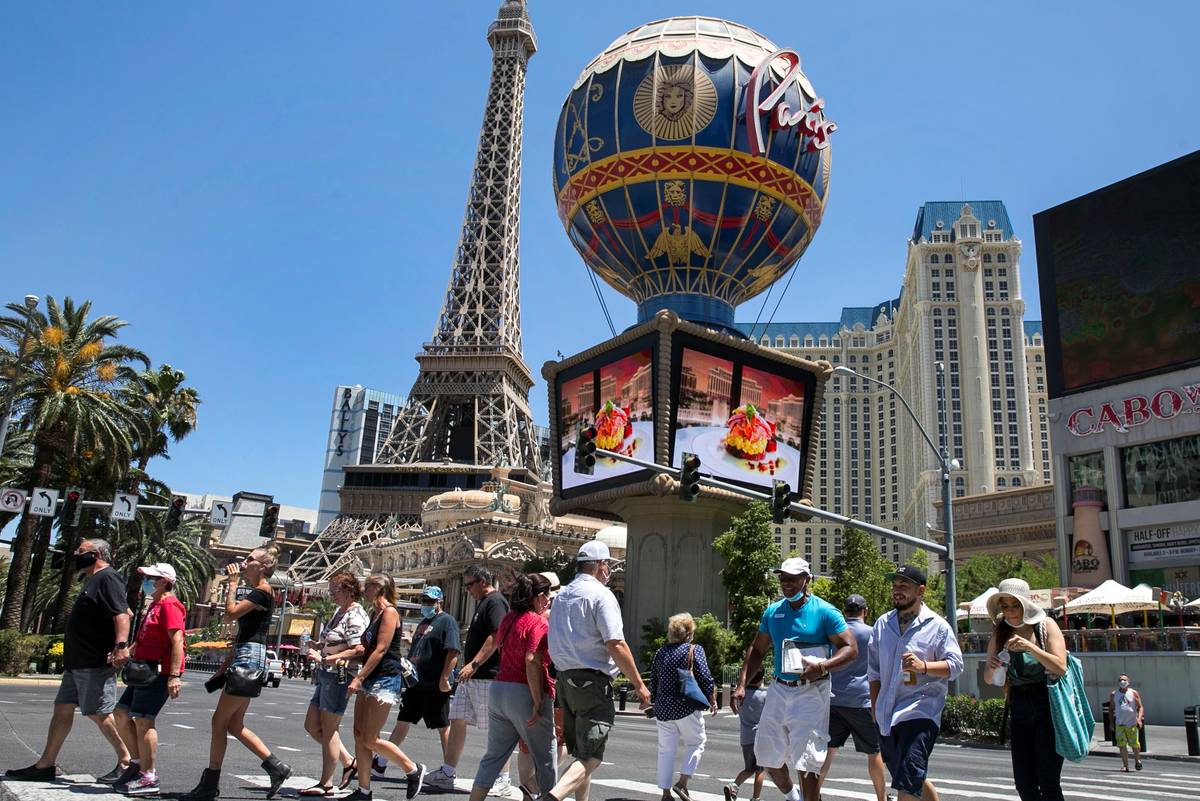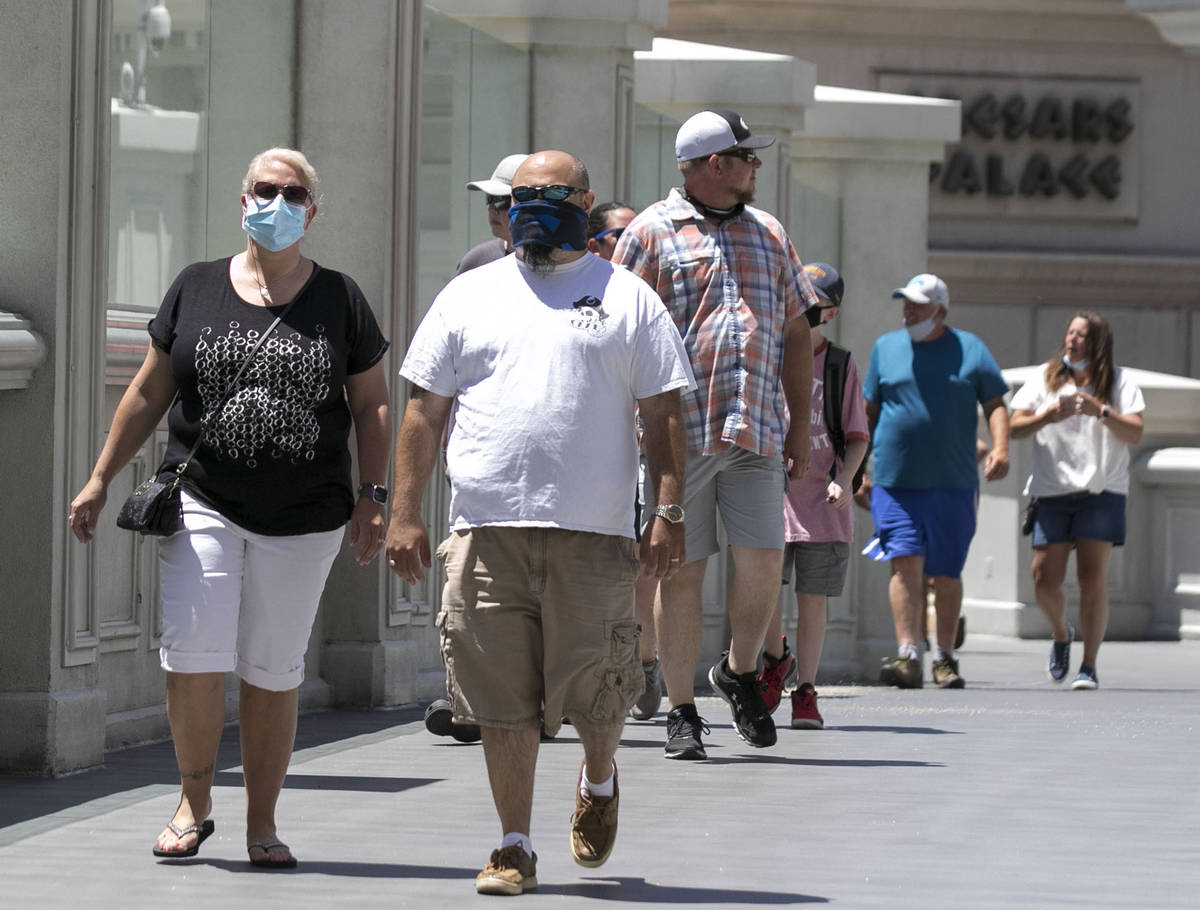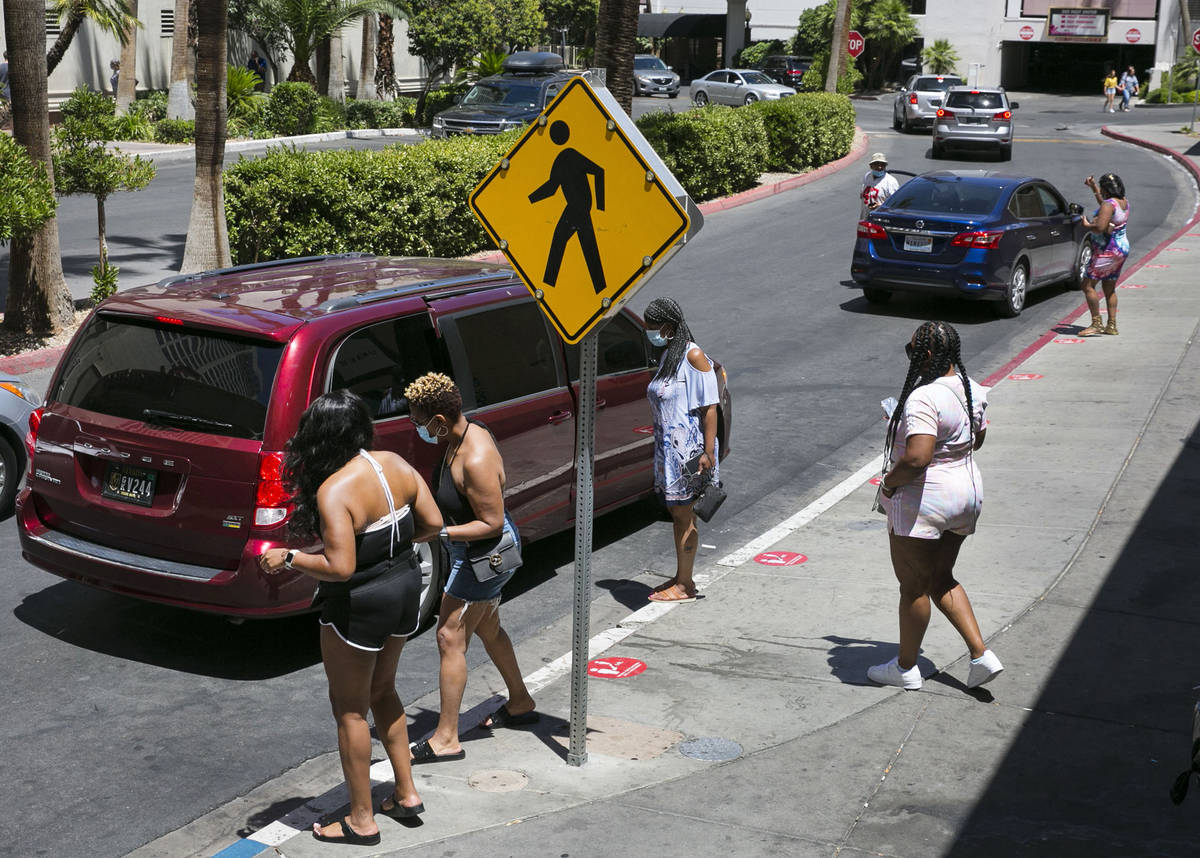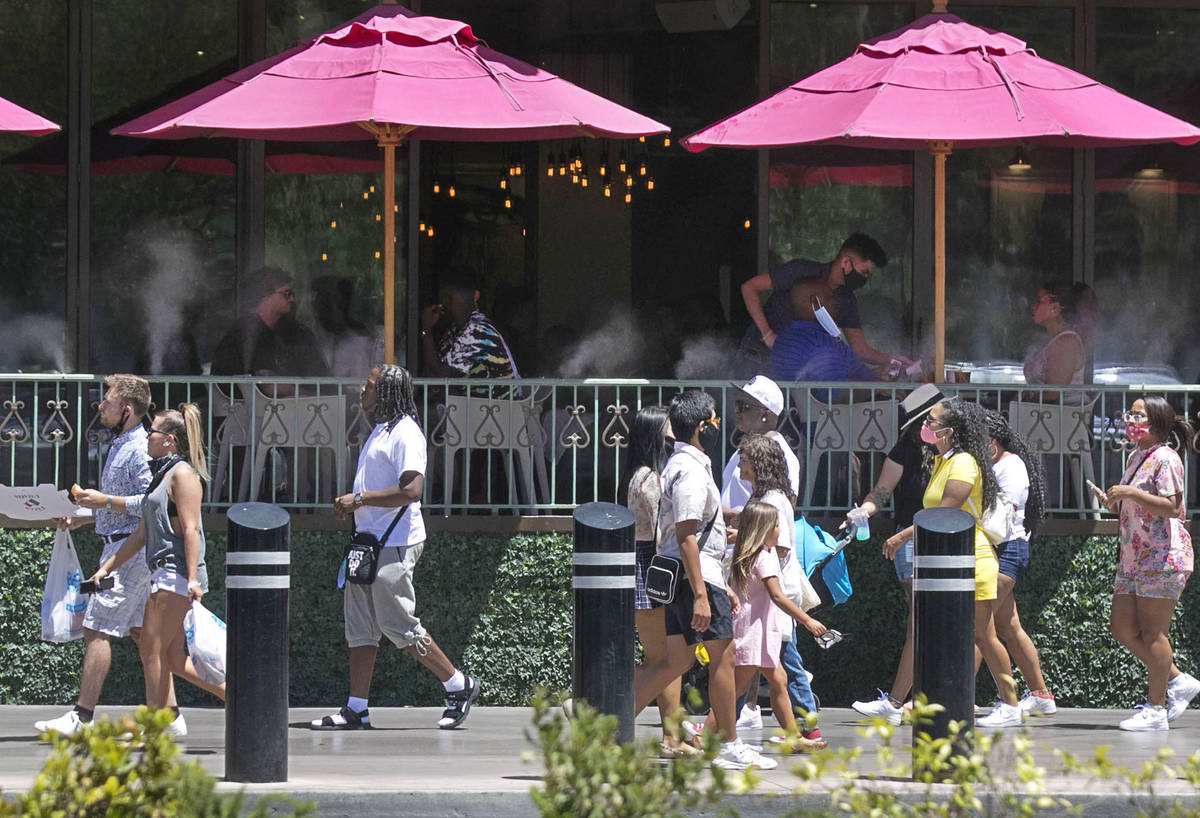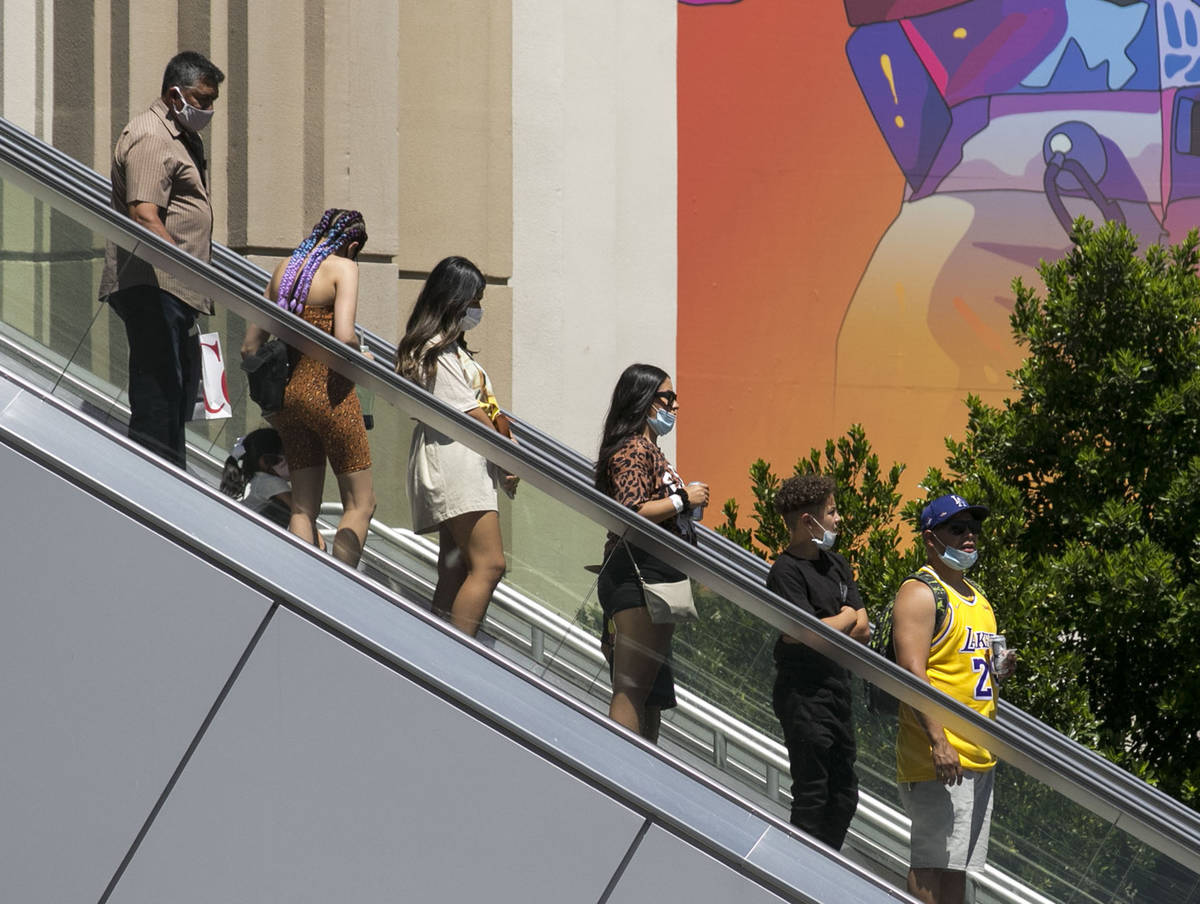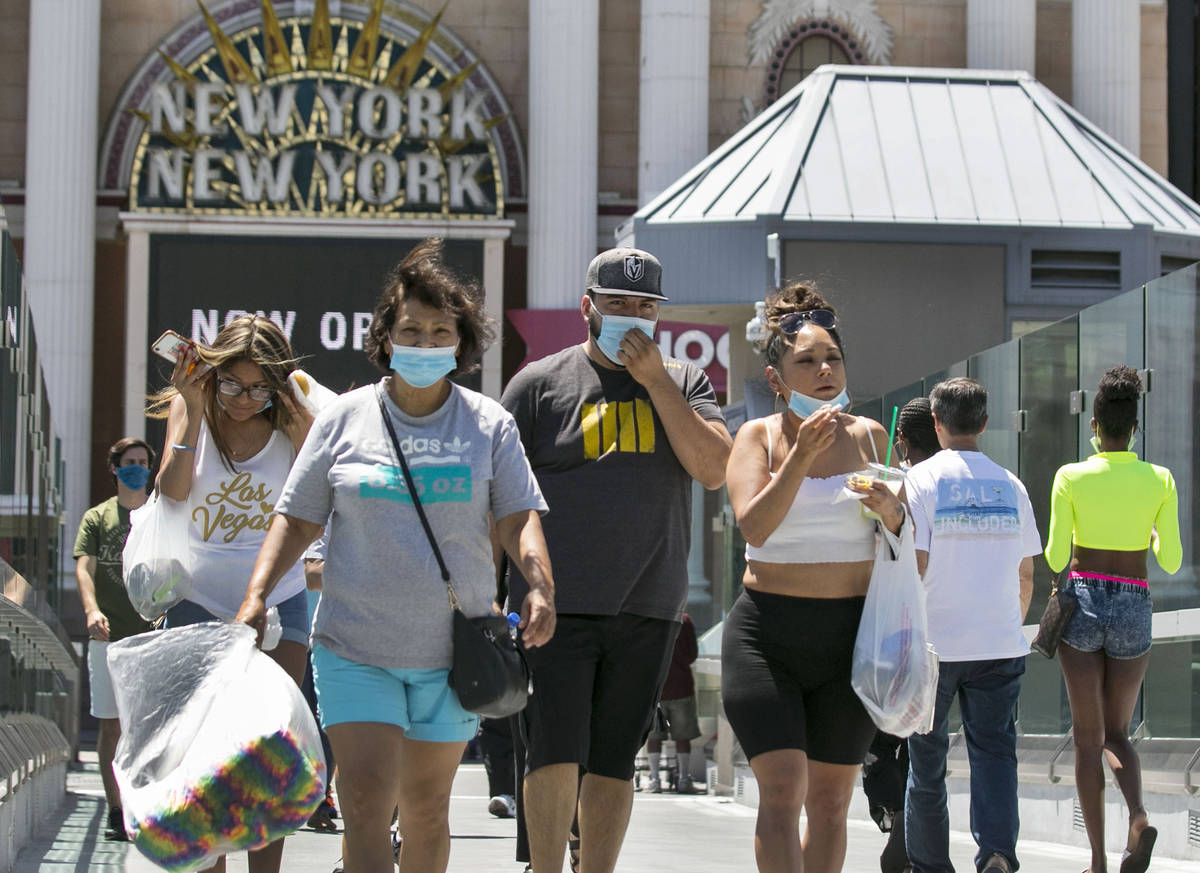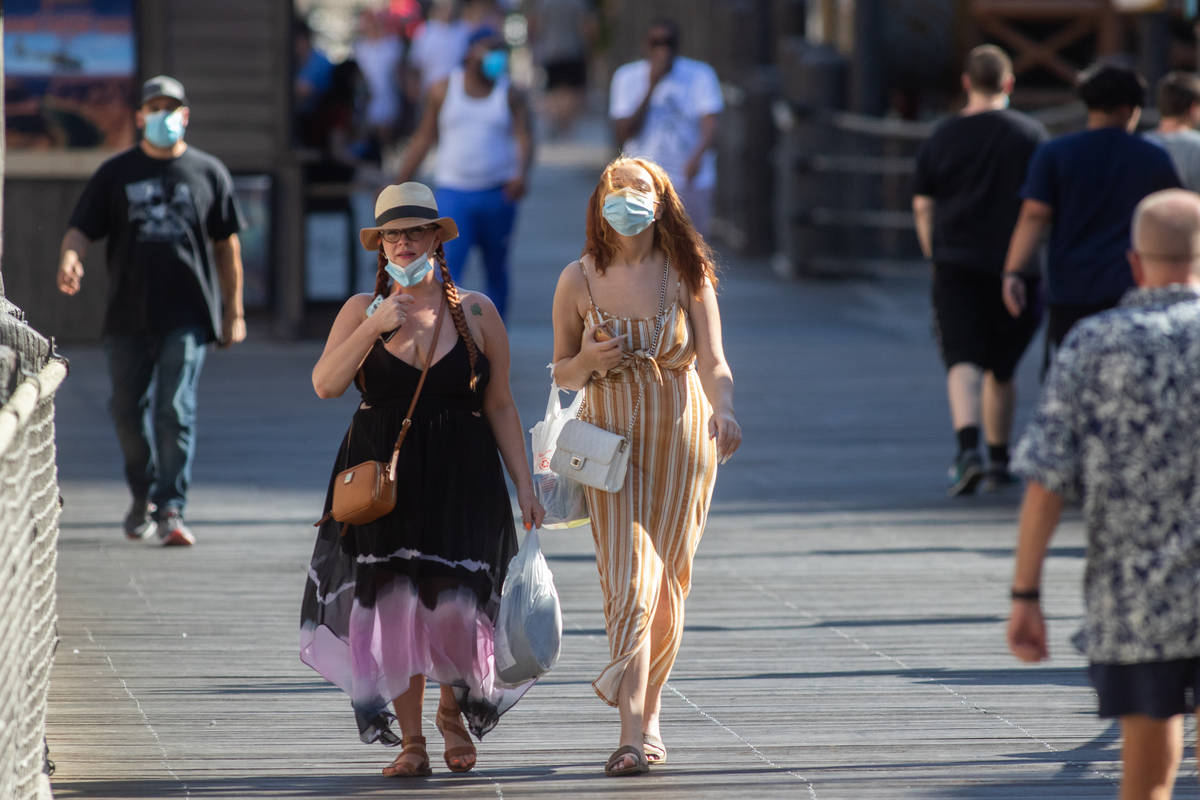 Despite a sharp uptick of COVID- 19 cases in Nevada, crowds of tourists flocked to the Las Vegas Strip for Fourth of July weekend.
While crowds have yet to reach pre-pandemic levels, a good amount of visitors — many of whom had driven in from neighboring states — were spotted on the Strip Friday.
Los Angeles natives Nicole and Paul Viazcan said a lot has changed in Las Vegas compared to their last visit in January.
"It's different," Nicole Viazcan said. "My anxiety came when we got here and I saw so many people not wearing masks walking (outside). … (But) it's either putting your life on hold, or you're going to try to go out and be safe about it. In my purse I have wipes, I have sanitizer, I have Lysol."
Casino operators have been preparing for the holiday crowds for weeks by opening more properties.
MGM Resorts International reopened Aria and Mandalay Bay on Wednesday. The nongaming hotel Waldorf Astoria also reopened Wednesday. Nobu Hotel, the boutique hotel within Caesars Palace, reopened Thursday.
Room rates listed on Hotels.com and company websites hint that demand has increased for the three-day holiday weekend compared with the weekend of June 4, when Nevada casinos first reopened.
A Wednesday search on Hotels.com showed a night at Harrah's Las Vegas started at $349 for Saturday, compared with $75 on June 6. A room at Circus Circus started at $118 Saturday, up from $52 on June 6. MGM Grand rates also went up from $169 to $199.
Slow crowds Friday morning
Large crowds had yet to reach the Strip as of 9:30 a.m. Friday.
Among the few people passing by the Bellagio fountains at that time, Jaylen Torres and her fiance, Abisai Garcia, said they drove in from Salt Lake City that morning for a day trip. The two planned to hit the Linq Hotel's High Roller while they were in town.
"It seems slow," Garcia said. "Businesses aren't open as early" as they usually are.
Illinois native Nate Johnson said he visits Las Vegas with his wife multiple times a year, but said the city is "not near as much fun" during the pandemic.
The couple booked the stay at the Bellagio shortly before Gov. Steve Sisolak updated the state's mask policy. Johnson said they likely wouldn't have booked the trip if they knew they would need to wear masks in public, and they won't return until the face mask rule is gone.
"(There are) a lot more rules, and usually people come to Vegas because there are no rules," he said, adding that gambling isn't as fun with plexiglass and social distancing.
"It's definitely not the same Vegas," he said.
Johnson added that he's not concerned about the virus during the weekend trip.
"The death rate is going down," he said. "As somebody who's a healthy individual with a strong immune system, I'm ready to go out and about. … I might get sick for a week, but that's my risk."
According to the Centers for Disease Control and Prevention, the percentage of deaths attributed to pneumonia, influenza or COVID-19 in the U.S. fell from 9 percent during the week ending June 20 to 5.9 percent during to the week ending June 27, the 10th week of a declining percentage of deaths due to the diseases. The percentage is still at the epidemic threshold.
Safety measures easing worries
Crowds at the Bellagio were small but steady Friday morning, with dozens of guests milling around the casino floor.
There was a line outside the elevators that morning to allow for fewer people in each lift, and all staff members were seen wearing masks.
Mask use among guests was mostly consistent, although there were some improperly worn by gamblers at table games, with the masks not covering noses. Another woman had her mask strapped under her chin as she played a slot machine, cigarette in hand.
Out on Las Vegas Boulevard, more people chose to forgo face coverings in the desert heat. There were still a good number — including a street performer playing a saxophone, who had cut a hole in his mask — who kept theirs on.
Inside the Flamingo around 10:30 a.m., masked employees wiped down chips and sanitizing machines. Most patrons had masks on, but a number could be seen with the face coverings under their noses or pulled down as they smoked.
Paul Viazcan, who booked a room at the Flamingo with his wife for the holiday weekend, said the casinos' new health and safety protocols helped ease their anxieties about COVID-19 on their trip.
"We knew that safety measures were taken, so we're good, and that's what's calming us down," he said. "You still have that uncertainty … but overall we've felt pretty good."
Nicole Viazcan added that she has already seen one patron kicked out of a Fat Tuesday venue for refusing to wear a mask.
Chip and Monica Collier of Concordia, Missouri, flew in Thursday to celebrate their daughter's wedding and booked a room at Harrah's. The two said they have been impressed with casinos' new health and safety protocols.
"We've got to mask up, but that's life right now, until we get past this," Chip Collier said. "As long as people are smart and stay away from each other, (I feel safe)."
Las Vegas local Mayra Arzate, who had planned a staycation at Caesars Palace with friends this weekend, said she has seen casinos follow safety precautions for the most part, but has also witnessed some guests ignoring social distancing rules.
"I feel like (the casinos) are trying, but with the crowds I don't think it's happening," she said.
'So far, so good'
Crowds swelled as the day went on.
Wynn Las Vegas had a sizable crowd around 2:30 p.m. on the casino floor with the tables appearing to house more people than the slot machines.
With the exception of those dining at the restaurants, everyone inside the hotel had their masks on properly. Many guests walking around also took advantage of the hand sanitizer stations placed throughout the hotel.
The action and noise died down quickly when hitting the Wynn Plaza Shops. The two stores with the most customers around 2:40 p.m. were Louis Vuitton and Chanel, where a small line formed outside each boutique as stores implemented social distancing measures.
Carmen Castaneda was window shopping at the Plaza Shops after checking into the hotel with her husband. They drove up from Arizona for the night.
"I heard about all the precautions they're taking because of COVID and thought it should be safe — so far so good," she said. "I haven't gone outside, but driving down the street I didn't see people with masks but inside the hotel everyone has masks."
Outside along Las Vegas Boulevard, Los Angeles residents Alex and Rosie Lopez were walking south toward the Wynn. The husband and wife decided to come to Las Vegas for the holiday weekend to get out of the house and "just adventure," according to Alex Lopez.
Rosie said she's felt safe so far during their stay. The last time she was in Las Vegas was October and said she "actually like(s) it now" as there are fewer crowds.
The foot traffic along Las Vegas Boulevard was fairly light in the afternoon heat and about half the pedestrians could be seen wearing masks while others pulled them down under their chin or held them in their hand as they took in the sights.
The crowd inside the Sahara was certainly smaller compared with the one at the Wynn, but nearly all of the guests were focused on gambling with only a handful walking around with drinks in hand.
Whitney Brown and Marcus Battle had just arrived to check in to the hotel, after taking a bus from Los Angeles to Las Vegas. The couple said they plan to fly back to L.A. on Sunday.
"We're celebrating our anniversary," Brown said. "Everything in L.A. is shut down again so we're like where's somewhere we can go and be safe and be in the open air but still have fun."
Brown said she does miss the entertainment offerings in Vegas but said they still managed to plan several activities including a helicopter ride, a visit to the Adventuredome inside Circus Circus and reservations at Wynn's buffet and Wicked Spoon.
"I'm excited," Brown said.
Contact Bailey Schulz at bschulz@reviewjournal.com or 702-383-0233. Follow @bailey_schulz on Twitter. Contact Subrina Hudson at shudson@reviewjournal.com or 702-383-0340. Follow @SubrinaH on Twitter.