Las Vegas Strip hotel-casino construction 'fully stopped' as funding plans stall
Updated March 20, 2023 - 4:45 pm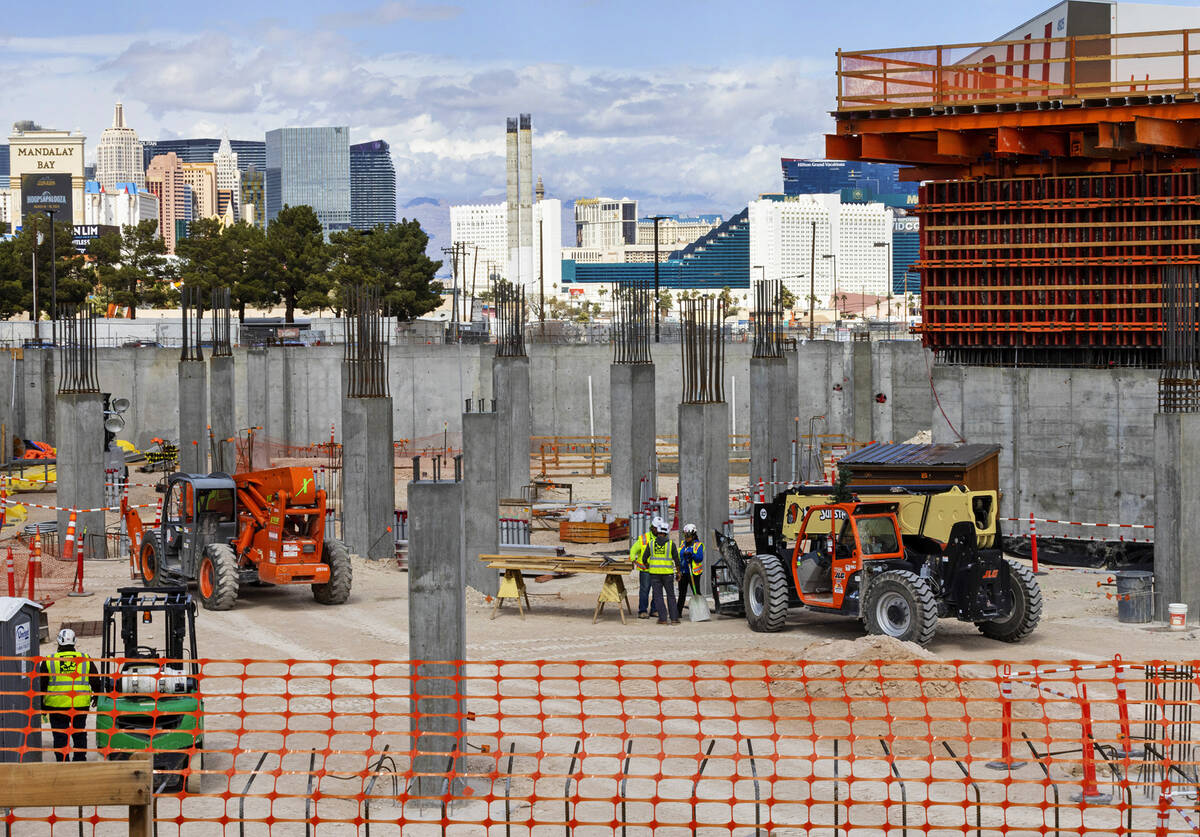 Construction work on Dream Las Vegas has "fully stopped," as the developers' stalled financing plans left them owing tens of millions of dollars for the hotel-casino project.
Dream developer Bill Shopoff told the Las Vegas Review-Journal that he owes approximately $25 million to $30 million for work on the resort, and that construction "will restart once the terms of the financing are finalized."
"Work has fully stopped at the site, other than anything required for safety," Shopoff, president and CEO of Shopoff Realty Investments, said in a statement Monday.
Dream, on Las Vegas Boulevard just south of Russell Road, broke ground last year.
It is designed to offer a smaller, boutique-style experience in a corridor dominated by massive hotel-casinos with thousands of rooms apiece. Shopoff and real estate firm Contour, led by CEO David Daneshforooz, are partners on the project.
Shopoff said his group is in "active" discussions with its lender and expects terms to be finalized potentially in the next couple of weeks.
"Clearly, we're delayed on getting some financing," he said in an interview Friday.
'They will be paid'
Dream is slated to cost $550 million to $575 million, Shopoff said. The owners have been paying for the project with cash so far and are working on a $400 million-plus funding package.
Shopoff said his team is in daily contact with Dream's lead builder, contractor McCarthy Building Companies, and the project's ownership group fully intends to honor its agreements, pay its builders and finish the 531-room resort.
"They will be paid, and the project will get built," he said.
Dream's developers had a term sheet from a lender last summer, when they broke ground on the resort, but closing the deal has taken longer than expected, Shopoff indicated Friday.
He pointed to last year's interest rate hikes by the Federal Reserve — moves that raised borrowing costs in a bid to fight inflation — and recent turmoil in the banking industry.
He figured his team is two to four weeks from completing its financing "to get this project back on track."
"Obviously people want to get paid for their work, and we want them to be paid," Shopoff said.
Liens
In a news release on Dream's ceremonial groundbreaking last July, McCarthy Senior Vice President Ross Edwards indicated that roughly 1,200 construction professionals would be working on-site.
"I can assure you our industry is filled with enthusiasm around the opportunity to help build a new Las Vegas landmark and will do so in a work environment that is committed to safety, and is welcoming, inclusive, and empowering to all," Edwards said at the time.
A lien notice recorded March 10 by McCarthy — and signed by Edwards — stated that about $43.3 million in payments had been received, but it indicated that almost $40.2 million was "currently due for work performed" on the project, Clark County records show.
County records indicate that several subcontractors on the project, including electrical, steel and drilling companies, have filed lien notices as well.
McCarthy's media contact for Las Vegas did not respond to requests for comment.
Short history, plenty of hurdles
Even before its funding issues, Dream faced plenty of hurdles.
Its developers unveiled plans for the resort in February 2020, just one month before the coronavirus outbreak upended daily life in Southern Nevada and temporarily turned the Strip into a ghost town of shuttered resorts.
They later made a series of design changes after facing such concerns as possible illegal drone flying and bombs hidden in garbage trucks, due to Dream's location next to Las Vegas' airport.
And, court records show, they discovered the pinball arcade next door was a little too close.
The Pinball Hall of Fame, which opened in a newly-built facility on Las Vegas Boulevard in spring 2021, encroached by "at least eight feet" on Dream's property, according to a lawsuit the hotel developers filed in fall 2021 in Clark County District Court.
The complaint called the encroachment an "unlawful occupation" of Dream's property and said it prevented a drainage outlet, "as originally designed and engineered, from being constructed."
A "likely" surveying error by a contractor indicated the arcade "owned more property than it initially purchased," Pinball's attorneys wrote in a filing in the now-settled case.
Both sides told the Review-Journal last summer that the property line issue was settled and there were no hard feelings, with Shopoff describing the arcade's operators as "innocent bystanders."
At the time, Shopoff said the encroachment would not impact Dream's hotel tower, as it was discovered early enough to make adjustments before construction started.
The resort is slated to be operated by Dream Hotel Group, a company that was recently acquired by Hyatt Hotels Corp.
When Hyatt announced the buyout last fall, it said it was paying a base price of $125 million, with up to an additional $175 million over the next six years "as properties come into the pipeline and open."
At the time, Shopoff said there were no changes to the Las Vegas project's name, timing or programming as a result of the Hyatt deal.
Contact Eli Segall at esegall@reviewjournal.com or 702-383-0342. Follow @eli_segall on Twitter.