LGBTQ advocacy group gives 4 Las Vegas companies perfect scores
December 9, 2016 - 3:37 pm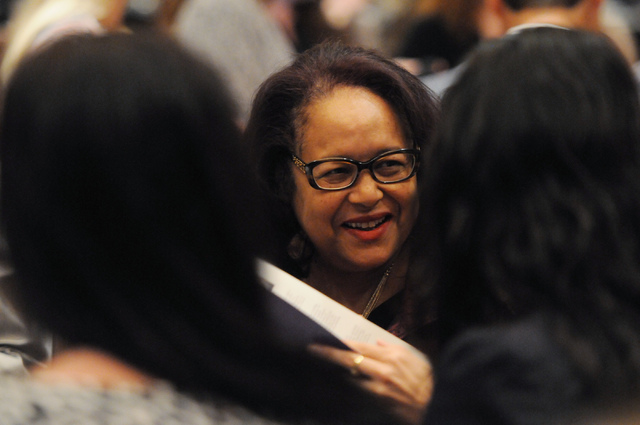 Four of the largest employers in Las Vegas are doing good by their lesbian, gay, bisexual, transgender and queer workforce, according to a Human Rights Campaign Foundation report.
The Human Rights Campaign is the largest LGBTQ civil rights advocacy and lobbying organization in the United States and it released its 2017 Corporate Equality Index this week, evaluating workplace LGBTQ inclusion across the country.
Caesars Entertainment Corp., MGM Resorts International, The Cosmopolitan of Las Vegas, and Wynn Resorts Ltd. were among 517 companies nationally that received perfect scores. The campaign rated 1,043 businesses.
"It's our fourth consecutive year scoring 100 percent," said Daniel Espino, senior vice president of people at The Cosmopolitan. "It's a recognition of the culture that we have established … and it reflects our strength in having a diverse workforce."
Phyllis James, MGM Resorts' executive vice president and chief diversity officer, said it's the company's fifth time receiving a perfect score, and it is a rating that MGM does not take for granted.
"MGM Resorts is the kind of place that is concerned with its employees, first and foremost," James said. "We treat our people as human beings, worthy of respect — and that is the foundation of our diversity and inclusion policy."
Espino said The Cosmopolitan's inclusive work culture reflects its modern luxury brand that caters to individuals and the "individualized experience."
James said MGM's inclusive work culture is deeply rooted in its people-based-company philosophy, which is the same philosophy that drove it to become the first company in the gaming industry to offer same-sex health benefits to employees in 2004. MGM has also taken political stances against legislation locally and in other states that it feels is detrimental to LGBTQ rights, she said.
Such rankings help MGM and The Cosmopolitan to attract LGBTQ employees, they said.
"For younger generations, a meaningful and modern workplace is a must for people," Espino said."Individuals nowadays are looking for companies that respect individuality and welcome everybody into the workforce, whether you are a member of the LGBT community or an ally. I think this is something people are now gauging companies on and its influencing their choice and decision to join companies."
James said a new hire at MGM National Harbor in Maryland approached her directly during a diversity presentation about three weeks ago, thanking MGM for its inclusive policies.
"She said, 'I came here (to MGM) because of the kind of company that it is, because I never felt that I fit in at the other places where I worked. I always felt different and that I wasn't truly the part of the team.' And she said she doesn't feel that way here."
The Tropicana received a score of 85 percent, and the Las Vegas Sands Corp., which did not participate in the survey, received a 10 percent score. The Sands' score was based on publicly available information and information submitted to the Human Rights Campaign from unofficial LGBT employee groups or individuals.
Caesars Entertainment, Wynn Resorts and the Tropicana did not return a request for comment. A Sands spokesman said in a statement that "The company, in both its policies and practices, is committed to the fair and equal treatment of all groups."
For companies that have opportunities for improvement, Espino said they should explore their options and incorporate new strategies.
James said it's helpful for companies to get external feedback.
"If you cannot treat your own people well, then how do you expect to treat your guests well?"
The Human Rights Campaign Foundation rated companies based on equal employment opportunity policies, employment benefits, transgender-inclusive health insurance coverage, organizational LGBT competency and public commitment to LGBT-specific efforts.
Contact Nicole Raz at nraz@reviewjournal.com or 702-380-4512. Follow @JournalistNikki on Twitter.