'Like being dropped into your own game show': Playground coming to Strip resort
Updated September 8, 2023 - 12:23 pm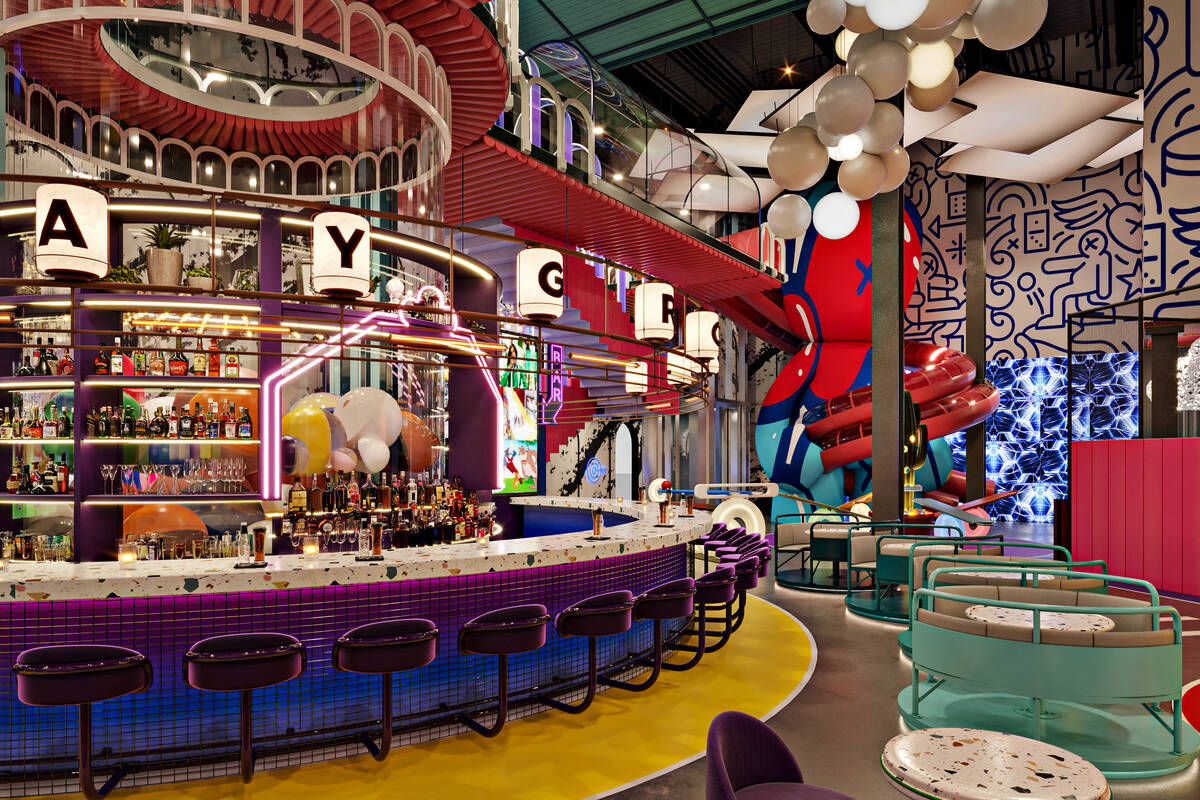 A new immersive entertainment attraction coming to Luxor is all about play — but not casino play. Guests will enter it on a slide, just like the ones kids use on a playground.
Early next year, the first Play Playground will open on the atrium level of the pyramid-shaped south Strip resort, near the Blue Man Group, Carrot Top and Fantasy showrooms and the exhibits for Bodies, Titanic and King Tut.
The 14,000-square-foot playground has no virtual reality, no augmented reality and no arcade games.
"We have tactile games for everyone, physical, memory, puzzle and word games," said Jennifer Worthington, co-founder of Play Social, which operates Play Playground. "It's really like being dropped into your own game show."
The environment will be bright and colorful, and it will invite families with children by day and adults only at night.
"Our guests enter on a slide, and you feel like you've been dropped into a Wes Anderson-meets-Alice-in-Wonderland TV show," Worthington said in a telephone interview. "Everything from our games to our seating areas to our drink vessels are designed with social media in mind, and we're really setting out to elevate the design aesthetic and the immersive entertainment space and make it a much more sophisticated experience."
Worthington noted that 75 percent of Americans prioritize experiences over things with the ability to share those experiences with others as an important element.
"Millennials may be the trendsetters in this area, but it now applies to nearly every demographic," she said.
"Our whole thesis is that in the post-COVID world, people are craving social interactions. Our games are designed for people to work together to climb up the leaderboard and as a result bring people together, whether our guests are old friends, new friends or colleagues. Everyone walks out as better friends or best friends."
The leaderboard concept is key to Play Playground because groups will be able to interact with competitive spirit. Eventually, Worthington hopes to have Play Playgrounds worldwide with leaderboards comparing scores in Las Vegas against other locations. Two more playgrounds are planned for opening in 2024 with New York likely to be one of the next places.
Worthington said an admission price hasn't been set yet, and the company also didn't disclose any details of financial arrangements with MGM Resorts International, which operates Luxor.
17 attractions
Worthington said there would be 17 different attractions and immersive exhibitions, including a 1,400-square-foot bounce house and a Velcro wall. Most of the games are team-oriented and viewable to encourage the group dynamic. She said it would take about 90 minutes for someone to visit and participate in all of the attractions, but there's no time limit for how long you can stay.
"I love this notion of going from game to game, but then stopping and hanging out with your friends and having a cocktail or a mocktail and talking about your experiences," Worthington said.
"All of our experiences are really meant to make people laugh, which is why we've designed most of our experiences out in the open because we think watching is going to be as fun as participating."
And that also will invite postings on TikTok, Instagram and Facebook. The social interactions are expected to draw brand attention.
Kelly Markus of Hunters Point, the experiential marketing agency for Play Playground, said corporate brands want to be involved with younger audiences seeking new experiences.
"Play Playground is a perfect way to bring that about," Markus said. "We create a dialogue and interaction with brands and get people moving and doing things together."
Adults only at night
Worthington said Play Playground would open daily around noon for all ages, including children. But the nighttime is reserved for the over-21 crowd.
"Vegas obviously has something for everyone right now, but there aren't a lot of things to do during the day for people," she said. "We really wanted to provide a first-of-its-kind experience in Vegas for people looking for something during the day. But at night, we turn into more of a raucous party environment. We want people to stay and socialize, so we'll close when the last person is done playing."
The opportunity to provide team-building events for corporate organizations is also being considered and the proximity of the Mandalay Bay Convention Center hosting trade shows attended by company workers is another Play Playground market.
While Play Playground's capacity will be 375, it will seek groups of 12 to 100 for corporate events.
"We want people to put down their phones and have fun with others in a real-life experience," Worthington said. "We really measure success with the amount of high fives, laughter and memories our customers make. We're really in the memory-making business."
Contact Richard N. Velotta at rvelotta@reviewjournal.com or 702-477-3893. Follow @RickVelotta on X.