LLC registered in Nevada now part of Wynn inquiry, report says
Updated February 5, 2018 - 7:20 pm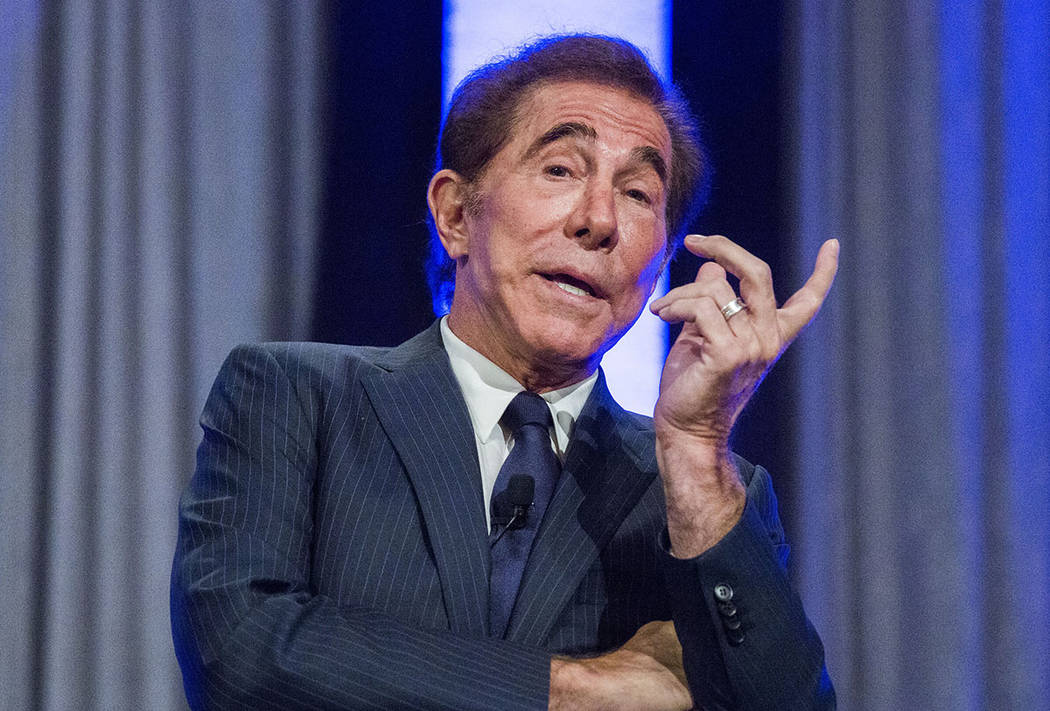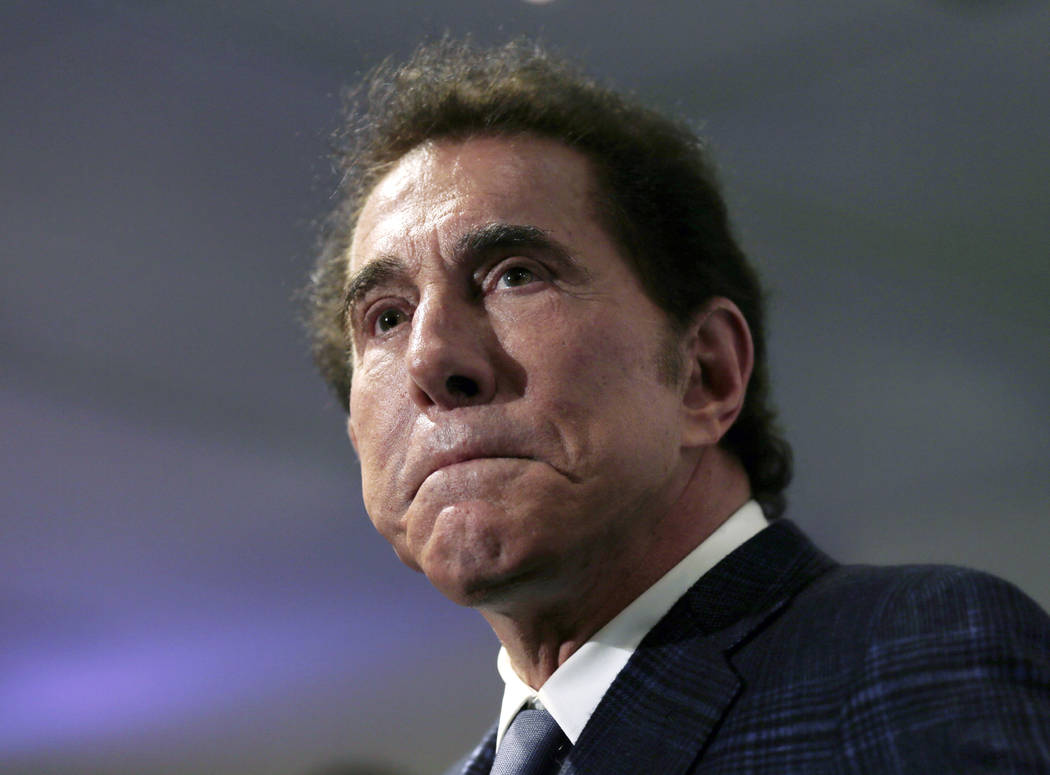 A limited-liability company registered in Nevada in 2005 has become a part of the investigation into sexual harassment accusations against Wynn Resorts Chairman and CEO Steve Wynn.
Entity Y LLC, formed through the Nevada secretary of state's office on July 19, 2005, is believed to be the conduit through which Wynn paid a $7.5 million settlement of his own money to a woman who filed a paternity claim against him that year. There's no evidence Wynn fathered a child.
The Entity Y filing shows the registered agent as Brownstein Hyatt Farber Schreck, a Las Vegas law firm, with manager James J. Pisanelli listed as the company's only officer. An exemption or update that was due by the company July 31, 2016, has not been filed.
Frank Schreck, Wynn's longtime outside counsel, and Pisanelli, who in 2010 co-founded Pisanelli & Bice, a Las Vegas-based firm, did not return calls on inquiries about the LLC.
The Wall Street Journal, quoting sources they said are familiar with the case, said the LLC was formed solely to handle settlement funds.
Critical to Boston project
The company is a critical piece of an investigation by the Massachusetts Gaming Commission because regulators said they were not informed of the settlement when Wynn was scrutinized for licensing by that state for the construction of the $2.4 billion Wynn Boston Harbor, due to open in June 2019.
The Massachusetts Gaming Commission has the authority to fine Wynn or suspend or revoke his license. The three-member Nevada Gaming Control Board is conducting its own investigation and could file its own complaint through the attorney general's office against Wynn.
The five-member Nevada Gaming Commission would adjudicate the complaint and has the same power to fine, suspend or revoke a license.
Commissioners would likely work within the parameters of the state's Regulation 5 which sets a standard that licensees must exercise "discretion and sound judgment to prevent incidents which might reflect on the repute of the state of Nevada and act as a detriment to the development of the industry."
Control Board Chairwoman Becky Harris did not return calls for comment on the recent developments. The board commonly does not comment on active investigations.
A third investigation by independent directors of the Wynn Resorts board also is underway and the company on Friday announced that the Los Angeles-based O'Melveny & Myers law firm would assist the investigation as independent counsel.
Apalla Chopra, chair of the firm's Labor and Employment Practice and a nationally recognized expert in investigating employment issues, is heading the firm's effort. Chopra did not return calls inquiring about the status of a telephone and internet-based reporting system for current and former Wynn employees to report information that could be relevant to the investigation.
Union encouraging employees
Representatives of the Culinary Union are urging employees to come forward to report incidences of sexual harassment and discrimination and support the investigations.
"We are deeply disturbed by these accusations against Steve Wynn and support a full and fair investigation regarding these allegations," Geoconda Argüello-Kline, secretary-treasurer for the Culinary Union, said in a statement last week.
"As the largest organization of women in Nevada, the Culinary Union's history is one of challenging a discriminatory status quo and demanding equality. For 83 years, over 500,000 women have been protected by comprehensive contract language negotiated by the Culinary Union and rank-and-file majority-women members," the statement added.
The Culinary also noted that contract negotiations for 50,000 workers on the Las VegasStrip and in downtown Las Vegas begin in February and that union members plan to use the opportunity to negotiate safety buttons for 14,000 guest room attendants, stronger sexual harassment and gender discrimination language, and equal wage increases for all workers.
"As a union of strong women who have never accepted sexual harassment and gender discrimination, we respect the women who come forward to change what should never have been," the statement said.
Representatives at the New York-based crisis communications firm Joele Frank, which was hired by Steve Wynn and Wynn Resorts in its fight with Elaine Wynn, did not respond to emails.
Michael Weaver, chief marketing officer at Wynn Resorts, also did not respond to emails seeking comment.
Wynn stock fell 0.65 percent on a day when the Dow Jones Industrial Average plunged 1,175 points, off 4.6 percent to 24,345.75. Nasdaq also plummeted 273.42 points, 3.78 percent, to 6,967.42. Wynn shares closed down $1.08 to $165.48 on volume slightly above average. After hours, the issue fell another $1.98, 1.2 percent, to $163.50.
Other major Las Vegas gaming companies were also down in the Wall Street sell-off.
Wynn 'family'
The Wall Street Journal also reported audio recordings of Wynn speaking to employees since the initial Jan. 26 story detailing allegations that Wynn demanded sexual favors from and assaulted female hotel employees over the last three decades.
Wynn has vehemently denied the allegations, blaming their origin on his ex-wife, Elaine Wynn.
The recordings of Wynn addressing employees encouraged them to look out for each other as "a family."
"What's magic about this family is you," Wynn told employees. "Oh, my name's on the sign all right. But it's been you. We managed to create this. And the result of that family culture is spectacular. And nothing in the short-term moment can change that and I don't want any one of you to feel that that could happen."
Review-Journal writer Todd Prince contributed to this report. Contact Richard N. Velotta at rvelotta@reviewjournal.com or 702-477-3893. Follow @RickVelotta on Twitter.
See all the Review-Journal's coverage of the Steve Wynn story.
Wynn on tape
The Wall Street Journal provided audio recordings of Steve Wynn addressing employees:
"We live in a soundbite world. We live in a world where a partial truth or something that sounds sensational is on everybody's lips every day in a 24-hour news cycle, whatever sells, whatever gets the cable audience up a little higher …
"In corporations, it's every man for himself. In a family, people look after each other. And they take care of each other and they take care of the people they serve.
"What's magic about this family is you. Oh, my name's on the sign all right. But it's been you. We managed to create this. And the result of that family culture is spectacular. And nothing in the short-term moment can change that and I don't want any one of you to feel that that could happen. …
"This is the time when everybody's talking about gender disadvantage, gender advantage and there's a whole popular thing today that maybe women are not being treated right or women haven't been given the same opportunity as men. And, of course, they should be …
"And there's never been a gender discrimination problem here. And that's the thing you can be proud of because the company history stands for that …"
Wynn also talked about meeting with President Donald Trump shortly before he was inaugurated in January 2017. The Washington Post had published a video and article about an appearance Trump made on "Access Hollywood" during the campaign.
"I got a call from the president-elect. This is two nights before he's president officially. We stopped at the Trump Hotel where he was having a midnight or late supper. We went up to the restaurant on the second floor and he was sitting there with his back against the wall … I looked at him and said, 'It's unbelievable, you pulled this off. You risked everything …' He said, 'If I knew it was going to be this tough, I wouldn't have done it.' He said, 'It was so scary. When those tapes came up, I almost died. …'
"I know the feeling."