Longtime poker friends manage luxury rooms for Station Casinos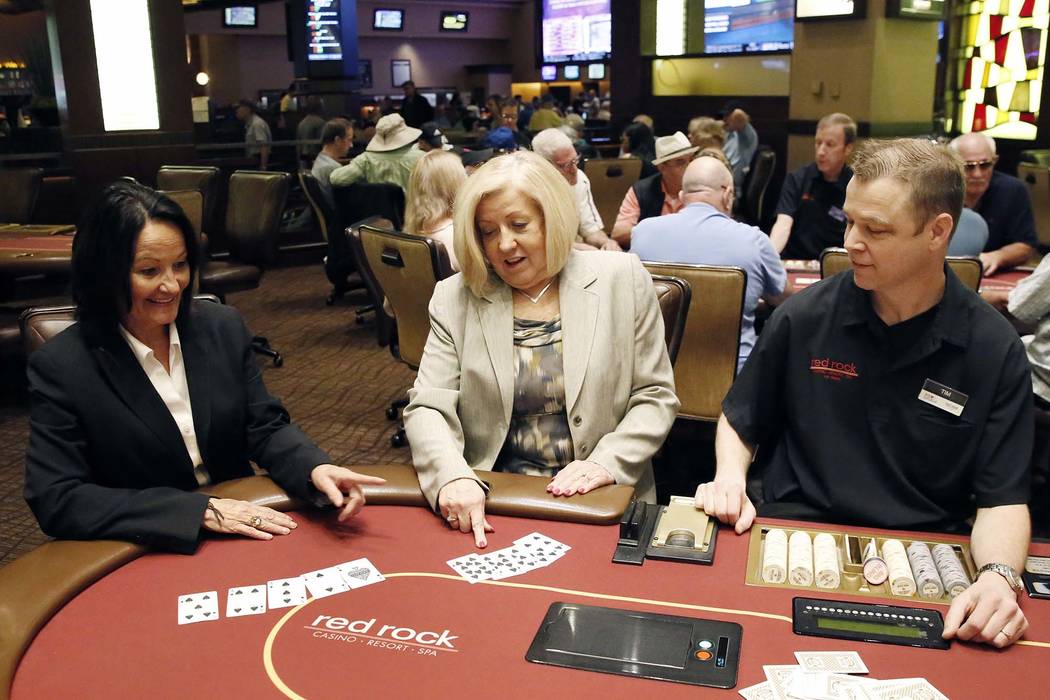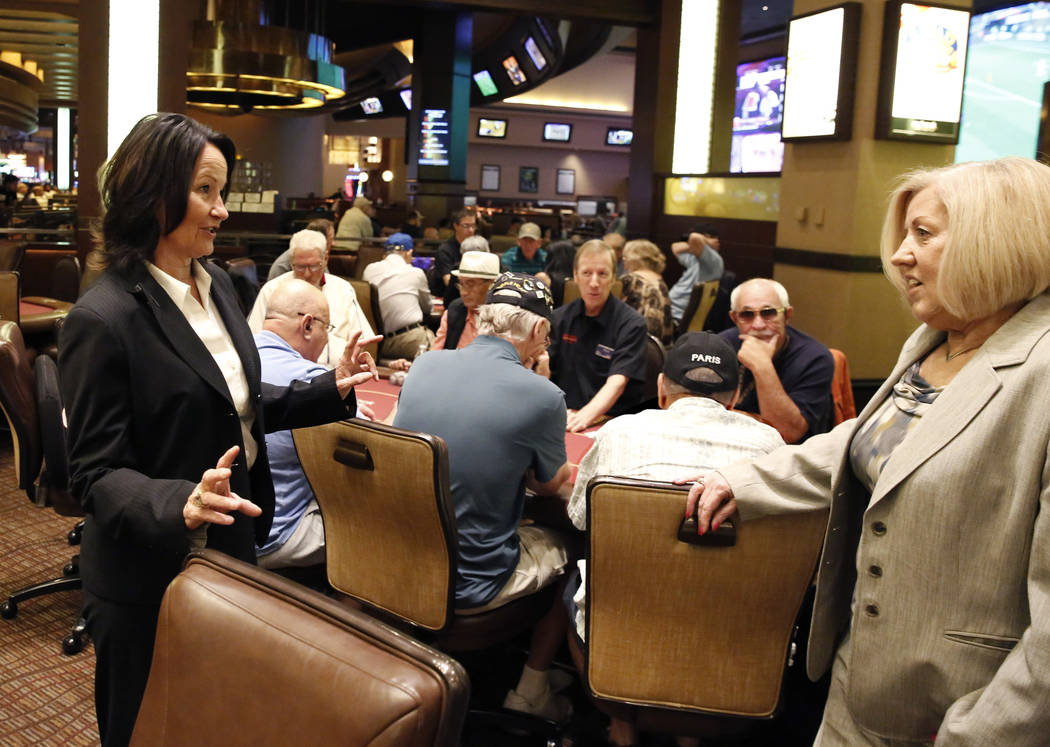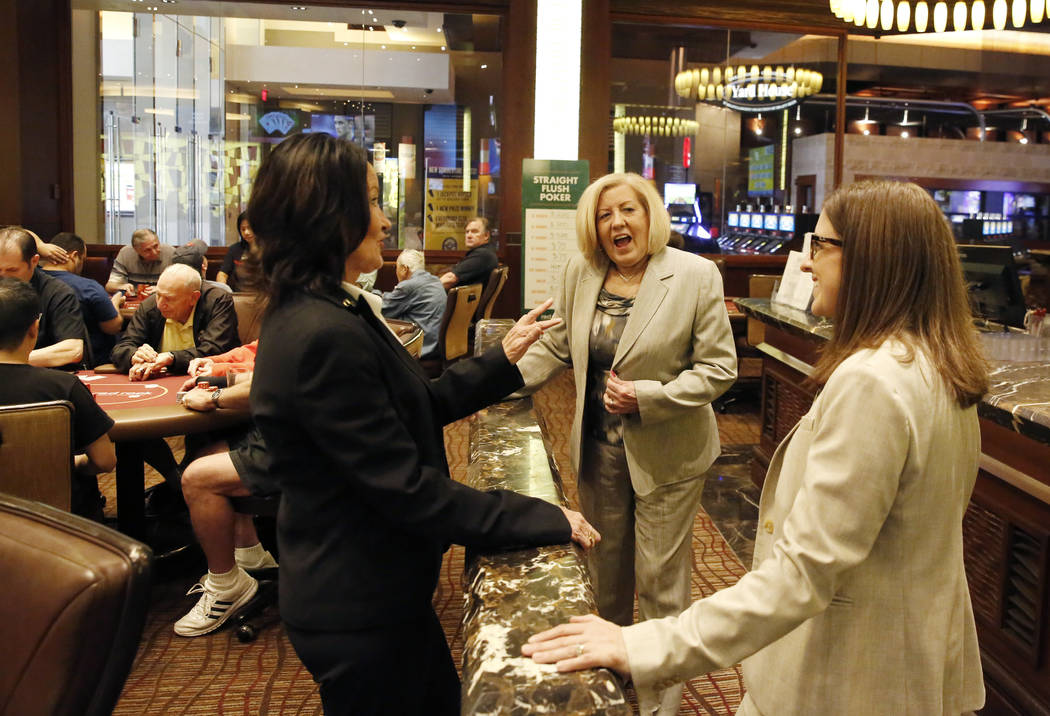 When Tracy Mendiola saw a picture of Kathy Raymond, she knew she had to meet her.
There she was atop a custom-built cycle, a motorcycle mama, leather-covered from head to toe, on the cover of Poker Digest magazine in 1999.
What a shock the next time she saw her shortly after— in a formal evening gown for her induction into the Women's Poker Hall of Fame.
They became friends, and Raymond hired Mendiola at The Venetian poker room. Raymond encouraged Mendiola to let her personality do the talking.
Then, more than a decade later, Mendiola returned the favor, suggesting to Raymond after she had retired from The Venetian that "spring break's over," encouraging her to apply for an opening for a poker room director at Green Valley Ranch.
Today, the two grandmothers lead poker operations at two of Station Casinos' luxury properties: Mendiola at Red Rock Resort and Raymond at Green Valley Ranch.
'Get your butt back to work'
Raymond's title was executive director of poker operations at The Venetian when she retired in 2006.
"It was time," she said. "I'm a builder, and I was done building."
She and her husband decided to see the country in a recreational vehicle and Raymond thought about what would be next for her.
"I needed a people fix, and I really didn't know what I wanted to do. I didn't even know if I wanted to stay in the industry or not," she said.
Then she got a call from her "sister from another mister," Mendiola, who encouraged her to "get your butt back to work."
"She's too smart and has way too much knowledge for her to sit there and melt," Mendiola said. "And I was melting," Raymond said, finishing the thought.
Raymond returned to work in May as Green Valley Ranch's poker room manager. Now that they're both in leadership positions for Station, Raymond and Mendiola are blending their talents.
$75 buy-ins
"Tracy is the ultimate people person," Raymond said. "She can get teams to do what she wants them to do and players to do what she needs them to do."
They are working with other Station poker rooms to develop programs that appeal to more players.
Raymond's and Mendiola's first move was to modify their rooms' tournament format to encourage more skill players to enter. Raymond charted and graphed play with $50 buy-ins, a practice at Station for years.
She was dismayed that the trend line was heading downward, and "when you hit bottom, you have to start all over again."
We decided we're going to have $75 buy-ins in the morning, but you're going to get more chips and you can re-buy and there's going to be more action," Raymond said. "I always believed, and I still do, that if you have tournaments that are starting with a really small stack of chips and they end quickly, there's no talent involved (by the winners). That was the saving grace for The Venetian at the beginning, because we started the Deep Stack Extravaganza, which was the model for tournaments now nationally and internationally."
Still learning
Though Raymond has plenty of experience, there are still new challenges in managing a poker room.
Raymond was nervous shortly after she started at Green Valley Ranch when she staged her first Sunday tournament. She needed just over 40 players to guarantee a $5,000 prize pool.
She ended up getting 81 players.
"That was a tremendous tournament, almost a $10,000 prize pool," she said. "It just reinforced my thought that that's what the players want."
She said she's received some pushback from players who rely more on luck than skill, but generally more people are getting into the games than before.
Through it all, Raymond and Mendiola have remained fast friends.
When Mendiola's husband of 38 years passed away, Raymond helped her through. When Raymond had a health scare, Mendiola encouraged her and supported her.
They have dinners together, go out together — and now they work for the same company on different sides of town.
"I'm lucky," Mendiola said. "I get to work with the queen of poker."
The Review-Journal is owned by the family of Las Vegas Sands Corp. Chairman and CEO Sheldon Adelson. Las Vegas Sands operates The Venetian and Palazzo.
Contact Richard N. Velotta at rvelotta@reviewjournal.com or 702-477-3893. Follow @RickVelotta on Twitter.
Poker room managers
Name: Tracy Mendiola
Age: 61
Title: Poker room manager, Red Rock Resorts
Hired by Station Casinos: August 2017
Notable: Worked with Raymond at the poker room at The Venetian in 2006; convinced Kathy Raymond to come out of retirement to join Station Casinos this year.
Name: Kathy Raymond
Age: 67
Title: Poker room manager, Green Valley Ranch
Hired by Station Casinos: May 2018
Notable: Inducted into the Women's Poker Hall of Fame in 2012; directed poker rooms at Foxwoods in Connecticut, at The Venetian; now at Green Valley Ranch.