Lucky Dragon appears to be struggling in Las Vegas
December 16, 2017 - 11:15 am
Updated December 17, 2017 - 1:55 pm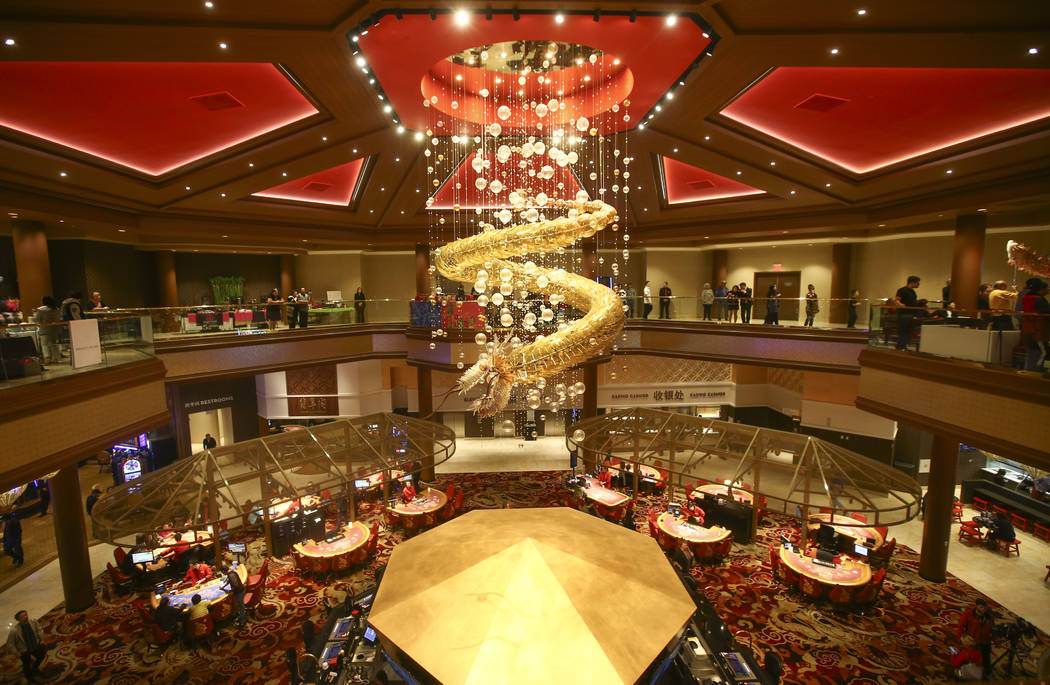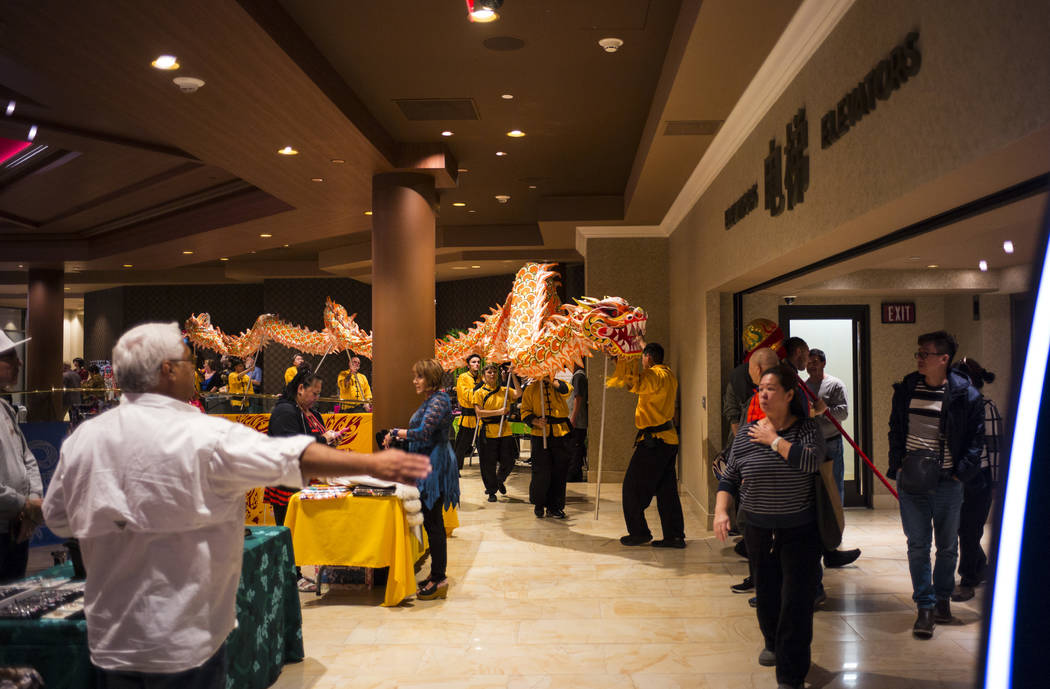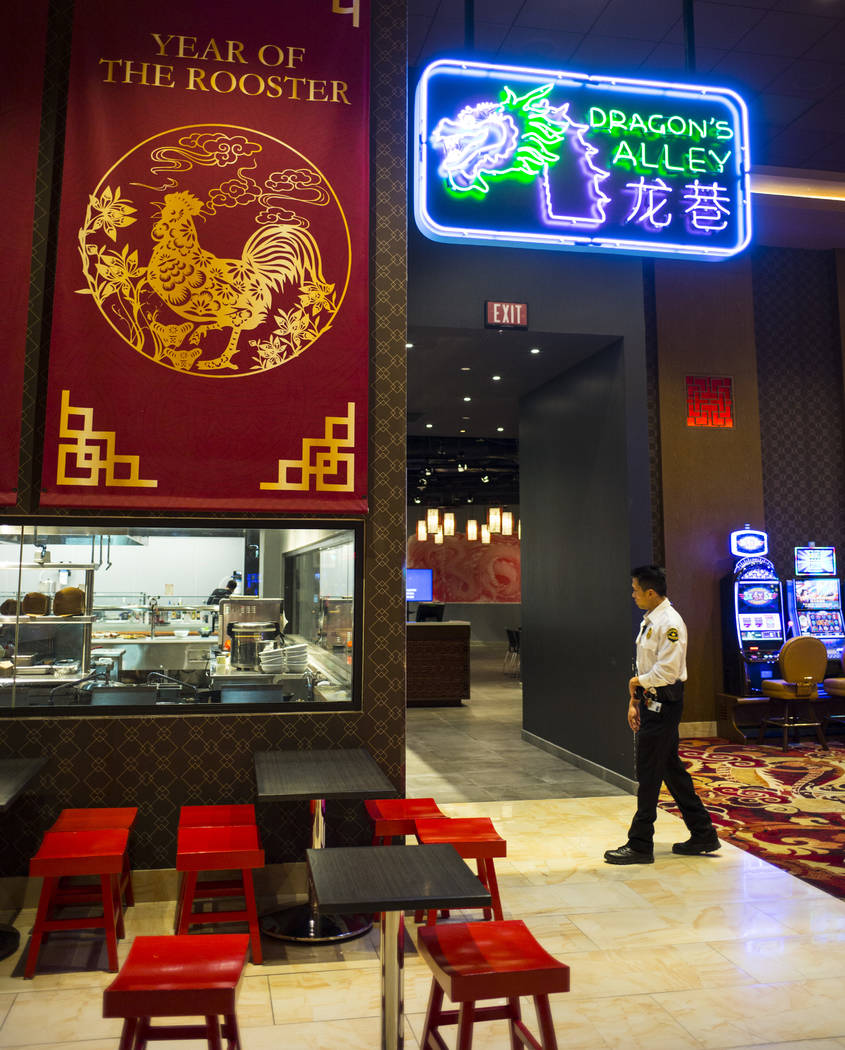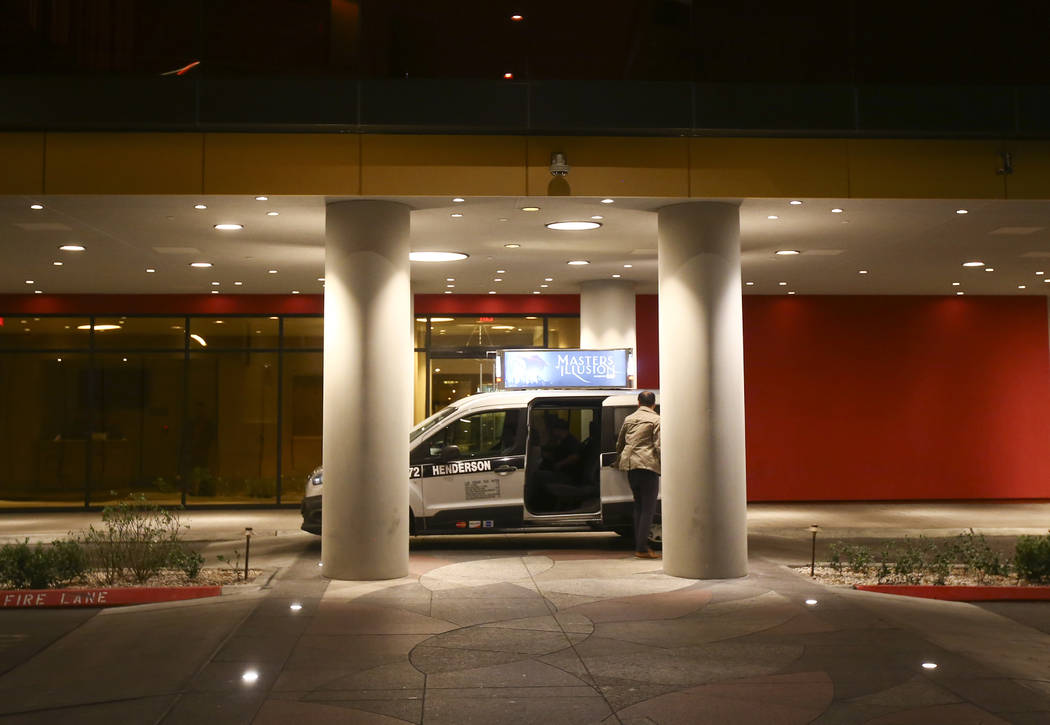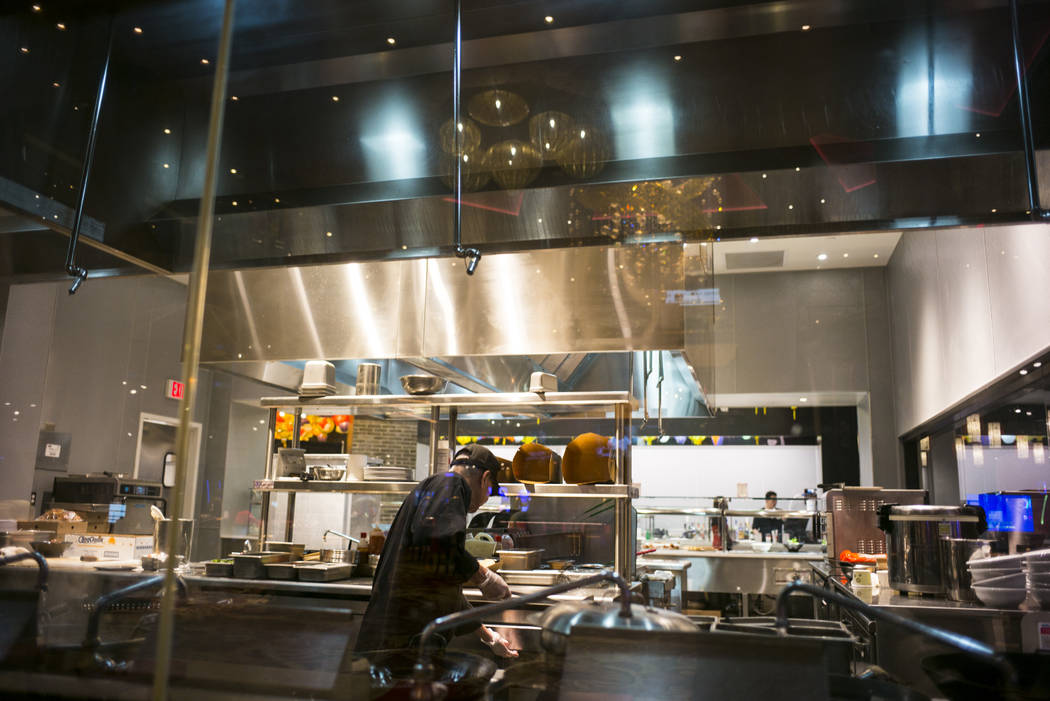 Thousands of firecrackers exploded in rapid succession outside the newly built Lucky Dragon in December 2016 as Asian performers dressed in purple, red, yellow and orange dragon costumes danced to the beat of drums.
The pyrotechnics were meant to drive away evil spirits while the traditional dance was to bring good luck to the first casino built from scratch near the Strip in six years.
Designed to cater primarily to the burgeoning and wealthy Asian-American and Asian immigrant crowd in Las Vegas and West Coast cities, the magic initially seemed to work.
Guests came to see and gamble at the 27,500-square-foot boutique casino, which also features a 203-room hotel. The small scale makes it more intimate compared with megaresorts like MGM Grand and Wynn Las Vegas.
As they toured the property, some observers expected Lucky Dragon to be a sure thing.
But shortly after the opening, the crowd thinned out. Dragon Alley, the food court, was shuttered.
Job cuts
The hotel-casino, which announced in 2016 it was hiring up to 800 people, began quickly cutting personnel.
About a hundred people, including top managers, were let go by late March, according to former employees. Bar and waitstaff were slashed as customers skipped restaurants, according to a former worker, who asked not to give his name as his new employer restricts speaking with media. Others, seeing the writing on the wall, left for better opportunities, he said.
Lucky Dragon General Manager Matt Harkness and Managing Director of Corporate Development Dane Tan were among those who were gone by summer.
Chief Operating Officer Dave Jacoby declined to discuss the Lucky Dragon's financials or whether the company had hit its financial targets for the year.
Locals focus
Las Vegas has a large and growing Asian population that now totals around 225,000. The heart of the city's Chinatown is just 3 miles away from the new property. Hotel President Andrew Fonfa expected locals to account for about 60 percent of the property's patrons.
Lucky Dragon was positioned to become that community's locals casino, offering baccarat and dim sum soup, much like Red Rock Resort, The Orleans and South Point attract locals with poker, bingo and burgers.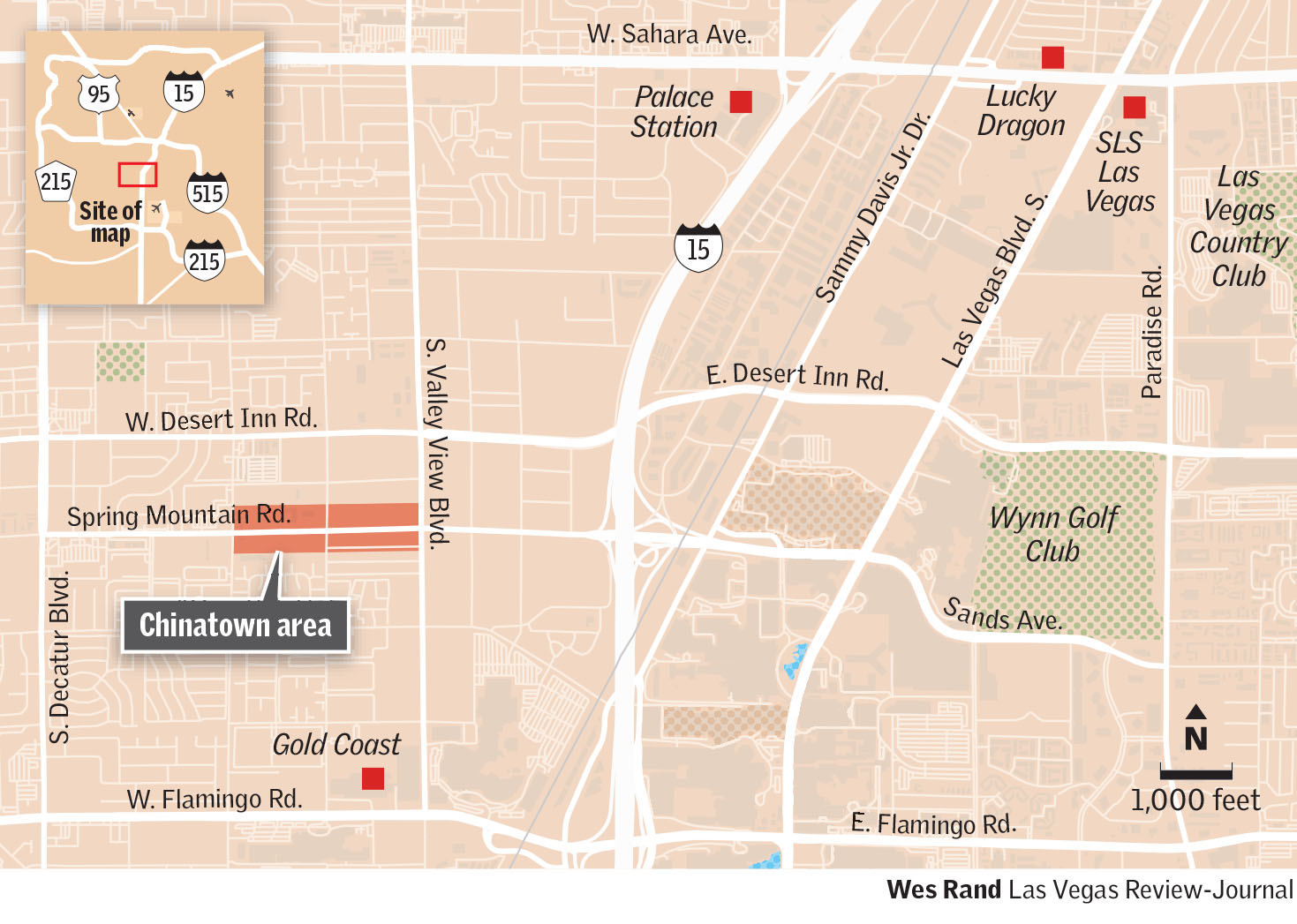 RIGHT-CLICK ON IMAGE TO ENLARGE
The more than half-million strong Chinese population in Southern California that is just a four-hour drive away was expected to help fill rooms on weekends and holidays.
The Dec. 2, 2016, launch of the first direct flight between Beijing and Las Vegas right before the official opening gave the casino another potential customer base.
One year later, several evening visits between Dec. 3 and Monday, found a maximum of 14 people dining in Pearl Ocean and no one in Phoenix. There were just a handful of people at the slots.
Jacoby told the Review-Journal that the number of regional visitors, including those from Southern California, were "fairly close" to the number of locals. That would indicate the casino has failed to attract the number of locals expected.
New entertainment
Lucky Dragon has begun to launch nightly entertainment, including karaoke on Mondays and Jazz Saturdays, to rectify the problem.
It also plans to reopen the shuttered Dragon's Alley as another food and beverage offering, Jacoby said.
Interviews with local Chinese gamblers playing at other casinos indicated the problem did not lie so much with Lucky Dragon's offering of entertainment or food as with its comparatively stingy gaming and comp policy.
Inside the SLS Las Vegas, located about a five-minute walk away from the Lucky Dragon, nine Chinese gamblers are playing baccarat, located at the back of the gaming floor. It is an early Tuesday evening in December.
Finding comps elsewhere
Zhengyu Huang said he comes to the SLS regularly to play because of the weekly Friday night drawings for $30,000 in Play-'Til-You-Lose promotional baccarat chips. Launched about the same time the Lucky Dragon opened, the weekly drawing has up to four winners.
Players can earn one drawing ticket in several different ways, including each time they have a winning natural 8 or 9 on a $25 minimum baccarat bet or a winning hand of three of a kind or better on a $25 minimum bet on pai gow.
Huang said Lucky Dragon doesn't offer such drawings as frequently, nor is its prize as large, so he now rarely visits the Asian-themed casino. He has introduced three of his friends to the SLS, he said.
SLS tries to attract baccarat and pai gow players on Mondays through Thursdays by offering two drawing tickets per win during play between 5 a.m. and 5 p.m. It is also running a baccarat promo in December, offering smaller drawings on Wednesday and Saturday nights.
Lucky Dragon normally hosts baccarat drawings one day a month for $10,000 in prizes. But the casino is running a promotion this month with one drawing per week on Saturday nights. Jacoby said baccarat accounts for the majority of the property's gaming revenue.
Gold Coast's Chinatown
Compared with Boyd Gaming's Gold Coast, the baccarat action inside the SLS on this Tuesday night is sleepy.
Gold Coast's 17 baccarat tables are full, nearly exclusively with people of Asian heritage. Dozens more stand around to watch the gaming action.
George Chan says he has been coming to the Gold Coast for nearly a decade to play baccarat. He comes about four times a week, usually after work. He is friends with many of the other Chinese players here, and it feels like a community, he says.
"People know each other. It is like a social event. We get together at a specific time,'' he said.
Chan, who has played at the Lucky Dragon a few times, says he will stick with the Gold Coast because he regularly gets comped for his long play of four to six hours. He uses the $20 to $40 in food comps to eat at Ping Pang Pong.
"They should make it easy for the floor man to give comps. It would be a major improvement,'' Chan said of the Lucky Dragon. "The Gold Coast is quite generous on the food comp.''
A woman at the Gold Coast who identified as Chinese said she comes here to play because of the lower $10 limit on EZ Baccarat versus $15 at Lucky Dragon. Entertainment has no impact on her choice of location, she said.
Gold Coast has added two baccarat tables over the past two years to meet increasing demand, especially for EZ Baccarat, said Chuck Estell, the property's director of casino operations.
The casino also launched monthly baccarat drawings about a year ago with total prizes of $5,000 in real chips or cash, Estell said.
Too tight
Across from Ping Pang Pong, which is still about a third full at 9:15 p.m., there is a short line to be seated at Noodle Exchange. At the back of the restaurant, a middle-aged Korean couple is about to dig into a hot pot.
A regular gambler, the woman, who did not want to be named, said she has been coming to the Gold Coast to play since moving back to Las Vegas two years ago. Not only is the food good, she says, but, like Chan, she believes the comps are better compared with the Lucky Dragon.
"When you open up a casino, you have to give something to the customers,'' she said. "They are too tight.''
Lucky Dragon General Manager Jordan Seager said their comp policy "is in line, or even more fair than" other casinos. His property just needs time to develop relationships with gamblers playing, in some cases, for decades at other properties.
"When you have a history with a specific property, and you build relationships with casino employees, it's easy to feel like you are getting the best comp offers in part because you don't know any differently," he said.
If it is unable to win over the local Asian gambler, Lucky Dragon will have little to fall back on. The table games are dominated by baccarat while many of the slots have an Asian focus. So does most of the food, except a Western breakfast menu.
"Anytime an American of non-Asian ethnicity — be it white, black or Latino — comes to the property, they stick out," the former employee said. "They don't feel comfortable."
Contact Todd Prince at tprince@reviewjournal.com or 702-383-0386. Follow @toddprincetv on Twitter.
SLS and Lucky Dragon
Lucky Dragon is located just off the North Strip, an area blighted by empty lots and mothballed projects. Those eyesores keep visitors away, hurting local businesses.
To help improve its chances of financial success, Lucky Dragon's developers applied for tax increment financing from Las Vegas Redevelopment Agency. It was the first Las Vegas casino in more than 20 years to seek such assistance.
The agency grants rebates for retail, hotel and residential projects within the city's redevelopment areas to defray costs for items such as water lines, traffic signals, sidewalks, and flood control improvements.
The goal of the rebates is to stimulate investment in struggling neighborhoods. Lucky Dragon seemed like a natural fit for such a project, However the agency rejected the proposal, keeping in line with a policy of not granting rebates to casinos.
Lucky Dragon did receive EB-5 funding of $60 million, according to press reports. The EB-5 program allows foreigners to potentially receive a permanent green card, which can then be converted into a U.S. passport, if they invest at least $500,000 in a project that creates at least 10 jobs.
The $60 million would imply that 120 foreign individuals lend the Lucky Dragon developers money. The loans generally come with a very low interest rate.
Related
Renovations already underway at new Lucky Dragon near Las Vegas Strip
City rejects subsidies for Lucky Dragon
New resort Lucky Dragon is already fired up
Lucky Dragon's tea sommeliers educate guests about flavors, service