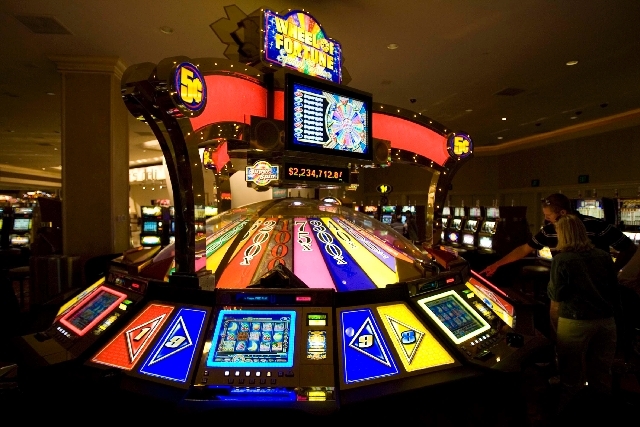 BILOXI, Miss. — On July 2, an Alabama man won the $1.5 million jackpot on the penny Wheel of Fortune progressive jackpot at Hard Rock Casino Biloxi.
Four days before, on June 28, an Indiana woman scored the ninth-biggest jackpot ever hit in the state when she won $8.3 million playing a 25-cent statewide progressive Wheel of Fortune machine at Fitz Casino in Tunica.
Both winners were retirees who said they will share their fortunes — won on the Wheel of Fortune — with their families.
Two jackpot winners in five days at Mississippi casinos isn't that unusual, says a representative with slot machine manufacturer International Gaming Technology, especially around a holiday.
"That is a very exciting thing. We've had it a number of times and especially with a busy holiday weekend," said Jacob Lanning, director of product management for IGT. "If there's more players playing, there's more likelihood of people winning."
Bally Technologies, WMS Gaming and other manufacturers have progressive slots and million-dollar jackpots in the state, but IGT, which has had machines in coast casinos since they opened in 1992, has the biggest market share and the most big winners.
Mississippi comes in as IGT's third most winning state, after Nevada and New Jersey. With 403 jackpots and $513 million in winnings, the average Mississippi payout in 21 years is $1.23 million. That is just shy of the $1.3 million average jackpot in Nevada.
A Biloxi man playing his favorite Wheel of Fortune machine won Mississippi's biggest jackpot, $14.3 million, in March 2009 at Hard Rock Casino Biloxi.
"It really raises the level of excitement for everyone," said Joe Farruggio, senior vice president of gambling operations at Hard Rock. "Not just the people that won but the people around that person and even the employees get excited.
"We like to call them 'lifetime changing events' when it's over $1 million."
Hard Rock Biloxi has had three MegaJackpots of more than $1 million since it opened six years ago and several more in the $105,000 range, mostly on the Wheel of Fortune progressive.
"Wheel of Fortune probably is the greatest slot machine ever invented to date," he said. "For such a long time, it's kept people's interest."
Seven of the top 10 jackpots in South Mississippi were won on Wheel of Fortune, two on Megabucks and one on Jeopardy.
The largest IGT MegaJackpot was $39.7 million won in Nevada, and Lanning said the next millionaire could come any time.
On average an IGT MegaJackpot is won every 30 hours somewhere in the country. The company has paid nearly $6 billion and made more than 1,500 millionaires.
It doesn't matter which machine a player chooses, Lanning said each jurisdiction has a regulatory body like the Mississippi Gaming Commission that checks all the programs.
"They make sure that on every single spin every player has an opportunity to win," he said.
Progressive games are electronically linked to slot machines at casinos in other parts of the state and each wager contributes to the jackpot.
To win the MegaJackpot, a player has to wager the maximum bet.
"There is a consolation prize for playing less than max bet," Lanning said.
The amount is displayed on each machine and varies by game.
May is the luckiest month to hit an IGT MegaJackpot nationwide, with $548 million in payouts.
"It might have been pure luck or it might have been there were more spins generated in May that any other month," Lanning said.
In Mississippi, four of the largest jackpots were hit in March and June.
The winningest year in Mississippi was 2003, when jackpots totaled $65.6 million.
Lanning was a slot operator for years before his job became thinking up the "latest and greatest" slot games for IGT.
"Very soon, we'll be releasing in Mississippi the Star Wars Trilogy," he said.
Wheel of Fortune is by far the most popular version of MegaJackpot for IGT, but he said three additional games will be introduced soon. Others, such as American Idol, Elvis and Ghostbusters typically follow pop-culture favorites.