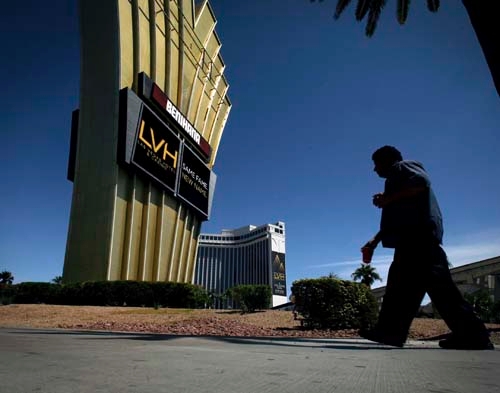 The LVH-Las Vegas Hotel & Casino management expects operating deficits through the end of this year as it works to fill the hole in its customer base created by the loss of the Hilton franchise.
During January, occupancy sank to 54 percent before rebounding the next month to 63 percent, according to a report by court-appointed receiver Ronald Johnson. He has set a goal of at least 75 percent for the balance of the year, but that would still lag the 86.9 percent for all hotels tracked by the Las Vegas Convention and Visitors Authority in 2011.
When it was the Las Vegas Hilton, no occupancy rates were disclosed.
Taking down the widely known Hilton name after a four-decade association stung on two fronts, said vice president of brand marketing and entertainment Rick White.
First, the property always banked heavily on the group business because of the Las Vegas Convention Center next door.
"When the Hilton name went away, the groups were wondering what was happening," he said. "We got out there to say that LVH is going forward and will continue to be here" through a combination of trade advertising and individual meetings.
In addition, unplugging the Hilton reservation system took away a large chunk of the tourist bookings.
"The leisure side was the hardest hit," White said.
To try to regroup, LVH will aggressively sell blocks of rooms at wholesale prices to online booking companies, such as Travelocity or Orbitz, that will then sell them retail. Because the booking companies pocket the spread, they have an incentive to feature the hotels prominently in their listings.
At the same time, LVH will try to position itself as a "value" alternative to the Strip, although that's not a new strategy. The average daily room rate was slashed by a third in two years to $86 in 2010, the latest number available, about $8 lower than the city average. In 2008, the Hilton was $6 higher above the average.
Now, White said, management is concentrating on amenity packages with show tickets or food to go with rooms.
"'Value added' is not just about being cheap, not just about price, but providing guests more than they expect," he said.
LVH has in he past month picked up the no-resort-fee guarantee that Caesars Entertainment has trumpeted for a couple of years. Some of the resort operators, notably MGM Resorts International, have taken to adding mandatory fees to basic room rates.
All told, Johnson projects a $5.5 million operating loss for the 11 months following his Feb. 1 takeover of the off-Strip resort. The figure includes $890,000 to cover his $50,000-a-month salary and a monthly expense account that runs $25,000 for most of the year.
Comparisons to the past are not exact because January results were not included and the ownership entity, Colony Resorts LVH Acquisitions LLC, last reported full year numbers in 2010. In that year, the earnings before interest, taxes depreciation and amortization, the same standard Johnson used, ran at a $1.2 million loss after profits the previous two years.
Johnson budgeted revenues of $152 million for the 11 months, net of comps, compared to $187.7 million for all of 2010.
Johnson also has a $3.4 million capital plan for the year, with the largest piece being $1.1 million to fix various building code violations. The $500,000 to "refresh" room decor amounts to less than $200 for each of the 2,950 rooms and suites, but White said it will cover repairs, not a general overhaul.
The other categories range from $600,000 to replace broken equipment to $2,500 for security patrol bicycles. Most noticeable to the public will be $269,000 to permanently put LVH on the huge sign in front, replacing the long-gone Hilton name. LVH isn't entirely incognito now, however. Its name is shown on a giant video screen, with another promising "same fame, new name."
Contact reporter Tim O'Reiley at toreiley@reviewjournal.com or 702-387-5290.