Macau faces transportation issues similar to Southern Nevada
September 14, 2016 - 11:00 pm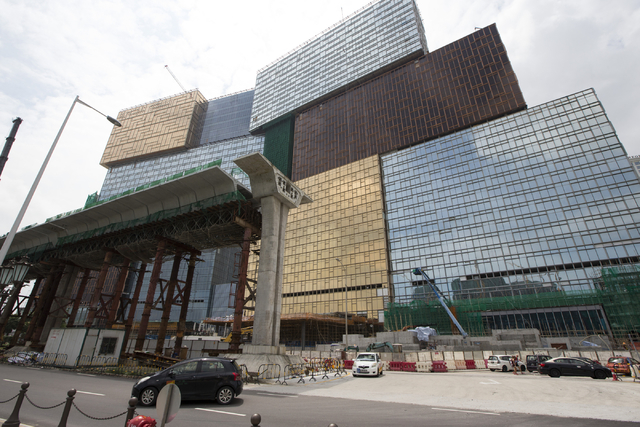 MACAU — Improved transportation infrastructure will be the key to expanding the market.
Where have we heard that before? Certainly in Las Vegas, where transportation planners are developing highway, monorail and light-rail plans to assure that the millions of visitors who find their way to Southern Nevada will be able to get to and around the resort corridor once they're here.
The same is true in Macau, where officials have drafted plans, with some projects under construction.
Las Vegas Sands Chairman and CEO Sheldon Adelson this week said transportation improvements will help Macau in its next phase of expansion.
"The Hong Kong-Zhuhai-Macau bridge is important because its construction will have the effect of giving Macau two airports," Adelson said in a news conference Tuesday before the opening of the company's 3,000-room Parisian Macao resort on the Cotai Strip.
The $10.6 billion, 31-mile project, a series of bridges and tunnels, will connect Hong Kong with Macau and turn what has been an hourlong ferry trip into a 20-minute drive.
The logistics of delivering passengers on ferries from the bustling Hong Kong Terminal or from Hong Kong International Airport on Chek Lap Kok Island have discouraged some conventions from considering Macau as a place to meet.
But once the bridge is completed — the most recent estimate is that it will be done in 2018 — it will enable more bus and car traffic into Macau and boost the conventions and meetings business there in the same way it has enhanced Las Vegas.
Adelson noted that the bridge and the easy drive over it would effectively make Hong Kong International and its 90 air carriers serving about 180 destinations a local traffic driver and a great addition to the 30 airlines that fly into Macau International Airport.
Macau International is close to the Cotai Strip, and a mass transit system to transport passengers around Macau is well underway. While referred to as "light rail" by most of the American casino companies that operate in Macau, the system will be a people mover with driverless vehicles on tires.
The 12-mile, $1.4 billion transit system is expected to start moving passengers in 2019.
As for property development in Macau, the Parisian opening marked the second of three properties coming online for the three American companies doing business in Macau.
Adelson's Parisian prevented Steve Wynn's Wynn Palace from being the new kid on the block for much time, and MGM Cotai, across the street from Wynn Palace, will take the title of Macau's newest resort in the second quarter of next year.
Wynn Palace, a $4.2 billion project, opened Aug. 22.
Another property soon to open, The 13, produced by 13 Holdings, bills itself as the most luxurious hotel in the world and is due to open in the fourth quarter. Promoters say that the 200-unit, $1.4 billion Cotai Strip development would have 24-hour butler service at all of its villas and each guest would have access to a Rolls-Royce Phantom and driver.
It's unclear whether the property will have a casino and whether the holding company will partner with a company that already has a gaming concession.
Is there anything else on the horizon for Sands in Macau? Probably not, Adelson said, although he would like the opportunity to do more.
"If I had six more lots, I'd build them a lot sooner and a lot faster than in the last 12 years," he said. "If the government is listening, they know we're interested."
He also dispelled a rumor that he has plans to change his original Sands Macao or build something else on the site. He said the government's interest in the development of nongaming amenities would make it much more difficult for rivals to catch up with his company.
At this point, he is extremely happy with the way the Parisian turned out and will focus on growing the meetings, incentives, conventions and exhibits market. The company's maturing Macau properties soon will enter cycles that will require room upgrades.
At Tuesday's news conference, Rob Goldstein, Sands' chief operating officer, said he expects Macau's gaming market to rebound. He noted that though the market has suffered through 26 months of downturns before showing its first monthly improvement in August, a "bad" Macau gaming market is still pretty good.
"We're talking about multiples of five and six times (the Las Vegas market)," he said.
Adelson also said he always is keeping an eye on other Asian markets.
The company is "aggressively and continuously" seeking opportunities in Japan, South Korea, Vietnam, Saipan and Taiwan.
He said South Korea, while appealing, might not work for his company if the government there demands that any casino built would be for foreigners only.
The Review-Journal is owned by the family of Las Vegas Sands Corp. Chairman and CEO Sheldon Adelson.
Contact Richard N. Velotta at rvelotta@reviewjournal.com or 702-477-3893. Follow @RickVelotta on Twitter.