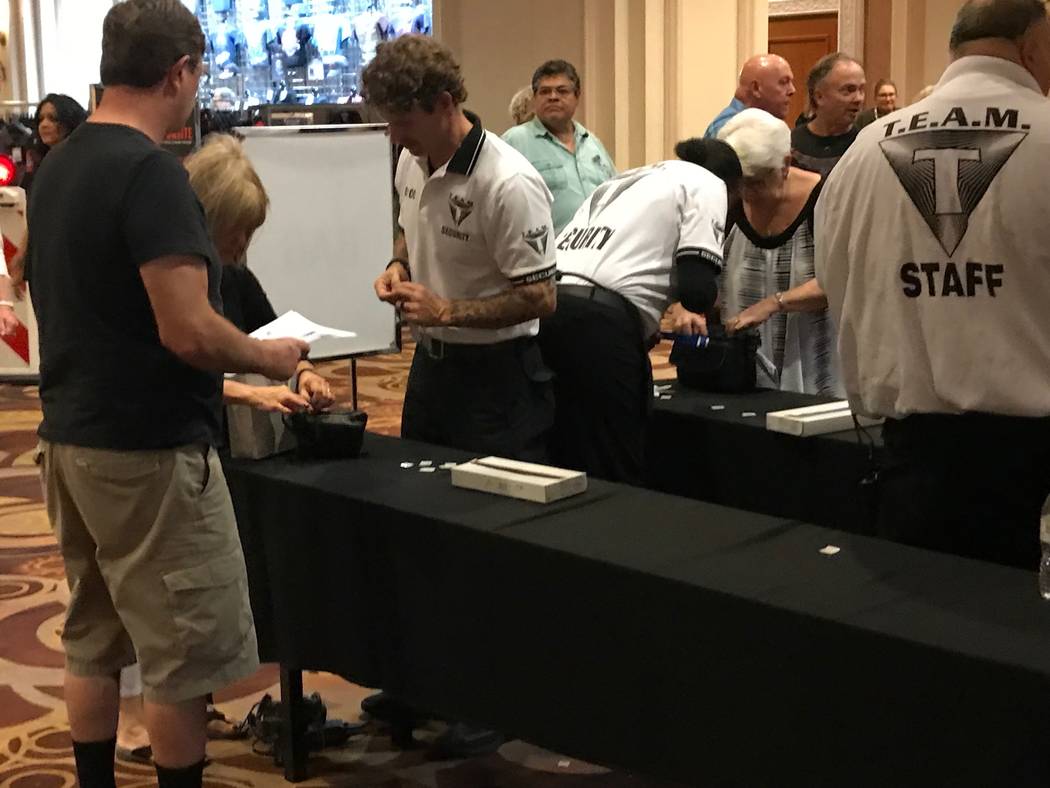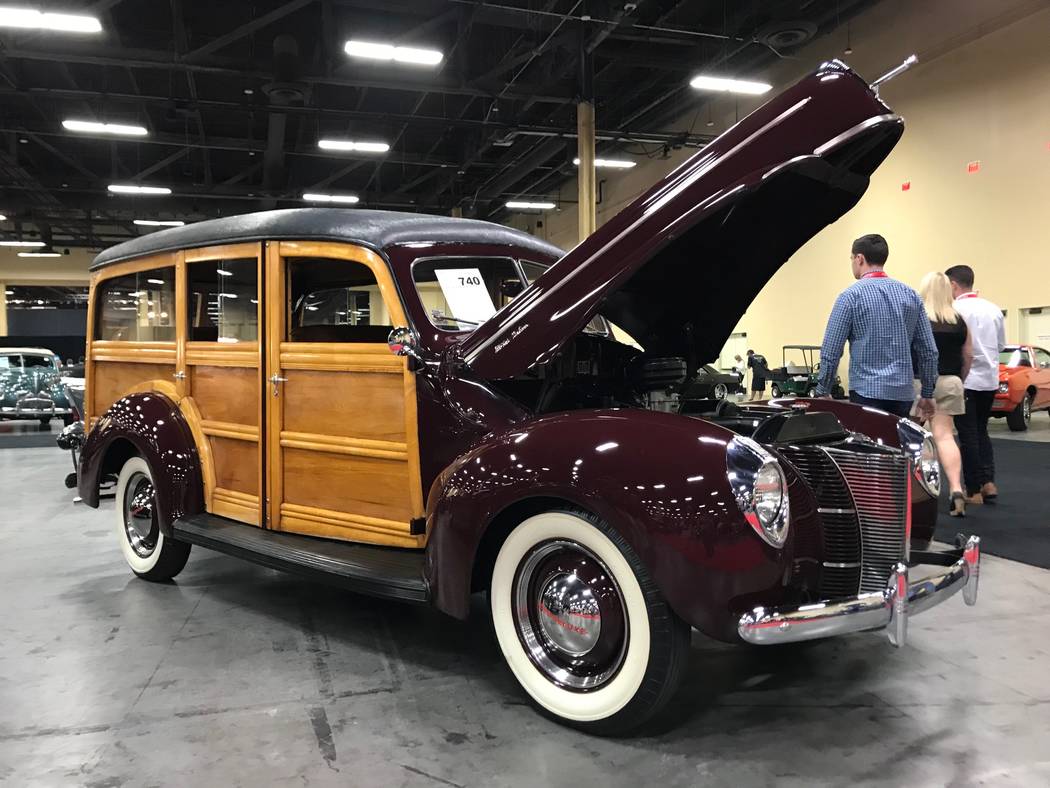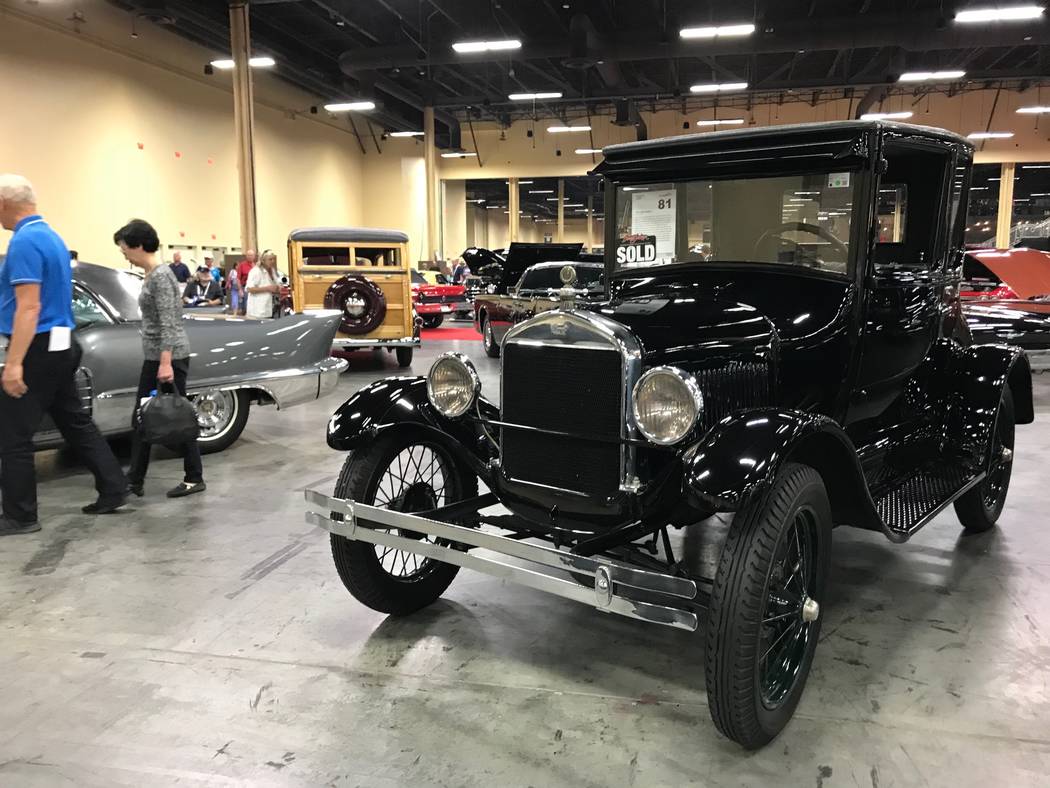 At least one convention organizer is raising security at its shows in the wake of this month's shooting.
Visitors attending the Barrett-Jackson automobile auction at the Mandalay Bay Convention Center this week are being checked by guards with hand-held metal detectors, an unusual practice for Las Vegas expos.
"We added some additional measures for the safety of our guests here,'' Robert Desimone, a spokesman for Barrett-Jackson, said Thursday.
T.E.A.M. Security, an Arizona-headquartered security company with an office in Las Vegas, is helping check bags and patrol the show. T.E.A.M. has a working relationship with both Barrett-Jackson and the Mandalay Bay that extends over several years.
Attendees visiting the Barrett-Jackson show must first have their bags checked, a practice that had previously been in place for the car show. Attendees are then checked by Mandalay Bay guards holding metal detectors, a new practice.
#MandalayBay convention center checking bags, then people with hand-held metal detectors for BarrettJackson car show. @reviewjournal pic.twitter.com/UxDiqA89i6

— Todd Prince (@toddprincetv) October 19, 2017
Guards at Wynn Las Vegas and Encore checked visitors' bags with hand-held metal detectors in the two days immediately following the shooting amid concerns there may have been an accomplice.
The National Business Aviation Association checked bags and IDs at its annual show last week at the Las Vegas Convention Center. The NBAA show attracts about 27,000 people.
MetalCon, the metal construction industry's largest U.S. event, did not use such measures during its show this week at the Convention Center. About 6,000 people visit MetalCon. Nor did G2E, the largest gaming expo in the U.S., which took place at the Sands Expo and Convention Center the week after the shooting.
The use of tighter security at the LVCC "is completely at the behest of the client," said Jeremy Handal, senior director of communications for the Las Vegas Convention Center. Show organizers hire third-party security companies to check attendees, he said.
MGM Resorts, the owner of the Mandalay Bay, did not respond to questions about tighter security at conventions.
Shows with a greater number of attendees and expensive exhibits such as planes and cars may be more likely to increase security.
Barrett-Jackson attracts tens of thousands of people to its Las Vegas show, where attendees can admire — or bid for — nearly 700 automobiles, including rare ones such as a 1927 Ford Model and 1940 Ford Deluxe Woody Wagon. Last year the show posted sales of $32 million.
Mandalay Bay in-house employees and T.E.A.M. security personnel guarded the entrance to the convention center from the parking garage as well from the casino.
Undercover security personnel were also walking the floor for the show, said a guard who asked not to be named.
Now it its 10th year, the Barrett-Jackson show runs through Saturday at Mandalay Bay.
Contact Todd Prince at 702 383-0386 or tprince@reviewjournal.com. Follow @toddprincetv on Twitter.