MGM affiliate bids for real estate trust spun off by Caesars
January 16, 2018 - 8:28 am
Updated January 16, 2018 - 3:09 pm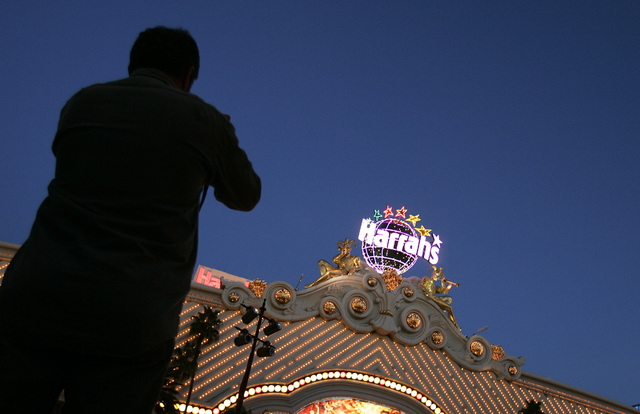 MGM Growth Properties, a company that serves as landlord to MGM Resorts International properties, is making a play for Vici Properties, a real estate investment trust spun off by Caesars Entertainment when it emerged from Chapter 11 bankruptcy protection in October.
MGM officials disclosed Tuesday that they have been in negotiations from late December to last week with Vici, which controls Caesars Palace and Harrah's in Las Vegas and two Southern Nevada golf courses. On Tuesday, it made its offer of $19.50 a share public to present the prospective deal to shareholders.
Based on 300.3 million Vici shares outstanding, the value of the deal is worth an estimated $5.85 billion.
Under terms of the deal, Vici shareholders would receive MGM Growth Properties shares with the exchange ratio fixed at the signing of a definitive agreement. MGM indicated it would be willing to offer a portion of the transaction in cash.
If completed as envisioned by MGM, Vici shareholders would own about 43 percent of the combined company assuming an all-stock transaction and based on MGP's current share price.
Caesars management would continue to operate the properties, but MGM Growth would become the property landlords if the deal is completed.
MGM officials characterized the deal as an alternative to Vici pursuing an initial public offering.
Vici disclosed in a Securities and Exchange Commission filing on Dec. 11 that it is planning an IPO to help pay down more than $4 billion of debt and finance future acquisitions.
The real estate investment trust would trade on the New York Stock Exchange under the symbol VICI, according to the filing. Documents did not give a time frame or offering size.
Las Vegas-based Vici operates 20 casino resorts and four golf courses.
MGM officials first met with Vici officers on Dec. 20.
On Jan. 5, MGM Chairman Jim Murren and James Stewart, CEO of MGM Growth Properties, sent a letter to James Abrahamson, chairman of Vici's board, and CEO Edward Pitoniak reiterating the company's interest in acquiring Vici. Murren and Stewart asked for a response by Jan. 8.
"While we would have hoped to have made further progress over the past two weeks given your potential IPO timing, we continue to stand ready to engage now and move forward quickly with your cooperation," the letter said.
MGM made the letter public Tuesday. The company posted a presentation of the deal on its website, characterizing it as providing greater value to Vici shareholders than the planned IPO.
MGM officials say the the combination of the Vici properties would create a $22 billion enterprise that MGM shareholders would have 57 percent control. It would create the nation's 13th largest REIT by enterprise value.
MGM said the combined companies would have 32 properties in 11 states with 42,000 hotel rooms and 5.9 million square feet of gaming and convention space.
Las Vegas would figure prominently in the transaction with half the company's cash flow emanating from Southern Nevada properties under the proposed merge.
Representatives of Vici did not return calls on Tuesday. Representatives of Caesars Entertainment had no comment on the matter.
Contact Richard N. Velotta at rvelotta@reviewjournal.com or 702-477-3893. Follow @RickVelotta on Twitter.
Vici Properties locations
*Caesars Palace, Las Vegas
*Harrah's Las Vegas
*Harrah's Reno
*Harrah's Lake Tahoe, Stateline
*Harveys Lake Tahoe, Stateline
*Caesars Atlantic City
*Bally's Atlantic City
*Harrah's Gulf Coast, Biloxi, Miss.
*Tunica Roadhouse, Robinsonville, Miss.
*Horseshoe Tunica, Robinsonville, Miss.
*Horseshoe Bossier City, Bossier City, La.
*Harrah's Louisiana Downs, Bossier City, La.
*Horseshoe Council Bluffs, Council Bluffs, Iowa
*Harrah's Council Bluffs, Council Bluffs, Iowa
*Horseshoe Hammond, Hammond, Ind.
*Horseshoe Southern Indiana, Elizabeth, Ind.
*Harrah's Metropolis, Metropolis, Ill.
*Harrah's Joliet, Joliet, Ill.
*Harrah's North Kansas City, Kansas City, Mo.
*Bluegrass Downs, Paducah, Ky.
*Cascata Golf Course, Boulder City
*Rio Secco Golf Course, Henderson
*Chariot Run Golf Course, Laconia, Ind.
*Grand Bear Golf Course, Saucier, Miss.