MGM, Caesars ready to compete for sports bets in New Jersey
Updated June 7, 2018 - 6:21 pm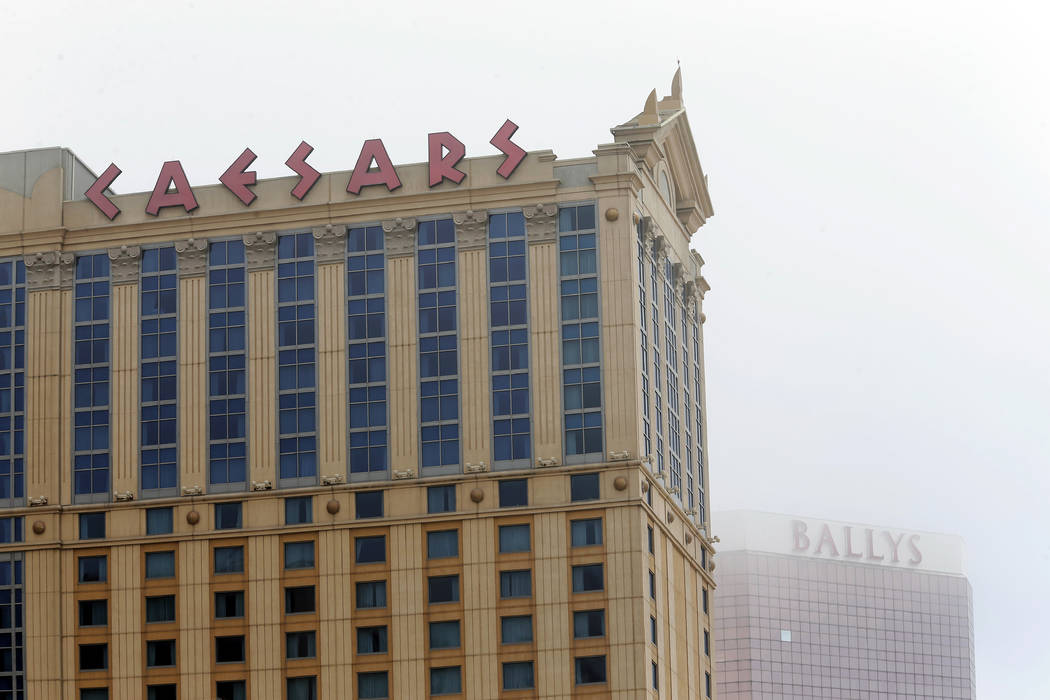 Two Las Vegas casino giants are getting closer to competing for sports wagering dollars in Atlantic City.
The New Jersey Legislature gave final approval to a bill legalizing sports betting on Thursday.
Bets could be taken as soon as Gov. Phil Murphy signs the bill, which would put MGM Resorts International and Caesars Entertainment Corp. on a collision course for taking sports bets.
Caesars has had a longtime Atlantic City casino presence, renovating the Howard Johnson's Regency Motor Hotel into the Caesars Boardwalk Regency in 1977. A decade later, the 1,158-room property's name was changed to Caesars Atlantic City and it historically has hosted some of the biggest names in entertainment.
Caesars also owns Bally's Atlantic City, which opened as Bally's Park Place in 1979, and Harrah's Atlantic City Resort, originally Harrah's Marina Resort, in 1980.
MGM's presence
MGM, meanwhile, partnered with Boyd Gaming Corp. to build the 2,002-room Borgata that opened in 2003.
MGM bought out Boyd's 50 percent stake in 2016 and now owns the Borgata outright as part of MGM's collection of East Coast resorts that include the Borgata in Atlantic City, National Harbor in suburban Washington and MGM Springfield in Massachusetts, which will open in August.
Today, Caesars and MGM maintain some of the most popular sportsbook amenities in Las Vegas.
Neither company responded to requests for comment on going head to head in sportsbook competition in a new state.
Big change for Atlantic City
Former New Jersey state Sen. Raymond Lesniak said sports betting will help turn Atlantic City around.
"Today is the day that New Jersey gets the same benefits that Las Vegas does," said Lesniak, who led the fight for sports betting for eight years. "During the Super Bowl or the NCAA Tournament, in Las Vegas you can't get a hotel room and Atlantic City is a ghost town. This will change that."
The bill would allow Atlantic City casinos and racetracks, including Monmouth, the Meadowlands and Freehold Raceway, to offer sports betting. A provision also would allow it at the former Atlantic City Race Course if that facility were to reopen.
The bill set the tax rate for casinos at 8.5 percent, with an additional 1.25 percent payment to help market Atlantic City. The 1.25 percent add-on fee for tracks would be split among the host community and the county in which the track operates. Internet betting would begin 30 days after the rest of the law takes effect and would be taxed at 13 percent.
Professional sports
The measure also is full of clauses that would help at least four casinos offer sports betting even though they or their owners have ownership ties to professional sports teams.
The bill would ban casinos or executives who own professional sports teams from offering sports betting, theoretically counting out Borgata owner MGM because it also owns the WNBA's Las Vegas Aces. But under a clause in the bill, MGM would be approved because the team generates less than 1 percent of its total annual revenue.
Joshua Harris owns the Philadelphia 76ers and the New Jersey Devils and would get in under a clause allowing those who own less than 10 percent of a casino or gambling company to participate in sports betting. Harris' Apollo Global Management owns less than 10 percent of Caesars.
A clause to allow the Golden Nugget to participate was added to the bill Thursday. That casino is owned by Texas billionaire Tilman Fertitta, who also owns the NBA's Houston Rockets. He could offer sports betting on all sports except basketball.
Contact Richard N. Velotta at rvelotta@reviewjournal.com or 702-477-3893. Follow @RickVelotta on Twitter. The Associated Press contributed to this story.