MGM Resorts' insurance may be tested by Las Vegas shooting lawsuits
November 14, 2017 - 9:55 am
Updated November 18, 2017 - 11:09 pm
Should lawsuits filed against MGM Resorts International over the Oct. 1 Strip shooting result in judgments against the company, executives believe insurance will cover any losses.
That's according to the company's most recent quarterly report to the Securities and Exchange Commission. But time will tell whether MGM — owner of both the hotel-casino the shooter used as a base and the music venue he targeted — is correct.
"Keep in mind that litigation usually takes time, and determination of liability is something that's not always determined easily," Capstone Brokerage risk manager Judythe Ann Minale said.
Her company, based in the Las Vegas Valley, specializes in commercial property and casualty insurance as well as employee benefits. Hotel-casinos load up on insurance coverage, she said, but a court will have to determine how much responsibility MGM held, if any.
"Absolutely nowhere did or should anyone say MGM is covered," Minale said. "They expect to be doesn't mean they are."
Competitive rates
The final cost to the Strip and those who do business on it will be calculated after years of lawsuits against not just MGM Resorts and Mandalay Bay, but also the shooter's estate and companies contracted to work on the music festival the shooter targeted.
Las Vegas casinos carry very large excess liability policies — in the tens of millions of dollars — Allen Financial Insurance Group CEO Brent Allen said. His company, based in Phoenix, specializes in entertainment, recreation and special events insurance.
The insurance industry views Strip hotel-casinos as secure, well-managed and representing large premiums, Allen said.
They are large enough to insure themselves to an extent, meaning they can negotiate competitive rates with large-scale insurance companies, Allen said.
Large manufacturing companies may carry as much or more insurance than hotel-casinos, but neither would ever divulge limits set by the largest insurance carriers, he said.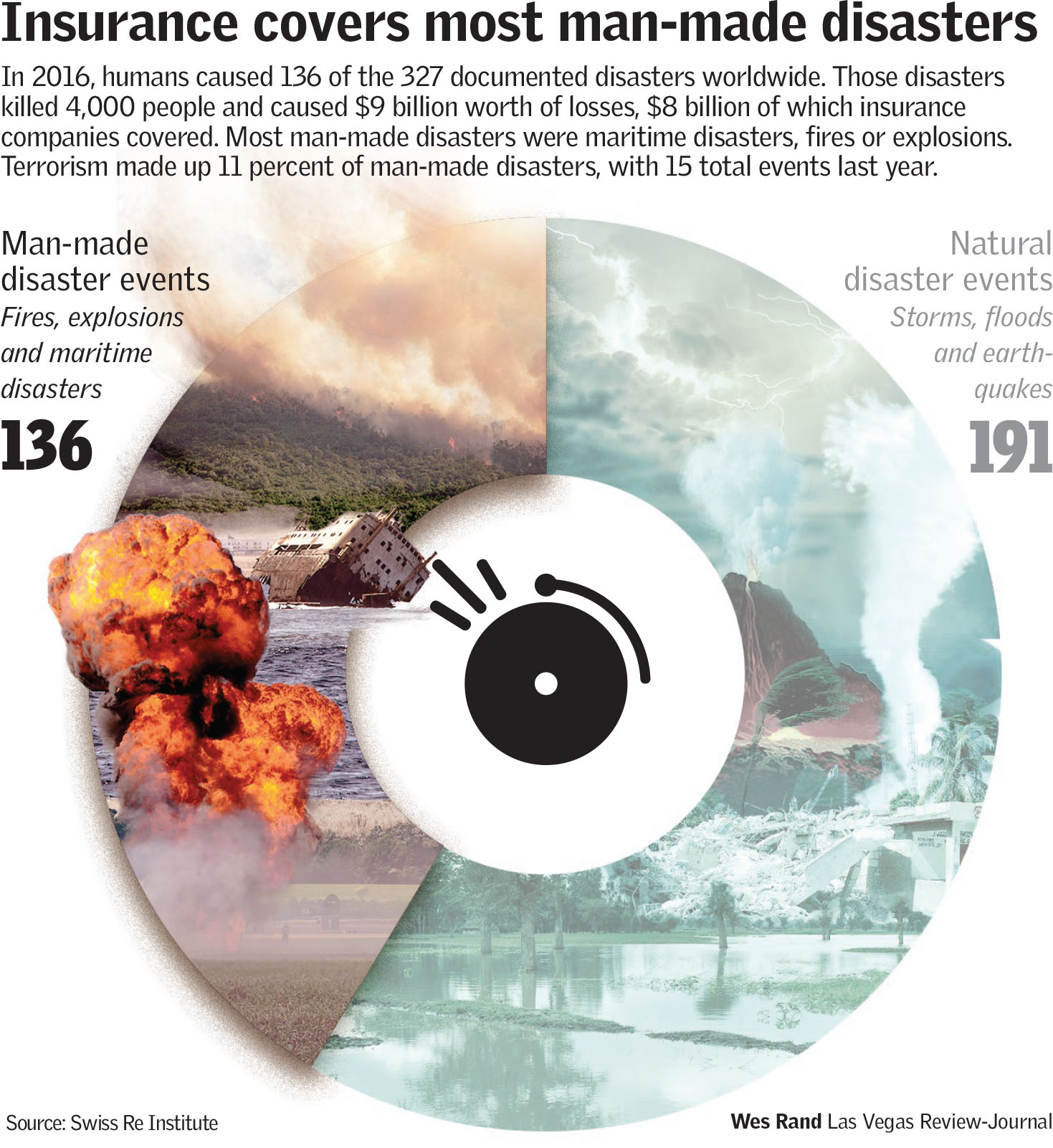 Indeed, representatives with Strip hotel-casinos and large-scale insurance companies who responded to requests for comment said neither groups publicly discuss coverage or premiums.
Representatives with State Farm and Berkshire Hathaway said their companies don't insure the hotel-casinos.
A spokeswoman with Lloyd's of London said it insures a fair amount of commercial property in the United States, but she wouldn't specify if hotel-casinos were among its clients.
The company doesn't share details of insured companies and rates, Lizzie Lowe said in an email.
"Hotel-casinos likely have a wide range of coverages from property, casualty, general liability, terrorism and/or active assailant, cyber," Lowe said.
Reasonable expectations
After the shooting, insurance providers may reassess the risk created at hotel-casinos for things such as whether the rooms let guests onto balconies, Minale said.
According to an MGM annual report, tenants must have commercial general liability insurance against injury, death and property damage for at least $200 million.
Tenants' policies must have minimum limits of $200 million for liquor liability, $10 million for crime insurance and $200 million for automobile liability.
General contractors must carry general liability insurance of at least $25 million and $3 million for subcontractors.
Whatever insurance policies MGM holds will pay only if it is found that the company's procedures or properties were insufficient in preventing the shooting.
"Natural disasters and, in my opinion, an act such as the Vegas shooting are really outside the reasonable expectation of a venue," Allen said.
Should a court find MGM negligent in how it handled the shooting or how it maintained its property, rates could change for MGM, rather than the entire market, Minale said.
MGM's provider will work with the company should a lawsuit get to that point, she said.
"The good ones stand by their clients when something like this happens," she said. "They don't gouge them."
She said the shooting shouldn't stop people from continuing to enjoy outdoor concerts and visits to the Strip.
"The only way to avoid risk is to avoid living," she said. "You have to live."
Contact Wade Tyler Millward at wmillward@reviewjournal.com or 702-383-4602. Follow @wademillward on Twitter.