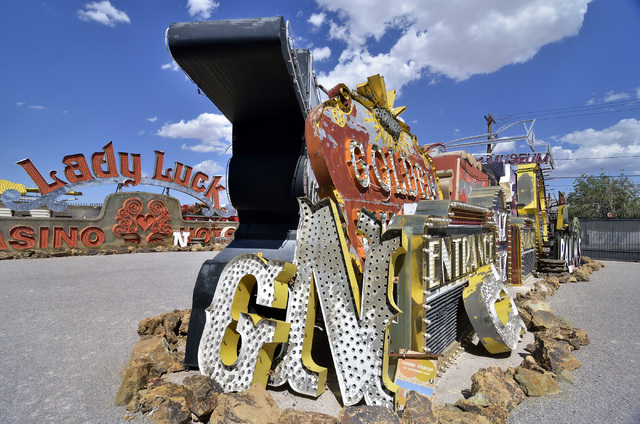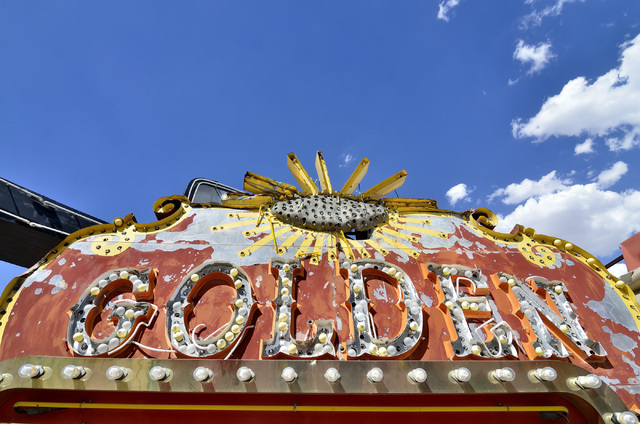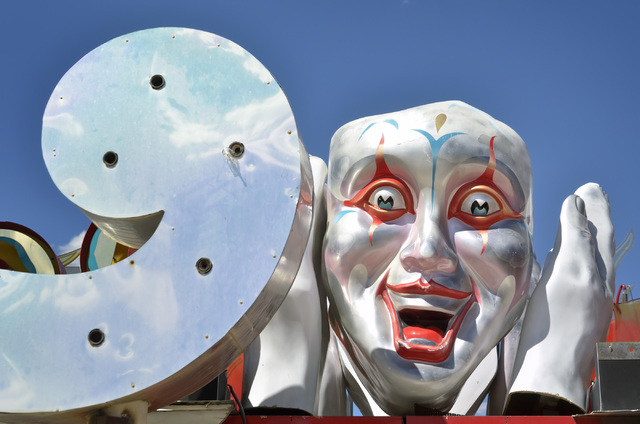 The future is bright for the Neon Museum.
Four years after opening, the museum that showcases Las Vegas' neon legacy in casino and motel signs set a record for attendance and revenue for its fiscal year ending in June.
The museum is expected to surpass 100,000 visitors between July 1 and June 2017, and that success means neon fans will get even more.
In addition to its regular guided tour in its main collection area, the museum is adding a self-guided weekday tour starting Sept. 19 in its north boneyard, which now is closed to the public. That is where the museum currently holds private events on the weekend.
Later this month, the museum will announce plans to build indoor gallery where visitors can see a display of documents and other artifacts. There is no room for such a display now at the museum, 770 Las Vegas Blvd. North. It has a visitor center in the former La Concha Motel lobby.
"We're bursting at the seams in terms of attendance as well as room for more signs," said Rob McCoy, president and CEO of the Neon Museum. "It's the only museum of its kind in the world. We have some of the greatest visual artifacts of the 20th century. That word has now traveled around the world."
The museum attendance has grown steadily since it opened in late October 2012. It started with 38,561 in that abbreviated first year and followed up with 74,888 in fiscal year 2014. It jumped to 85,163 last year and increased 14 percent to 97,467 in fiscal year 2016. Some 90 percent of museum visitors are tourists.
"The majority of folks who come to Vegas are looking for something different to do outside the shopping and dining," McCoy said. "They want something a little more cultural, and we're one of the first stops on their list."
The museum has a collection of more than 500 signs, which includes full signs and parts of signs. About 70 percent of them are from casinos, 20 percent from motels and 10 percent from businesses. Many are from the 1940s, 1950s, 1960s and 1970s.
Visitors can't get enough of that history, which is why it's difficult to get a ticket to the seven-days-a-week, 10 daily guided summer tours of 20 people, McCoy said. There are 20 one-hour tours a day starting Sept. 19.
The added tours should further boost the revenue of the nonprofit museum, which brought in $2.5 million in fiscal year 2016, about 95 percent of it from ticket sales. It was $1.83 million in 2014 and $2.1 million last year. The revenue covers operating expenses.
Signs from the Golden Nugget, Sahara, Stardust, Sands and Desert Inn — all of the famous signs from the Rat Pack era with Dean Martin, Sammy Davis Jr. and Frank Sinatra are a big draw, McCoy said.
"It's what made Las Vegas famous, and it's what visitors to Las Vegas have in their mind as their view of Las Vegas," he said.
Because the word has gotten out on social media about the museum and its tours, visitors who don't buy a ticket in advance have been mostly out of luck in getting tour tickets when they walk in, McCoy said.
That's sparked the plan to open the north end of the 2-acre museum grounds to accommodate visitors who will get handouts giving a history of the signs rather than the guided tour, McCoy said.
"We've been doing it a couple of days a week for the last three weeks, and it's something we think has legs," McCoy said. "It's been a big hit. It's totally different from the other collection. We're pretty excited about that."
The north boneyard has casino signs from the Pioneer Club, Lady Luck, Golden Nugget, Binion's, and O'Sheas to name a few of the properties.
"When we first began, we would have to call and ask for someone to donate a sign," McCoy said. "We no longer have to do that. When a building is ready to get shut down or be imploded, we're one of the first calls they make. They want us to have the signs."
The Neon Museum obtained the Riviera signs in its collection, including one that is electrified and on display in the Neon Boneyard, in the spring of 2015.