Nevada gaming board recommends licensing for wagering startup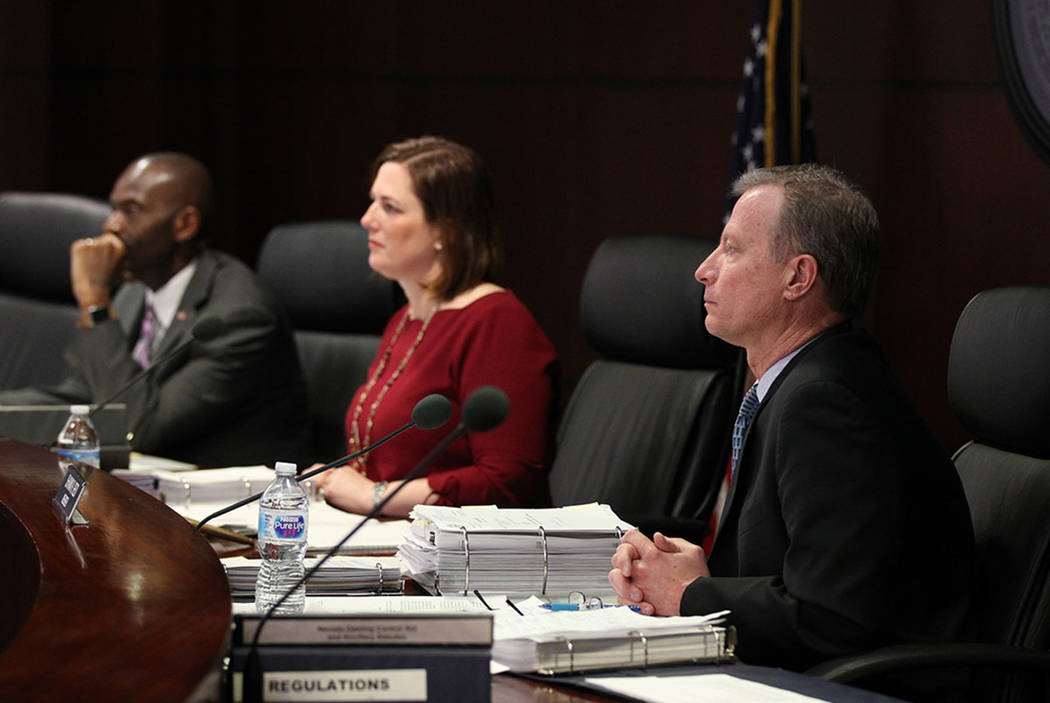 To recommend approval of the licensing of an Armenian entrepreneur seeking to develop software for a new sports wagering program, Nevada Gaming Control Board members first had to solve a chicken-and-egg dilemma.
Once they did, it resulted in a rare split vote on a recommendation that will be considered June 21 by the Nevada Gaming Commission.
Board members spent nearly two hours Wednesday questioning BC Technologies CEO Vahagn Badalyan and his colleagues about his plans to establish his company in Las Vegas.
To hire computer technicians and software engineers, Badalyan needed to be licensed.
But he doesn't have a work visa permitting him to stay in the United States. Representatives of the U.S. Citizenship and Immigration Services told him he could get a visa — if he gets a gaming license. But board members were reluctant to recommend approval of a license unless it was a certainty that he would get a visa, a process that could take months and put the company behind in the race to provide sports wagering services.
Several U.S. states are on the verge of offering sports wagering, a market once exclusively cornered by Nevada.
Delaware on Tuesday was the first market outside Nevada to take single-game sports bets, with more approvals on the horizon. BC Technologies wants to provide its products as the market develops.
The Control Board also questioned whether an unlicensed individual — specifically, his father — could influence business decisions because he helped finance the business startup.
Board members agreed they had no concerns about licensing suitability.
"We're asking you to give this company a chance to show what they can do," said Scott Scherer, the attorney representing BC Technologies in the meeting in Carson City.
Eventually, board members recommended approving licensing as a manufacturer and distributor of gaming equipment and as managers and key executives of the company, but referred applications for licensure as an off-track pari-mutuel sports system operator and as a technology service provider back to Control Board staff.
That would enable Badalyan to show federal authorities he's licensed and enable the company to keep working on products in the meantime.
The licensing includes Badalyan and Bruce Merati, chief financial officer and chief technology officer.
The recommendation was approved 2-1 with member Shawn Reid opposing.
"It has nothing to do with it being a startup or suitability," Reid said of his vote. "There are just too many 'What ifs?' and it might be too early and premature to license."
Both Badalyan and his father, Vahe Badalyan, addressed board members during the hearing, with the son having to translate his father's Armenian answers to questions.
Contact Richard N. Velotta at rvelotta@reviewjournal.com or 702-477-3893. Follow @RickVelotta on Twitter.
Horse racing
Applications for horse-racing dates rarely come up in Nevada's gaming regulatory meetings, but once a year, they're a summer ritual.
With no discussion or debate, board members unanimously approved race dates for two Northern Nevada events.
Ely's Agriculture District No. 13 was approved for racing Aug. 17-19 and the Elko County Fair Board was approved for Aug. 26 through Sept. 3.