Nevada Gaming Commission could fine CG Technologies $250K
Updated August 21, 2018 - 1:38 pm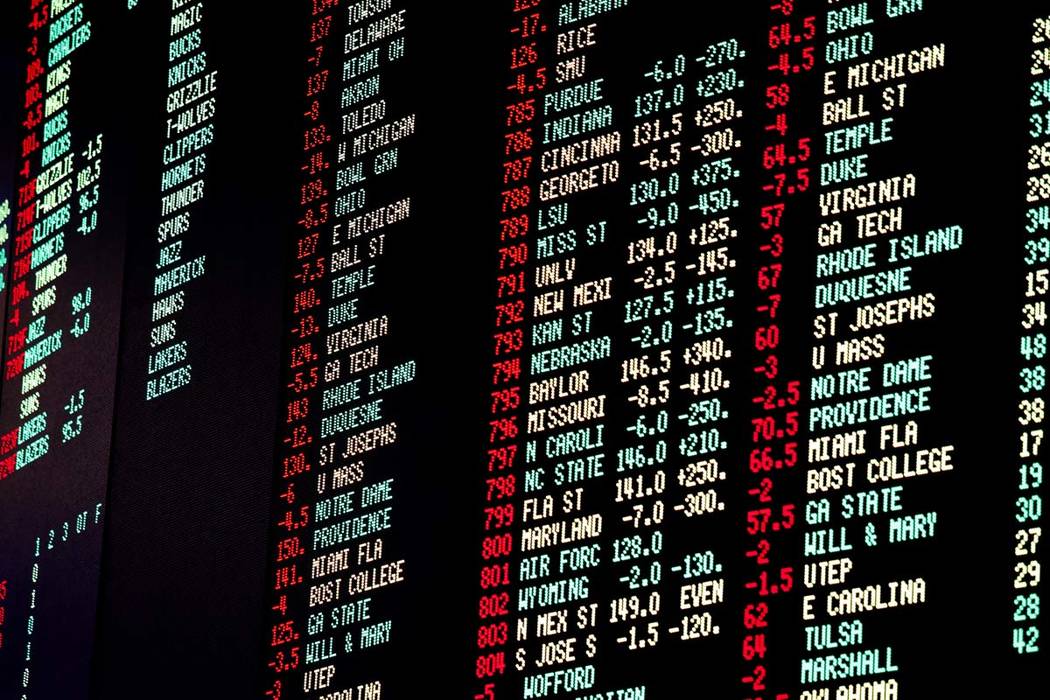 The Nevada Gaming Commission will consider levying a $250,000 fine against CG Technologies for four violations alleged by the state Gaming Control Board.
In a settlement and stipulation to be considered by commissioners Thursday, CG Technologies, which operates sports books for the M, Hard Rock, Tropicana, Cosmopolitan of Las Vegas, The Venetian, Palazzo, Palms and Silverton, admitted to all charges.
The commission has the authority to revoke a license, but that isn't recommended in the settlement.
"Revocation is always on the table," Nevada Gaming Commission Chairman Tony Alamo said Tuesday. "But it isn't something that will be on Thursday's agenda."
Representatives of CG Technologies said they would not comment on the matter prior to Thursday's hearing.
Under terms of the settlement, CG Technologies would have six months to "transition to an unaffiliated third-party's pool wagering system" and "permanently discontinue the use of its sports pool wagering system and all of its components."
CG also will have 60 days to develop a written internal controls plan to prevent future violations.
The settlement says that while the board is aware of CG's regulatory history, the commission should consider that the company self-reported many of the violations, that it has agreed to replace its sports pool wagering system, and the board "perceives that changes have occurred and continue to occur at CGT related to its cooperation with the board."
CG Technologies was accused of taking wagers from outside the state, taking bets after events had concluded, making incorrect payouts to 1,483 bettors and misconfiguring a satellite sports book betting station for the 2018 Super Bowl.
Twice fined
The four-count, 17-page complaint, filed by the control board on Aug. 8, indicated that CG Technologies had twice been disciplined by the commission.
In January 2014, the company was fined an industry-record $5.5 million for allowing one of the company's key executives to run an illegal sports wagering operation. In July 2016, CG Technologies was ordered to pay a $1.5 million fine and establish an escrow account to pay bettors who received lower payments on their wagers than they were entitled to receive. That action also forced former president and CEO Lee Amaitis to leave the company.
In the most recent complaint, CG was accused of taking seven out-of-state bets through its mobile wagering app, four from San Diego and San Bernardino, California; two from Austin, Texas; and one from Littlefield, Arizona, on April 7 and 8, 2017. Those bets were taken after CG self-reported taking a bet from Maryland on Nov. 7, 2016, and said it would deploy updated geolocation functionality software.
The second count of the complaint said CG took bets in May and October 2016 and October 2017 on events that already had concluded. In May 2016, a complaint was filed against the company for taking post-event wagers on boxing and mixed-martial-arts events. In October that year, the company self-reported taking 33 wagers from 14 bettors on college football games. And, in October 2017, the company self-reported taking nine wagers from nine bettors on college football.
Incorrect payments
The third count of the complaint said after attempting to correct a software flaw discovered in October 2017 in which CG paid out incorrect amounts to bettors since August 2011 that 1,483 more bettors received incorrect payments. The complaint says 783 bettors received $7,368 more than they expected and 700 got $4,465 less than they expected.
The fourth count of the complaint said a satellite sports betting station set up for the 2018 Super Bowl was incorrectly placed in a "staging environment" for testing instead of a live "production environment." That resulted in 14 bets being incorrectly placed, including 11 that had incorrect point spreads and over-under totals on the game between the Philadelphia Eagles and the New England Patriots.
Spokesmen for M, Hard Rock, Tropicana, Venetian, Palms and Silverton, did not return an immediate request for comment Tuesday. A spokesman for the Cosmopolitan of Las Vegas declined to comment.
The Review-Journal is owned by the family of Las Vegas Sands Corp. Chairman and CEO Sheldon Adelson. Las Vegas Sands operates The Venetian and Palazzo.
Contact Richard N. Velotta at rvelotta@reviewjournal.com or 702-477-3893. Follow @RickVelotta on Twitter.
Stagestop Casino
Commissioners also will consider a disciplinary matter against the Stagestop Casino in Pahrump.
The control board's complaint against Best Bet Products, doing business as the Stagestop Casino in Pahrump, and its president, Paul Holmes, accuses the company of failing to provide an updated surveillance plan in 2016 and 2017 as requested by board agents.
The four-count complaint, signed April 12, alleges violations of regulations for failing to file the plans, failure to respond to board requests and a finding of an unsuitable operation as a result of the neglect.
A settlement and stipulation listing a possible fine against the company hasn't been made public.