Nevada gaming regulator chairman Alamo resigns
Updated April 8, 2020 - 11:19 am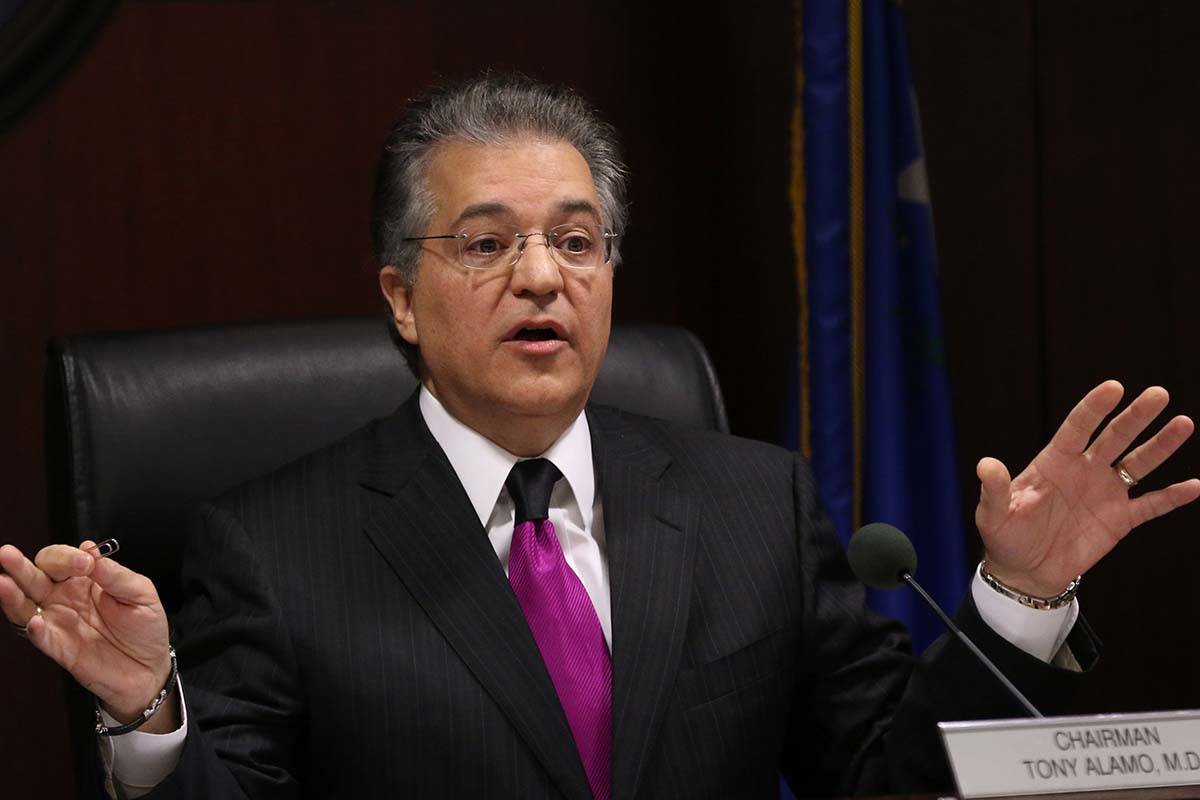 Nevada Gaming Commission Chairman Tony Alamo, a physician who has served as a gaming regulator for 12 years, is resigning before the end of his third term to devote more time to battling the COVID-19 outbreak.
Alamo's last day on the five-member commission will be April 17, ahead of the commission's April 22 meeting.
In his resignation letter to Gov. Steve Sisolak dated Tuesday, Alamo, 55, who previously served on the Nevada State Athletic Commission, said it "has been the ultimate privilege for me to be part of the regulatory process for the past 19 years for the state of Nevada, the state in which I was born and raised."
While on the Athletic Commission, Alamo sanctioned one of the state's largest boxing matches between Oscar De La Hoya vs. Floyd Mayweather in 2007.
Alamo said Tuesday that he has enjoyed his regulatory career, "but it's time for me to be a doctor."
Alamo's term was scheduled to end April 27, and he indicated earlier that he wouldn't seek reappointment to a fourth term.
"While I intended to fulfill the last 20 days of my term, the current COVID-19 medical crisis requires that I devote all of my time and attention to my present role as chief medical director of one of the largest clinical delivery organizations in Nevada in order to battle this pandemic," Alamo said in his letter to Sisolak. "As you are aware, the peak of the infection is theorized to occur in the next 10-14 days; and therefore, I need to direct all of my energies to the clinical and logistical planning that my primary employment demands."
Alamo has served as the chairman of the Nevada State Athletic Commission's Medical Advisory Board and as the chief of staff at Sunrise Hospital and Children's Medical Center and St. Rose San Martin Hospital. In 1994, Alamo founded the Alamo Medical Clinic in Henderson and currently serves as its director.
He was appointed and reappointed to the Gaming Commission by Govs. Kenny Guinn and Jim Gibbons and appointed chairman by Gov. Brian Sandoval, who once chaired the commission.
Alamo has worked as a volunteer with the Metropolitan Police Department as a tactical physician. He has specialized in tactical and trauma medical training and has collaborated with Metro's SWAT Team since the late 1990s. Alamo received the Medal of Unit Valor for Valorous Conduct, marking the first time the award was given to a civilian.
He also serves on the board of the Bank of George, a community bank founded in 2007.
Sisolak will be responsible for appointing a new chair and member of the commission.
Contact Richard N. Velotta at rvelotta@reviewjournal.com or 702-477-3893. Follow @RickVelotta on Twitter.